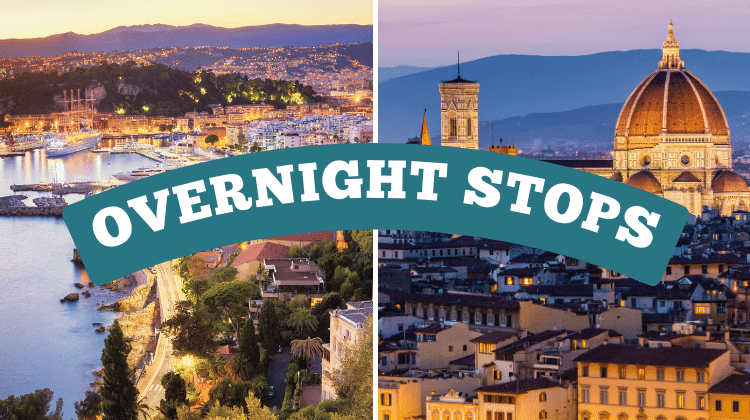 Paris and Rome. Paradise and Valhalla, two worlds apart.
On the one hand, you have decadent heaven on Earth known as Paris: the city of love, lights, fashion and gourmet food. On the other hand, there's Rome: a city synonymous with imperial splendor, incredible art and nocturnal vices.
And then, there's everything in between. The path from Paris to Rome takes in some of Europe's most watched and charming cities. The route crosses the green hills of the French countryside, past vineyards and countryside dotted with ancient towns surrounded by château, onto Northern Italy's terraced vineyards, Renaissance glow and parched sunsets.
That's where our story is set. We're sharing six wonderful places you can stop by train on your way from Paris to Rome. Add one stop for a one-week trip or two to three for a two-week vacation. The cities are small enough to visit in a day, but big enough to keep you occupied for several days. We've listed them in order of where we think it makes most sense to stop by train starting in Paris.
Lyon, France
The third largest city in France, Lyon is the country's gastronomic capital. The city is famous for its relaxed atmosphere, its lively cultural scene, and its beautiful architecture.
Lyon has a long history that dates back to Roman times when it was known as Lugdunum. It became a center of commerce during the Middle Ages and flourished under Louis XIV and Napoleon III. Today, Lyon is home to over a half-million residents, including some of Europe's most acclaimed chefs and winemakers.
Lyon is easy to get to from Paris (about two hours by direct train) on SNCF and Rome (about 8.5 hours by train via Milan) on Thello or Trenitalia. This makes it a great overnight stop on your way between the two cities.
Lyon is best for:
foodies,
wine lovers,
architecture nerds.
What to See
Vieux Lyon
The Old Town Quarter of Lyon has been designated as a UNESCO World Heritage Site since 1998 due to its stunning architecture and historical significance. This quaint area, known as Vieux Lyon, contains many medieval buildings including 14th century churches with ornate bell towers and 16th century mansions with Renaissance facades. You'll also find plenty of restaurants serving traditional French cuisine along with shops selling local goods such as wine and cheese.
Fourvière
Fourvière Hill has been inhabited since prehistoric times but became important after Roman soldiers built an amphitheater there 2,000 years ago. The church was built in the 12th century but it was destroyed during the French Revolution. It was rebuilt again in 1864 using medieval architectural styles. Today, La Basilique Notre Dame de Fourvière is one of France's largest basilicas with a capacity of 6,500 people. Visitors can climb up to the top of the hill via stairs or funicular for panoramic views over Lyon's rooftops and riverbanks below them.
Musée des Beaux-Arts
The Musée des Beaux-Arts de Lyon has one of France's finest collections of art from across Europe and America dating back from prehistoric times all the way through modern times. This museum contains works by artists like Monet, Rodin, Van Gogh and Picasso among others. You can spend hours looking at all these masterpieces. It's located right next to Place des Terreaux, another must-see location in Lyon.
Les Halles
Les Halles Paul Bocuse is a market hall originally dating from 1856. This version, however, was built in 1956 with extensive renovations occurring in 2004. If French gastronomy has a Mecca, a bleating heart, this is it. You'll find everything from oysters and cured meats to spices and whole chickens. It's located on the east bank of the Rhone outside the old town.
What to Do
Hand-picked tours and activities in Lyon, France:
Where to Stay
Our favorite hotels in Lyon, France for every budget:
---
---
Where to Eat
Train Information
For detailed information on train times, costs and booking for each leg, Paris to Lyon and Lyon to Rome, please read:
Segment 1: Paris to Lyon
Segment 2: Lyon to Milan
Segment 3: Milan to Rome
Nice, France
The French city of Nice is a beautiful seaside town on the Mediterranean coast. It's located on the French Riviera and surrounded by mountains, making it one of the most popular destinations in France. Located between Marseille and Genoa, it is the seventh-largest city in France. An important city since antiquity due to its position on the Mediterranean coast, Nice has a lot to offer travelers.
The city was founded by Greeks from Massalia (current day Marseille) who arrived by boat around 350 BCE. The small settlement grew into a prosperous trading center under Roman control in the 1st century BCE. In 1388 it became part of the Kingdom of Sardinia and remained so until 1792 when it was conquered by Napoleon Bonaparte's army during his campaign against the First Coalition. Napoleon's rule marked an important period in the history of Nice: he built roads and infrastructure (the Promenade des Anglais), headquartered here during his Austrian campaign in 1809 and even spent six months in exile here after his defeat at Waterloo (1815).
Nice is best for:
beachcombers,
seafood seekers,
beautiful people-watchers.
What to See
Promenade des Anglais
A walk along the waterfront on Promenade des Anglais is one of the best ways to enjoy Nice's beautiful weather. The promenade extends for about 4 km along the Baie des Anges, which makes it a great place for jogging or biking as well as walking. You can also take a tour boat along this stretch of water if you want to get some great views from above!
Mont Boron
On top of Mont Boron stands Fort du Mont Alban, which houses a museum dedicated to Greek mythology, including many statues brought back from excavations at Olympia (northwest of Athens). Take the funicular railway up here for great views over the city and the coast. You can buy tickets for this one at any railway station or from an automated machine.
Villa Masséna Musée
The Massena Museum, in the former residence of Napoleon's stepson, Prince Eugène de Beauharnais, has a nice collection of Greek and Roman archaeological artifacts as well as paintings by local artists. There are also some interesting temporary exhibitions on display here. The museum is located in the Massena Palace, which was built in 1858. It is a short walk from the center of Nice and accessible by tram or bus.
Cathédrale Sainte-Réparate de Nice
This 17th-century Sainte-Réparate cathedral with a bell tower is one of the most impressive buildings in Nice. It is located near Place Rossetti and has a very ornate interior. You can enter for free but donations are appreciated.
What to Do
Hand-picked tours and activities in Nice, France:
Where to Stay
Our favorite hotels in Nice, France for every budget:
---
---
Where to Eat
Train Information
For detailed information on train times, costs and booking for each leg, Paris to Nice and Nice to Rome, please read:
Segment 1: Paris to Nice
Segment 2: Nice to Rome
Milan, Italy
Milan is Italy's second-largest city and the capital of Lombardy. It's also a major business center and one of the country's most important transportation hubs. One can easily say that Milan is the most sophisticated stop on our Paris to Rome itinerary.
Milan has a deep history, first settled by Gauls before Rome conquered and incorporated it into the Republic in 222 BCE. The Emperor Diocletian anointed Milan the capital of the Western Roman Empire and later played a key role in the Renaissance era.
Milan is also known for its cuisine. Some of the most famous dishes include risotto alla milanese (saffron-infused rice cooked in bone broth), ossobuco con risotto alla milanese (veal shank braised with vegetables and served with rice) and cotoletta alla milanese (breaded veal cutlet).
Today, Milan is Italy's leading financial center and one of Europe's most important cities for fashion and design. It's also home to some of the country's best museums and galleries, as well as some renowned architecture from different eras. For many sightseers, no trip to Milan is complete without visiting Da Vinci's Last Supper in Santa Maria delle Grazie church.
Milan is best for:
fashionistas,
coffee lovers,
museum hoppers.
What to See
Duomo di Milano
Considered one of the finest examples of Gothic architecture in Europe, construction began on the Duomo di Milano in 1386 and didn't finally, 100% finish up until 1965. The cathedral's facade is decorated with statues depicting saints, apostles and prophets; it also includes a large rose window that shows Christ sitting on his throne surrounded by angels. The interior contains many chapels and frescoes depicting biblical scenes; it also has several altars topped with gold leaf ornaments that reflect light from windows above them during services held inside this church each week.
Galleria Vittorio Emanuele II
Located near Piazza del Duomo, this shopping mall was built from 1865 to 1877 to commemorate Italy's unification as a nation. Galleria Vittorio Emanuele II is now home to some of Italy's top luxury brands including Prada, Dior, Gucci and Armani. The Galleria has an elegant, glass-domed ceiling that lets sunlight in, allowing shoppers to enjoy their purchases under the open sky.
Castello Sforzesco
Sforzesco Castle has been the site of many important events in Milan's history. The castle was first built in 1386 and was originally used as a military stronghold; it also served as a prison for political prisoners. Today, there are several museums inside this castle including the Pinacoteca del Castello Sforzesco, featuring works by Titian, Tintoretto and Vincenzo Foppa.
Basilica di Sant'Ambrogio
The Basilica di Sant'Ambrogio is one of the oldest churches in Milan. It was built beginning in 390 CE and features beautiful Byzantine mosaics, marble columns, frescos and sculptures. The basilica is also home to the remains of St. Ambrose, a 4th-century bishop who played an important role in converting the Roman Empire to Christianity.
What to Do
Hand-picked tours and activities in Milan, Italy:
Where to Stay
Our favorite hotels in Milan, Italy for every budget:
---
---
Where to Eat
Train Information
For detailed information on train times, costs and booking for each leg, Paris to Milan and Milan to Rome, please read:
Segment 1: Paris to Milan
Segment 2: Milan to Rome
Venice, Italy
Venice, Italy is a city of canals, gondolas and romance. It has been called the "Queen of the Adriatic" and is one of Europe's most popular tourist destinations. The city is divided into six main districts: San Marco, Cannaregio, Dorsoduro, Santa Croce, San Polo and Castello.
The city is built on more than 100 small islands separated by canals. The buildings are tall and narrow, rising straight up from the water. Venice was founded in 421 CE, when refugees fleeing Goths, who themselves were fleeing Attila the Hun, settled on islands in the Adriatic Sea off the Italian coast. The city became a prosperous trading center for Eastern goods such as silk and spices as well as Western goods like grain from North Africa.
Venice has a long history as a maritime power and played an important role in the Crusades and as an ally of Venice's rival Genoa during the Ottoman-Venetian Wars (1499-1503). In 1797 Napoleon Bonaparte conquered Venice and made it part of his empire. During World War II it was occupied by Germany but was liberated by British and American forces in 1944.
Arriving in Venice by train is an urban baptism unlike any other. You'll exit Santa Lucia station by descending an elegant staircase to the magical Grand Canal, where you'll catch a "vaporetto," a public ferry that circulates on predetermined routes throughout Venice just like other cities' (those built on dry land) public bus systems.
Venice is best for:
history buffs,
romantics,
architecture nerds.
What to See
Palazzo Ducale
The Doge's Palace was built as a symbol of power by the Venetian Republic from 810 to 1423 AD. The palace complex includes several buildings that were once used for government offices, but today they serve as museums or tourist attractions. Visitors can explore the 15th century building that once housed lawmakers and government leaders, or take guided tours through its rooms and hallways.
Basilica di San Marco
Saint Mark's Basilica is one of three major basilicas located in Venice (the others are Santa Maria Gloriosa dei Frari and Santa Maria della Salute). It was originally built as a church by Doge Enrico Dandolo in 1106 AD to honor St. Mark. The basilica di San Marco (St Mark's Basilica) was completed in 1063 and is considered one of Venice's finest religious buildings.
Piazza San Marco
Saint Mark's Square is surrounded by impressive buildings such as the Palazzo Ducale (Doge's Palace), La Fenice Opera House (burned down in 1836 and rebuilt) and La Salute Church (completed in 1732). The Piazza San Marco is the most famous square in Venice, and one of its busiest. In front of the basilica stands a tall column topped with a statue of Winged Lion, also called "Il Moro".
Ponte di Rialto
The Rialto Bridge was the first stone bridge to be built in Venice and is considered one of the city's most iconic buildings. The bridge was constructed between 1588 and 1591. It spans across a canal that divides the city into two parts: San Marco and Cannaregio. The bridge spans across the Grand Canal, which divides Venice into six different districts. It's a perfect place to watch Venetian life pass by.
What to Do
Hand-picked tours and activities in Venice, Italy:
Where to Stay
Our favorite hotels in Venice, Italy for every budget:
---
---
Where to Eat
Train Information
For detailed information on train times, costs and booking for each leg, Paris to Venice and Venice to Rome, please read:
Segment 1: Paris to Venice
Segment 2: Venice to Rome
Florence, Italy
The city of Florence, Italy is a must-see destination for any traveler to Europe. It is an ancient city with an impressive history. In fact, it may be the most culturally impressive city on this Paris to Rome itinerary. Romantics, artists, foodies, history buffs, architecture enthusiasts, Florence is for you…quintessential southern Europe that will leave an indelible mark on your heart.
Florence was founded by Julius Caesar in 59 BCE as a colony for Roman veterans. It was named Florentia, meaning "Flourishing Flower", because it was located on the banks of the Arno River where flowers grow abundantly. In the 12th century Florence became an independent city state. The Medici family took control of Florence after they gained power in 1434 and continued to rule until 1737 when they were expelled by Cosimo III de' Medici. In 1859 Florence joined other Italian states together to form a single kingdom called Kingdom of Italy with Victor Emmanuel II as its king.
Florence is best for:
art lovers,
Renaissance ramblers,
foodies.
What to See
Cattedrale di Santa Maria del Fiore
Known simply, beautifully and reverently as Il Duomo, the Santa Maria del Fiore Cathedral is one of the largest churches in Italy, measuring 135 meters long, 91 meters wide and 139 meters tall at its highest point. It was built between 1296 and 1436 by Filippo Brunelleschi (and many subsequent architects after his passing) as a symbol of pride for Florentine citizens who wanted their city to be recognized throughout Europe. The constructions of its iconic dome is widely considered an ignition source for the forthcoming Renaissance, an era where northern Italy made great strides in science, art and economics. Inside the cathedral are numerous frescoes by Renaissance artists such as Giotto di Bondone, Cimabue and Andrea Orcagna among others. For adventurous travelers, book a walking tour up the dome.
Battistero di San Giovanni
The Baptistery of St. John is one of the most iconic structures in Florence, Italy. It was constructed between 1059 and 1128 by the architect Diotisalvi as a baptistry church where people would be baptized. The building is famous for its beautiful marble Gates of Paradise by Ghiberti which depicts scenes from Genesis, the life of Jesus Christ, and various saints.
Palazzo degli Uffizi 
The Uffizi Gallery was built in 1560 for the Medici family and designed by Giorgio Vasari. The building houses an art gallery with works from some of the most famous artists in history including Botticelli, Michelangelo and Leonardo Da Vinci among others. One of the most famous paintings inside is Botticelli's Birth of Venus.
Galleria dell'Accademia di Firenze
The Accademia Gallery was built in 1784 and is located on the River Arno. The building houses a collection of Renaissance art including works by Michelangelo, Donatello and Giambologna. Its most famous statue is Michelangelo's David. Book tickets online in advance.
What to Do
Hand-picked tours and activities in Florence, Italy:
Where to Stay
Our favorite hotels in Florence, Italy for every budget:
---
---
Where to Eat
Train Information
For detailed information on train times, costs and booking for each leg, Paris to Florence and Florence to Rome, please read:
Segment 1: Paris to Florence
Segment 2: Florence to Rome
Siena, Italy
Siena, Italy is the smallest destination on our Paris to Rome route and a city with a rich history. The city is known for its old world charm and beauty. Siena is renowned for its "palio," a horse race held twice annually in Piazza del Campo that dates back to 1294.
The history of Siena, Italy goes back thousands of years to an Etruscan city founded around 800 BCE. Siena remained a sleepy backwater under Roman rule, finally emerging as a key player in Northern Italy during the 14th century. In fact, it vied for influence with rival Florence. Napoleon ruled over Northern Italy until 1814. After Napoleon's defeat, Siena became the first city to join the newly formed Kingdom of Italy in 1859.
Siena is best for:
dreamers,
piazza hounds,
wine lovers.
What to See
Piazza del Campo
The Campo Plaza is the most important square in Siena and the most beautiful in Italy. The piazza has been used for horse racing since medieval times, hosting the annual Palio race, and it has been the scene of many famous festivals and tournaments. In 1519, a bullfight was held on this piazza to celebrate the defeat of the French by Spanish forces. A marble statue of Pope Alexander VI was placed on a pedestal in front of the Palazzo Pubblico to commemorate this event. This statue is known as il Toro Farnese (the Farnese Bull).
Duomo di Siena
The Duomo is a medieval cathedral and one of the most famous and artistically important churches in Italy and the spiritual center of the city. It was built in Gothic style in 1215–1263 on the site of an earlier cathedral dedicated to Santa Maria Assunta. One of Italy's greatest Gothic cathedrals, it was built between 1215 and 1263 and contains many works by Simone Martini (1284-1344) and Lippo Memmi (ca 1310-1369). These artists were among the most important painters working in Siena at this time. They painted many frescoes and altarpieces for churches throughout Tuscany during the 14th century.
Museo dell'Opera del Duomo
The Duomo Museum is one of the most famous museums in Italy. It houses several paintings and sculptures from the ancient era to modern times. It is also home to a collection of paintings by Giotto di Bondone and his students. The museum has more than 4,000 pieces on display, making it one of the largest museums in all of Italy. Visitors can also enjoy many different exhibitions throughout the year that feature works from artists around the world.
Torre del Mangia
The City Tower is another popular monument that can be found in Siena, Italy. This tower was built between 1334 and 1348 by order of Pope Clement VI as part of his plan to fortify important cities within Tuscany and Rome. The structure stands 100 meters tall and offers breathtaking views over Siena's historic center as well as surrounding areas like Florence (Florence) or Pisa (Pisa). The tower offers both guided tours and self-guided tours so visitors can explore at their own pace.
What to Do
Hand-picked tours and activities in Siena, Italy:
Where to Stay
Our favorite hotels in Siena, Italy for every budget:
---
---
Where to Eat
Train Information
For detailed information on train times, costs and booking for each leg, Paris to Venice and Venice to Rome, please read:
Segment 1: Paris to Siena via Florence
Segment 2: Siena to Rome