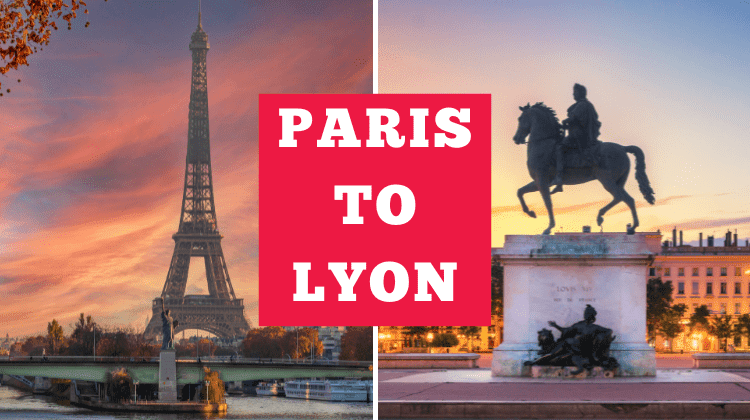 Nestled on the banks of the Rhône, Lyon is the ideal companion city for visitors to Paris. The former Roman settlement is France's third-largest city and packs in over 2,000 years of history, culture, and culinary innovation. Smaller and far more relaxed than the French capital, it is the one city that rivals Paris for gastronomic and cultural cachet in France.
Rail travelers from Paris to Lyon are presented with two options. A high-speed TGV journey that'll whisk you there in two hours, or a slower journey through vineyards and historic towns. We look at several of the best options, including stopovers for an unforgettable journey from Paris to Lyon by train.
Paris to Lyon by TGV High-Speed Train
The innovative TGV was designed for routes like this. Slow regional Paris to Lyon trains take over 5 hours. The Train à Grande Vitesse cuts the journey down to approximately 2 hours.
Even better, travelers can choose either inOui or Ouigo TGV trains, offering a choice of price points and plenty of scheduling flexibility.
The two-tier TGV system lets travelers choose amenities and comfort at a higher price on inOui services or ditch them for a no-frills Ouigo service. Journey times are unaffected: the fastest train from Paris to Lyon is on a budget Ouigo service that takes just 1h 54m.
The starkest difference between the two services is price. Tickets on inOui Paris to Lyon trains start at €45, compared to Ouigo advance tickets from €16. The difference would pay for a solid meal in Lyon!
Unfortunately, Ouigo departures are limited. From approximately 21 daily TGV Paris to Lyon trains, only 4 are low-cost Ouigo services.
You also give up a few comforts if you go with the Ouigo Paris Lyon trains. Ouigo services mirror a pared-down budget airline experience, albeit minus the uncosted hassles of flying. There are no seat upgrades, only one piece of luggage is free, and onboard catering is limited to vending machines.
The double-decker Ouigo trains are more tightly packed, with most carriages stacked with 2+2 seating arrangements. Extra seats are gained from removing the onboard bar and first-class space. Otherwise, Ouigo trains are clean and well-maintained, and the brightly colored seats are more than comfortable for a two-hour journey.
With more daily services, there's a good chance you'll end up choosing an InOui TGV, Paris to Lyon. It'll make a bigger dent in your wallet, but you'll enjoy the customary comforts of high-speed rail travel.
Le Bar is back serving up freshly made coffee and surprisingly edible food. Upgrades are available, with moderate price differences delivering more seating space. Unlike Ouigo trains, you're assured of a power socket (shared in 2nd class, individual in 1st class) and free Wi-Fi.
There are also no luggage restrictions on inOui trains. When you're not traveling light, it can help offset the price difference on the competing Paris to Lyon high-speed trains.
Putting aside comfort versus value, there is little to differentiate the fast Lyon to Paris trains. All the TGV services are non-stop services departing from Paris Gare de Lyon. Most trains terminate at the centrally located Lyon Part Dieu.
A couple of daily Ouigo services head to the airport station Lyon-Saint Exupery. Budget fares help fill trains to Lyon-Saint Exupery, but bear in mind central Lyon is a further 29-minute train ride away.
Having found the best fare, all travelers on a Paris to Lyon high-speed train can kick back and savor pastoral landscapes flashing by at up to 186 mph (300 kph.)
You won't have too much time to take in the views as your train passes through the Île-de-France and Burgundy. But you'll catch a glimpse of the picturesque Morvan Nation Park. And if you inhale at the right moment, you might snatch a whiff of one of France's funkiest cheeses as you pass by the village of Époisses.
The Paris to Lyon TGV puts one of France's most feted cities within easy reach, even for day-trippers. Just over 2-hours after leaving the French capital, you could be dining at acclaimed bistros in the atmospheric old town. If you're poring over a map looking for compelling rail journeys from the French capital, Lyon checks every box.
Paris to Lyon TGV Details
Prices: Ouigo Essential Paris to Lyon train tickets are as low as €16. Ouigo Essential tickets are non-refundable and only allow for a small piece of luggage. Additional luggage can cost €5. Ouigo Plus fares start at €23. Included in this fare are an additional full-sized piece of luggage and the option to choose your seats online. Fares on the superior inOui services start at €45 in second-class. First-class upgrades add just €4, but prices vary based on availability. All fares increase as seats are sold. Book ahead with SNCF Connect for the best Paris to Lyon train costs.
Frequency: TGV trains from Paris Gare de Lyon to Lyon Part Dieu depart up to 20 times throughout the day. TGV trains from Paris Gare de Lyon to Lyon-Saint Exupery depart twice daily.
Duration: The journey by TGV from Paris to Lyon takes between 1 hour 54 minutes and 2 hours 15 minutes.
Paris to Lyon by Slow Trains via Dijon
Among the high-speed Paris and Lyon trains is a meandering regional TER train that trundles from city to city in over 5 hours. At more than double the Paris to Lyon train time by TGV — and, confusingly, often more expensive — there is little to recommend the route.
But there are compelling alternatives for slow travel fans, using a mix of regional services to add some offbeat geographical pins to your French odyssey.
One route assured to add spice is traveling from Paris to Lyon via Dijon. Dijon is a world-famous city forever associated with a much-loved mustard, even if the fiery concoction is made elsewhere these days.
In the heart of Burgundy, Dijon is an alluring destination for gourmands and culture seekers. Vineyard tours and several eras of well-preserved architecture await. In early November, gourmands flood the city to sample delights at one of France's biggest food fairs.
Whenever you visit, a kir royale made with champagne and local crème de cassis de Dijon is the optimal reward after a day exploring cultural highlights like the world-class Musée des Beaux-Arts de Dijon.
The regional TER train from Paris Bercy station (Gare de Paris Bercy Bourgogne) takes around 5 hours and 8 minutes to reach Lyon via Dijon. The Dijon leg takes just under 3 hours.
Regional TER trains are a step down in comfort from TGV. Built for regular stops between smaller towns, they are clean and functional. Seat reservations are not required, and there are no TGV comforts, with Wi-Fi and catering notably absent. Instead, the route offers a birds-eye view of Burgundy as your carriage wends through picturesque countryside, past vineyards, and through numerous small towns and riverside villages in the region.
As a moderately sized city (population: 158,000,) there are frequent time-saving TGV trains to Dijon Ville from Paris Bercy. If time is against you, the fastest TGV journey is under 1 hour 40 minutes.
Dijon is connected to Paris by two TGV services. The usual inOui service and TGV Lyria. TGV Lyria trains are a joint venture between SNCF Connect (France) and SBB (Swiss rail) and operate routes between Paris and Switzerland.
There is little to separate inOui and TGV Lyria trains. From Paris to Dijon, journey times and fares are comparable. Together they offer plenty of choice for departure times, handy if you're considering a short stop in Dijon while traveling from Paris to Lyon by train in one day.
Worth noting: all TGV Lyria trains are double-decker. An upstairs seat offers primetime views as you sweep through Burgundy at nearly 200 mph. 
Paris Bercy to Lyon via Dijon Details
Prices: Tickets for TER trains from Paris Bercy to Dijon Ville are fixed at €36. As with all TER trains, you can book in advance via SNCF Connect or buy at the station. There is no price gain for booking early. TER trains from Dijon Ville to Lyon Part Dieu are fixed at €31.60. inOui TGV trains from Dijon Ville to Lyon Part Dieu start at €20. Book TGV trains as early as possible for the cheapest tickets. 
Frequency: There are 6-8 daily TER trains from Paris Bercy to Dijon Ville. High-speed trains are more frequent, with 14-16 daily services split between TGV Lyria and TGV inOui services.
Duration: TER trains from Paris to Dijon take 2 hours 53 minutes to 3 hours. Onward journeys from Dijon to Lyon take under 2 hours and 5 minutes on TER regional services. The Dijon to Lyon TGV takes under 2 hours (the fastest journey is 1h 31mins.)
Paris to Lyon with Overnight in Beaune
Dijon can be looped into a single day's rail journey to Lyon. However, a stopover is recommended to make the most of your detour via Burgundy.
Dijon offers plenty of decent accommodation and a tantalizing array of dining options to forge memorable evenings. But if you're looking to cram even more historical sights and gourmet delights into your slow journey to Lyon, consider stopping overnight in Beaune.
Beaune is the wine capital of Burgundy and is less than 20-minutes by train from Dijon. Happily, Beaune is ideally situated on the rail route from Dijon to Lyon. 
Contained within medieval ramparts, Beaune is rich with character. The star attraction is the magnificent Hospices de Beaune, a former hospital founded in 1443 and an extraordinary example of renaissance architecture.
France's leading wine auction takes place in the Hospices de Beaune, further burnishing the town's reputation as a center of gastronomy. Chateaux and wineries are a taxi ride from the town center, including the unusual Château de Savigny-lès-Beaune that houses a winery alongside a museum of military aircraft and vintage vehicles.
But you don't need to wander far to taste local wines at bar à vin and cafés. Within the compact ramparts are myriad dining choices, from traditional bistro to modern brasserie. When in Beaune, it pays to dial back the clock and try regional specialties like beef bourguignon or coq au vin. If wine is your focus, head to Les Popiettes. If fine dining tops your agenda, the refined Le cheval Noir serves an acclaimed Bourguignon de paleron de bœuf.
Reaching Beaune from Dijon takes 18 to 29 minutes on frequent daily TER regional trains.
Don't forget, separate tickets are needed for each leg of the journey from Paris to Lyon. Regional trains are fixed price, so you can buy on the day for no penalty. With trains from Beaune to Lyon running approximately every hour, keep your options open. 
Passing through communes dotted along the Saône river, there are plenty of sights to make the journey fly by. Along the way, the train rolls through pretty towns like Chalon-sur-Saône, Tournus, and delightful Mâcon (worth a visit if you have time.)
If you want to reach Lyon quickly, look for the solitary daily TGV service from Beaune to Lyon, departing at 16.41. At 1 hour 17 minutes, the journey is not a big timesaver but will suit some travelers.
Paris to Lyon via Beaune Details
Prices: Using exclusively regional TER services, Dijon to Beaune tickets cost €11. Beaune to Lyon Part Dieu costs €27.20. Tickets can be booked online or at the station for the same price. inOui TGV fares from Beaune to Lyon Part Dieu start at €27.20 for second-class fares. First-class from €45.
Frequency: TER trains from Dijon to Beaune depart frequently, with 2-4 hourly services until the last departure at 22.12. Direct TER trains from Beaune to Lyon depart hourly. A single TGV service connects Beaune and Lyon daily, departing at 16.41.
Duration: The rail journey from Dijon to Beaune takes 18-30 minutes. TER trains from Beaune to Lyon take as little as 1 hour and 40 minutes. The single TGV service from Beaune to Lyon takes 1 hour and 17 minutes.
Paris to Lyon by train via Bourges
If slow travel and wine top your plans in France, consider a route from Paris to Lyon via Bourges. Bourges sits in the Loire Valley, an oenophile paradise.
Despite being home to an iconic cathedral, Bourges is sometimes seen as a journey too far for visitors to Burgundy or the chateaux of the Loire Valley. But it's just 2 hours from Paris by train. Onward journeys to Lyon take around 3 hours and 19 minutes, making it a circuitous yet diverting route. 
The big draw in Bourges is the soaring gothic and Romanesque Bourges Cathedral (Cathédrale Saint-Étienne de Bourges.) Medieval character is vacuum-sealed in an old town that bursts with bars and shops hidden under half-timbered houses. Layers of history reveal themselves around a town once hidden behind Gallo-Roman walls.
Several regional TER trains depart Paris Austerlitz daily for Bourges. Indirect options are also available and typically add 15-60 minutes to the journey. Slower services also depart from Gare Montparnasse and Paris Bercy.
The fastest trains from Bourges to Lyon Part Dieu are express (not high-speed) Intercités services.
Intercités trains bridge the gap between regional commuter services and high-speed TGV services. Free Wi-Fi is only offered on select trains, while catering is trolley service only. Inexpensive first-class upgrades let you increase seat width but include little else.
Separate tickets from Paris to Bourges and then to Lyon may not add much to the cost of a direct TGV, Paris to Lyon. For example, tickets from Paris to Bourges can cost just €20, with onward Intercités fares from €24.
Vineyards, chateaux, and medieval towns pepper the landscape between Paris and Lyon, providing boundless opportunities to visit off-the-beaten-path gems. Bourges is a fine example of what can be seen if you ditch the TGV and enjoy the rewards of slow travel on France's regional trains.  
Paris to Lyon by train via Bourges Details
Prices: Direct TER trains from Paris Austerlitz to Bourges cost €36. Fares are fixed and can be bought on the day of travel. Money can be saved by booking indirect trains from Paris Austerlitz via Vierzon Ville. The journey adds less than 10 minutes, so can be worth every Euro saved. Check online as early as possible to compare fares. Intercités tickets from Bourges to Lyon Part Dieu start at €15. Book on SNCF Connect as early as possible (up to 4 months ahead) for the best fares.
Frequency: There are 4 daily direct TER trains from Paris Austerlitz to Bourges, morning to evening. There are 10-11 one-stop services from Paris Austerlitz, typically via Vierzon Ville. Three daily Intercités trains operate from Bourges to Lyon. Several indirect alternatives are available but will add 1-3 hours to your journey time. 
Duration: Trains from Paris to Bourges take 1 hour 54 minutes to just over 2 hours. Intercités trains from Bourges to Lyon take 3 hours 19 minutes to 3 hours 28 minutes.
Paris to Lyon by Train FAQ
Can I take a train from Paris to Lyon?
Yes. Frequent fast TGV services run direct from Paris to Lyon. Slower services via popular destinations in Burgundy and the Loire Valley offer compelling alternative routes.
How much does a train ticket from Paris to Lyon cost?
A TGV train from Paris to Lyon, France, starts at €16 with the low-cost Ouigo service.
A superior-class inOui TGV train from Paris to Lyon, France, starts from €45.
Lyon to Paris train fares cost the same.
How long is the train from Paris to Lyon?
The Paris to Lyon train time is under 2 hours on the fastest TGV services.
What are the Paris to Lyon train times?
There are 1-3 direct TGV trains every hour from Paris Gare de Lyon to Lyon Part Dieu, with several daily services also terminating in Lyon-Saint Exupery.
Is there a high-speed train from Paris to Lyon?
There are multiple daily high-speed TGV trains from Paris to Lyon.