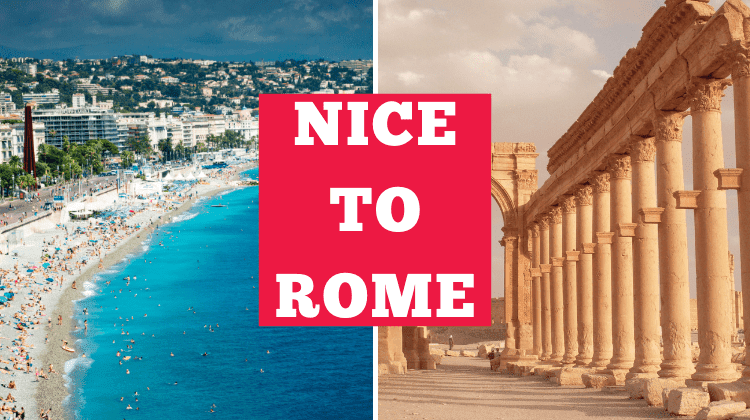 Taking the train from Nice to Rome is a passage through some of the most alluring regions of France and Italy.
Cheaper than flying, it's a journey made for slow travel. One that transports you from the azure waters of the French Riviera to the Eternal City in under 9 hours. Along the way, the Nice to Rome train snakes along the Mediterranean coastline, offering glimpses of bijou resorts lining the Cote D'Azur and Bay of Liguria. It's an absorbing rail journey, and we've broken down everything you need to know.
Nice to Rome by Train
There are no direct Nice to Rome trains, so you'll need to set aside 8-9 hours for the quickest rail journey.
Most services require two connections, starings with a local train from Nice to Ventimiglia in Italy. From there, the routes require a further change in Genoa.
The Nice to Rome train can be very economical, costing as little as €27. Flights from Nice to Rome are considerably more expensive, without factoring in the CO2 emissions.  
If you're only familiar with high-speed Italian trains from France to Italy, you'll encounter real variety on this route. The journey combines regional and intercity services, which for a large section of the journey hug the Mediterranean coastline. Gliding through towns along the coast, there are frequent snapshots of the captivating landscape. 
As you head down the boot of Italy and through more urban landscapes, you pass through some notable cities: Genoa, Pisa, and Livorno. If you're looking to spice up your Italian odyssey, all merit consideration for an extended stopover.  
To save money, buy your tickets individually from the French and Italian rail operators. Only SNCF Connect sells tickets for the entire journey, and they are overpriced.
To get the best-priced trains from Nice to Rome, book the Italian trains via the Trenitalia website. You'll be sent a code for the ticket inspector.
Trenitalia doesn't sell tickets for the French section from Nice to Ventimiglia. But those prices are fixed and sell for the same price right up to departure. You can save time by booking through the SNCF Connect app, which you then show on the train.  
Accurately priced tickets for the complete journey from Nice to Italy by train can also be found on third-party booking sites like thetrainline.com or raileurope.com.
Buying separate tickets for the trains from Nice to Rome grants you a little flexibility to pick and choose your preferred departure times. But not much. Your decision boils down to 5 trains from Ventimiglia to Rome worth aiming for if you want to minimize connections and journey time. Other services are slower, with additional changes.
As you're stuck on the train for around 9 hours, changeover stations offer welcome opportunities to refuel and shake out numbed limbs.
The first stop on the journey from Nice to Rome by train is Ventimiglia. Get to Ventimiglia early enough and you can enjoy the gentle charms of the Italian Riviera's westernmost town.
Diminutive Ventimiglia station contains an unremarkable café-bar. But it's just a 15-minute walk from beachside ristorantes and snack bars. If you're traveling on Friday, make time to visit the famous street market, beloved by locals on both sides of the border.
To reach Rome on the same day, don't miss the 15:57 service. It's the last one from Ventimiglia and arrives in Rome just before 23:00.
After Ventimiglia, the next opportunity to stretch your legs is in Genoa.
Connection times are around 45-60 minutes in Genoa. Book separate tickets if you want to add a tightly planned few hours in the bustling port city.
For a time out in Genoa, head to the evocative caruggi (narrow alleyways) in Genoa's well-preserved medieval center. A stimulating 20-minute walk from the station, the route passes the Royal Palace Museum, a free funicular railway (a singular diversion for fellow rail buffs), and the world heritage site of Le Strade Nuove.
If you're happy hanging out in the station while waiting, Genova Piazza Principe is an elegant 19th-century station. It's also an architectural oddity, one of the few major stations that was not rebuilt during the Mussolini era. It's a slightly chaotic station, with shops and food outlets to take a moment in.
While there are no catering facilities on the TER trains from Nice to Ventimiglia, dining options on the Italian trains are variable. If it's an Intercity train (the most common), you're presented with an array of vending machines that'll keep you fed and hydrated in a pinch. On board the more comfortable yet less frequent Frecciabianca trains, heartier fare is served from an onboard café.
Whether traveling on an Intercity or Frecciabianca train, you'll benefit from power sockets at your seat and ample luggage space. Upgrade to first-class (when available) for roomier seats (from 20 to 25 in) but not much else.
Wi-Fi is notably absent on Intercity or Frecciabianca trains. And the commuter-style TER trains in France have even fewer facilities, yet are perfectly comfortable for the 50-minute journey along the glamorous Cote D'Azur.
Nice to Rome by Train Details
Prices: Booking the train from Nice to Rome is a two-parter. Altogether, the cheapest set of tickets for the Nice to Rome trains cost €24.60. Start with booking the Italian section of the journey with Trenitalia. Fares from Ventimiglia to Rome start from €16.90 but change quickly. Book ahead (or be flexible with departure dates) for significant savings. The other leg of the journey, from Nice Riquier to Ventimiglia, is on a French TER service. The fare is fixed at €7.70 and can be bought on the day of travel. To dodge lines, buy in advance from SNCF Connect.
Frequency: Planning your journey by train from Nice to Rome pivots around the trains from Ventimiglia to Rome. There are 5 quick services with one connection in Genoa. Several alternative routes are available, but follow more circuitous routes with 1-2 additional train changes. There are at least two TER services from Nice to Ventimiglia every hour, starting at 05:41. Want to maximize your time in Rome? Aim for the 05:41 TER service, which will get you to Ventimiglia 10 minutes before the first train to Rome. That early start pulls into Rome at 14:25. The last train from Ventimiglia to Roma Termini leaves at 15:57 and arrives in Rome at 22:57.
Duration: The Nice to Rome trains take around 8-10 hours, connections included. The overall journey duration depends on your departure time from Ventimiglia. The quickest Ventimiglia to Rome journey (at 15:57) takes 6 h 59 mins. The journey from Nice to Ventimiglia is a consistent 51-53 minutes. Allow 10-40 minutes for changing in Ventimiglia.
Rome to Nice by Train
What can you expect on the return train from Rome to Nice by train? More of the same, with frequency, prices, and duration mirroring the reverse journey.  
Once again, it's easier to buy the two legs of the journey separately. Avoid booking the entire Rome to Nice train journey with SNCF, as you invariably pay more than buying individual tickets.
There is a solitary direct service from Rome to Ventimiglia. Unfortunately for Nice-bound travelers, it leaves too late to catch an onward train from Ventimiglia.
That narrows your options down to four departures from Roma Termini. The latest train service to catch leaves at 11:57. It arrives in Ventimiglia at 20:03, ahead of the last two French trains heading to Nice.
If you want to grab time in the pastel-hued old town of Ventimiglia, catch one of the early morning services. The earliest departs at 06:25, which pulls into Ventimiglia at 12:58. Visiting Ventimiglia is a must on Fridays, as the colorful Ventimiglia street market (reputedly the largest in Italy) is in town.
If you feel hunger pangs before reaching Nice, you can usually grab a snack at Genoa station. The speedy 06:25 service is an exception, as there are just 13 minutes to change trains in Genoa on this service.
Fortunately, that 06:25 train is a modern Frecciargento train with an onboard FRECCIA Bistrò. Later departures combine Frecciabianca class trains (with cafe) and Intercity trains (vending machines only.) 
Aside from the variable catering options, the differences between different trains can be measured in journey time and onboard comforts.
Frecciargento trains provide free WI-Fi and power sockets at every seat. In first-class, there is a discernable upgrade in space and style. Not to mention some always-welcome complimentary drinks and snacks.
Those extras contrast markedly with the more modest Frecciabianca and Intercity trains from Rome to Nice. While comfortable enough, they lack Wi-Fi and complimentary refreshments. 
If you want to make good use of the 50-70 minutes stopover in Genoa, head to the Bar Il Chiosco (Piazza Acquaverde Stazione Piazza Principe) just outside the station. A local star, the inexpensive food stand serves glasses of wine and loaded paninis in double-quick time.
Rome to Nice by Train Details
Prices: The lowest price for the train from Rome to Nice is €24.60. Availability at this price is limited. To get the best prices, book the Italian section with Trenitalia. A ticket from Roma Termini to Ventimiglia (either direct or via Genoa) starts from €16.90. SNCF TER fares from Ventimiglia to Nice Riquier are fixed at €7.70, whether bought on the day or in advance.
Frequency: To travel from Rome to Nice by train in one day, choose from four services leaving the Italian capital. The earliest train departs at 06:25, the latest at 11:57. Other services to Ventimiglia are available, but they arrive too late to catch the last connection to Nice. TER trains depart from Ventimiglia to Nice at least twice hourly, up until the last departure at 20:55.
Duration: The quickest journey from Nice to Rome by train is 7 hours and 53 minutes. That means catching the high-speed early 06:25 service from Rome, with a 13-minute connection in Genoa and a 27-minute transfer in Ventimiglia. Subsequent Rome to Nice trains require a longer changeover in Genoa and take around 9 hours and 20-30 minutes.   
From Nice to Rome by Train via Emilia-Romagna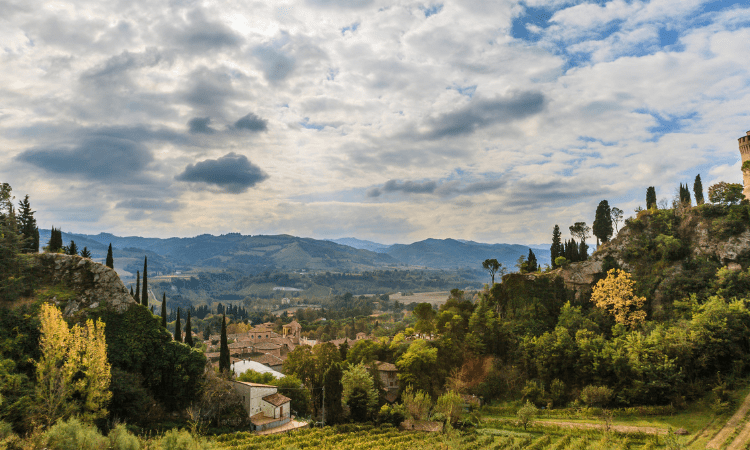 The trains from Rome to Nice trail the long coastline, taking the quickest and most direct route. Yet those trains pass through regions bursting with enticing diversions if you have time to spare.
Compelling stopovers litter the route from Nice to Rome, especially along the coastline. While minor detours from the standard route unlock big-ticket destinations like Milan, Genoa, or the coastal villages of Cinque Terre.
But there's one detour that makes intelligent use of the train routes to open up the gastronomic wonderland of Emilia-Romagna.
Emilia-Romagna is a region best known for its epicurean delights, the emblematic Parma ham, parmesan, and balsamic vinegar. It is home to the gastronomic havens, Parma, Modena, and Bologna. Handily, those three foodie destinations sit on the same rail route to Rome, making it possible to visit them all in one day.  
The key to this journey is a detour from Genoa to Parma, before heading to Rome. Overall, it'll add a couple of hours of travel time from Nice to Rome.
With frequent trains to Rome, you could squeeze a few hours in Parma or Bologna and still reach the Italian capital by nightfall. For a more immersive gastronomic adventure, aim to stay in Parma overnight. The next day, you can hop off in Modena and Bologna, spending a few hours in each, before heading to Rome.
Aside from mouth-puckeringly aged parmesan and the fabled tagliatelle al ragù Bolognese, the cities are also home to medieval monuments, arresting Renaissance architecture, and a layered cultural heritage.
Highlights from the area include the historic palazzo around Piazza Maggiore in Bologna and the extraordinary wooden Renaissance theatre, the Teatro Farnese, housed in the Palazzo della Pilotta, Parma.
To make this journey, start by booking a Trenitalia service from Ventimiglia to Parma, usually via Milan. Alternative routes requiring two connections (usually Genova Piazza Principe and La Spezia Centrale) are almost as fast, so there are plenty of options.
The other essential ticket is the Trenitalia train from Parma to Rome, which always requires a connection in Bologna.
To cap an indulgent adventure through the heartlands of Italy, look out for the frequent Frecciarossa 1000 trains from Bologna to Rome. No Italian train is more comfortable: Wi-Fi, spacious seats, stylish trains, and an onboard café that delivers to your seat make it the ultimate way to unwind before reaching the Eternal City.  
Nice to Rome via Emilia-Romagna Details
Prices: Several tickets are needed for this rail journey. Collectively, the cost is at least €57.35. That includes a fixed-price TER ticket from Nice Riquier to Ventimiglia, costing €7.70. Buy at the station or in advance with SNCF. Trenitalia fares from Ventimiglia to Parma start from €26.75. Onward fares from Parma to Roma Termini start from €22.90. You'll need additional tickets to stop in Modena and Bologna. Tickets from Parma to Modena start from €6.00. Modena to Bologna fares start from €4.30. Price variations are common on Trenitalia services, even on the same day. Advance booking and some flexibility with departure times can be a big money saver.
Frequency: There are 8 fast trains from Ventimiglia to Parma with one connection in Milan. A similar number of trains make the journey with two changes, yet with comparable journey times. Sandwiching the journey on either end are numerous services. On one end, there are twice-hourly services from Nice to Ventimiglia. On the other end, there are approximately four services every hour from Parma to Rome.
Duration: Adding together the fastest rail journeys, allow 9-11 hours of travel time from Nice to Rome via Parma. Connections in Ventimiglia, Genoa, and Parma are included.
Nice to Rome by Train FAQ
Is there a train from Nice to Rome?
There is no direct Nice to Rome train. The journey can be made in around 8-10 hours with two connections in Ventimiglia and Genoa.  
Is there an overnight train from Nice to Rome?
At present, there is no overnight train from Nice to Rome.
How long is the train ride from Nice to Rome?
Allow 8-10 hours for the train ride from Nice to Rome, which includes sufficient time for connections.
Is there a high-speed train from Nice to Rome?
There are no high-speed trains between Nice and Rome, except on one section of the journey — Genoa to Rome. 
How much does the Nice to Rome train cost?
With advance booking, it is possible to find tickets totaling €24.60 to travel from Nice to Rome by train. Tickets at this price are limited, and fares may reach €50.00 for the same journey.
When should I book a Nice to Rome train ticket?
It pays to book the Italian section of the Nice to Rome journey in advance. Savings can be made when schedules are published, usually up to 4 months in advance.
For the short journey from Ventimiglia to Nice, you can buy tickets at the station or in advance. Fares are fixed, so there is no incentive to book ahead.