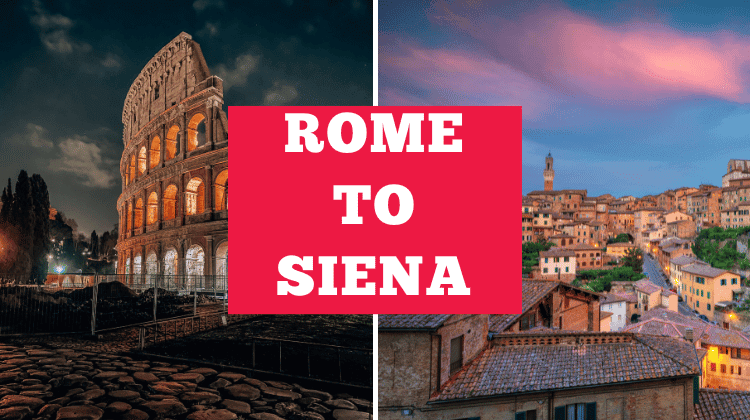 Traveling from Rome to Tuscany by train encourages explorers to ditch the car and relish a stunning landscape as they're speedily transported around the seductive region. The journey from Rome to Siena is straight up as the crow flies. From Rome's main terminus, Termini Rail Station, travelers can take a high-speed train to Florence and switch there for a regional train that stops at Siena. The trip takes a little under four hours, including stops.
Siena sits on top of a hill first settled by Etruscans. A medieval city with fortifications, it is famous for its Duomo and Piazza del Campo, where it holds the annual "palio" horse races twice annually every July and August.
There are no direct Rome to Siena trains. All departures end with a regional train ride to Siena station, either from Florence or Chiusi-Chianciano.
Choose a high-speed service to Florence before changing. Or stick with workaday Regionale trains all the way, on a slower and more direct route via Chiusi-Chianciano.
The journey time is between 3 ½ and 4 hours, whichever Rome to Siena train you catch. With similar prices and journey times, a few other factors might influence your choice of trains.   
The first revolves around when you buy. Regional train prices are fixed at €18.10, even when purchased right before travel. It's always the most economical if buying on the day of travel.
Tickets for Trenitalia and Italo high-speed trains to Florence follow the airline model of pricing, rising in price as they are sold. Early booking is essential to get the best deals.
This pricing model only applies to the section from Rome to Florence. After that, everybody boards a Regionale Siena to Rome train service at a fixed €9.80. If you're stopping in Florence, there is no need to book this section early. 
Although Regionale trains win on price, high-speed trains lure passengers with promises of comfort. 
The high-speed trains to Florence are a cut above the regional workhorses. For Trenitalia, it's their Frecce class trains, including the gleaming Frecciarossa 1000s. But Italo's Bombardier trains match them in nearly every department.   
Wi-Fi and charging points are available at most seats. Luggage space is plentiful. Both offer tempting upgrades, often for just a few Euros when booking ahead.
A café-bar is found on Trenitalia Frecce trains. And vending machines on Italo trains. You can grab cheap upgrades that include a welcome drink and snacks on both services. 
There appear to be a lot of choices when traveling from Rome to Siena by train. But the differences are mostly inconsequential. With frequent departure times, you can usually find a ticket that fits your itinerary. A quick e-ticket comparison between Trenitalia and Italo, or side by side on Trainline.com, can will find the best deals.
Alternatively, leave your options open, safe in the knowledge that the least expensive fares on Regionale trains are away available.
Whichever route you travel from Rome to Siena by train comes with priceless pastoral views peppered with sun-dappled villages and vineyards. The train from Chiusi-Chianciano passes through a particularly dreamy part of Tuscany between Asciano and Siena.
Like many preserved villages of Tuscany, Siena's rail station sits well outside the city center. Cars are banned from the center, so it's 1 ½ miles by foot or 15 minutes by bus to the UNESCO World Heritage Site.
If you're only there for the day, several evening trains will allow you to probe around the timeless city center for a few hours. Enough time to see the oldest bank in the world, soak up millennia of history and overindulge in Ricciarelli di Siena and other local sweet treats.
Rome to Siena by Train Details
Prices: Traveling from Roma Termini to Siena by train mean choosing from high-speed and regional trains via Firenze S.M. Novella or regional trains via Chiusi-Chianciano Terme.

All pre-booked tickets include a Regionale train from Florence to Siena with a fixed fare of €9.80.
The cheapest Rome to Siena trains are regional services via Chiusi-Chianciano, with fixed fares of €18.10. No advance booking is required; no upgrade options are available.
Trenitalia high-speed trains to Firenze S.M. Novella, followed by regional trains to Siena, start from €24.70 in standard class booked up to 4 months in advance. Premium class starts from €27.70; business class from €30.70. Flexible tickets are available.
Italo high-speed trains to Firenze S.M. Novella, followed by regional trains to Siena, start from €20.70 in standard class booked up to 4 months ahead. 1st class starts from €23.70.

Frequency: Approximately 3 hourly trains from Rome to Siena, combining high-speed services changing at Florence and regional trains changing at Chiusi-Chianciano.
Duration: Most Siena to Rome trains take 3 hours and 25 mins to 4 hours and 11 minutes.