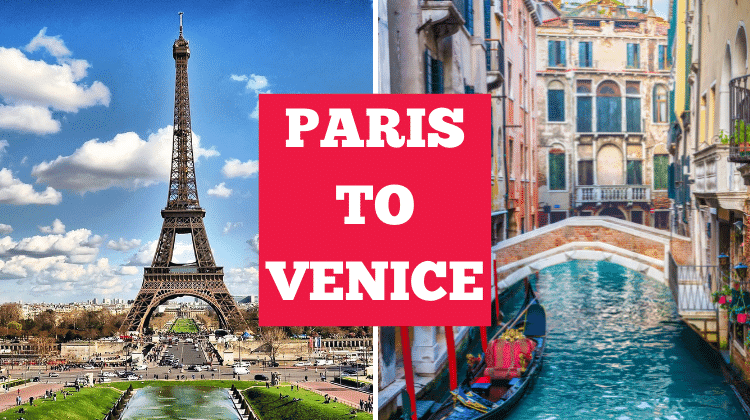 Paris and Venice are tantalizing European destinations. These ancient cities evoke romantic images and promise a richly layered cultural experience. And the good news is, you can travel from Paris to Venice by train in around 10 hours. 
It's an absorbing journey, taking in Alpine views and brief but engaging stops along the way. We've gathered everything you need to know about catching the train from Paris to Venice (and back again), detailing why it is a compelling way to travel between the spellbinding cities.
Paris to Venice by Train
The fastest Paris to Venice trains are operated by Trenitalia (Italian rail) and SNCF (French rail.) Both leave Gare de Lyon early morning and arrive in Venezia Mestre in the evening, with a single changeover in Milan.
Whichever rail operator you go with, you'll end up on a Trenitalia service from Milano to Venice. However, you can travel on either the SNCF TGV train or the sleek Frecciarossa 1000 Trenitalia trains to Milan.  
Both high-speed trains from Paris to Milan are comfortable and sweep through identical rural landscapes, including a riveting and leisurely roll through Alpine foothills. En route, the trains pass through the handsome cityscapes of Lyon and Turin.
On TGV trains and the Frecciarossa 1000, you'll find soft seating, free WiFi, power sockets, ample luggage space, and a café-bar. Nonetheless, the newer Frecciarossa 1000 has the edge in style and comfort.
Trenitalia also holds other winning cards, notably more attractive upgrade options and a shorter journey time.
Crucially, the SNCF service arrives at Milano P Garibaldi station, which means you'll need to spend time getting to Milano Central for your onward journey. It's just a three-minute Metro journey (line 2), yet it's an inconvenience you can skip with the Trenitalia service because it arrives directly at Milano Centrale station.
Trenitalia ticket upgrades offer more seating space, plus a welcome drink and snacks. However, upgrades cost far more than buying your own snacks, so you're really paying for more space and privacy.
For budget-conscious travelers, standard Allegro (economy) is more than comfortable on the Frecciarossa 1000. You can relax in synthetic leather seats with two armrests, USB and power sockets, and have food and drinks delivered to your seat. For a quieter journey, look out for silent carriages in both classes.
For peak comfort, Frecciarossa 1000 trains have an executive carriage. It is undeniably indulgent, with just 10 armchair seats in the carriage and a restaurant-style menu. Prices match the extravagance.  
Meanwhile, the humbler SNCF TGV trains offer just two classes, with first-class providing roomier seating.
Aside from differences in journey time and comfort, there is often a marked difference in prices. At first glance, Trenitalia appears to be the winner.
Prices for the Paris to Venice train with Trenitalia start from as little as €66.90 versus €88 with SNCF. Dig beneath the headline rates, though, and there is noticeable disparity from day to day, driven by availability. It certainly pays to check both websites, as the SNCF Paris to Venice trains are frequently the cheapest.
Tickets for the entire journey can be booked with both rail operators, although cautious travelers may prefer booking with Trenitalia. This can reduce complications should you arrive in Milan too late for an onward connection. Trenitalia is not obliged to replace onward tickets if an SNCF service arrives late.
Aside from frequently being cheaper, SNCF's other trump card is more flexible departure times, with a handful of services leaving later in the morning. The catch is that those services go via Zurich and Milan and involve taking three trains from Paris to Venice. Plus, the fares are typically more expensive.
On the upside, those later departing SNCF Paris to Venice trains via Switzerland are even quicker than going via Milan only, shaving around 45 minutes of the total journey time. You get plenty of glorious Alpine views and can snatch a fleeting moment in Switzerland, which may appeal to destination baggers and curious travelers.
Paris to Venice Train Details
Prices: Tickets for the Trenitalia trains from Paris to Venice start at €66.90.  Business-class upgrades range from €5-€19 for each leg of the two-leg journey. Tickets for the SNCF train from Paris to Venice start at €78. First-class upgrades start at €25. Prices are volatile and affected by availability. During peak periods (especially summer), anticipate notable price differences from one day to the next.
Frequency: Two daily services leaving Paris Gare de Lyon with a single change in Milano Centrale:

The Trenitalia Paris Venice Train leaves at 07:26, arriving at 17:00.
The SNCF Paris Venice Train leaves at 06:47, arriving at 18:12.
Additionally, two Paris to Venice trains go via Zurich and arrive in Venice the same day (leaving at 07:22 and 10:18.)

Duration: The Trenitalia Paris to Venice train takes 9h 46mins and includes a 38min stop in Milano Centrale. The SNCF train from Paris to Venice takes 11h 25 mins, including a 1h 56min break in Milan. Don't forget, you'll need to switch from Milano P. Garibaldi station to Milano Centrale. The SNCF trains Paris to Venice via Zurich and Milan take 10h 50min to 11h 20min. The quicker journey (leaving at 07:22) includes a breathless 7-minute connection in Zurich, followed by 55 minutes in Milan. The train leaving at 10:22 allows a 1h 7 mins stop in Zurich, then a 25-minute connection in Milano Centrale (no need to dash from Milano P. Garibaldi.)  
Venice to Paris by Train
The Venice to Paris trains operated by Trenitalia and SNCF match the reverse journey in nearly all aspects: comfort, views, prices, frequency, and comparable journey times. The noteworthy difference is that the services via Milan leave around midday and arrive in Paris no earlier than 22:25.  
If you plan on hitting the Parisian bistros before closing, you'll need to board alternative services with two connections. Those services are offered by SNCF, with options for connecting trains in Bologna and Switzerland (Zurich or Basel) after changing in Milan.  
The earliest Venice to Paris high-speed train service leaves Venice at 05:52, arriving in Paris at 17:38. Two further morning departures will allow time to enjoy an evening dinner in the City of Light. Because you'll be taking three trains with two rail operators, the cost of traveling from Venice to Paris by train on these earlier departures is often higher.
Venice to Paris Train Details
Prices: Book the entire Venice to Paris train journey with Trenitalia (one change in Milan) from €66.90. Business-class upgrades range from €5-€19 for each section of the two-leg journey. Book with SNCF on the midday service (one change in Milan) from €78. First-class upgrades start at €25. SNCF services departing before noon (two changes, Milan and Bologna or Switzerland) from €123. First-class upgrades from €45. Prices are affected by availability, with sizable differences during peak periods and even from day to day.
Frequency: There are two daily services from Venezia Mestre to Paris Gare de Lyon, with a single connection in Milano Centrale:

The Trenitalia service departs at 11:48am and arrives in Paris at 22:25pm (includes a 1h 38min stop in Milan.)
The SNCF service (including a Trenitalia service to Milan) departs at 12:00, arriving in Paris at 23.16, with a 1h 55min stop in Milan (includes traveling from Milano Centrale to Milano P. Garibaldi.)
There are three alternative services from Venice to Paris when booking with SNCF, departing at the following times:
These journeys take between 11 h 40-46 min, including sufficient time to change trains and grab refreshments at every connection.

Duration: The fastest train from Venice to Paris takes 10 hours 37 mins (Trenitalia). The fastest SNCF service is 11 hours 16 mins.
Paris to Venice via Munich Sleeper Train
Traveling from Paris to Venice by train is a long journey. It is a leisurely, comfortable one, with plenty of views to savor, but potentially tiring. Until recently, an overnight train Paris to Venice offered a compelling solution for weary travelers. Sadly, like all Thello sleeper services, it was discontinued in 2021.
The Munich sleeper service by ÖBB Nightjet is a rewarding alternative but means traveling from Paris to Munich with SNCF first.
As the sleeper service leaves München Hauptbahnhof at 23:20, this route affords avid explorers a few hours in the Bavarian capital. Enough time to explore Aldstadt (the old town) and stop for schnitzel and a beer at the historic Hofbräuhaus. As the tickets are booked separately, you can also extend your stay without additional travel costs.
The ÖBB Nightjet service from Munich to Venice offers several levels of comfort.
The cheapest ticket bags you a spacious seat in a 6-seat compartment. Groups and families can book the entire compartment for ultimate privacy.
More comfortable is a couchette in a shared compartment. Compartments contain 4 or 6 couchettes and can also be booked in their entirety. Toilets and wash facilities are shared in each wagon, just as they are for seated passengers. Fresh bedding is supplied, along with a basic breakfast (hot drink, bread, preserves.) Mineral water is also provided.
Supreme comfort is found in a sleeper cabin (1-3 berths with options to book the entire cabin.) Fresh bedding, private wash facilities (shower in the deluxe cabin), and an à la carte breakfast complete the experience.
Needless to say, you forgo views on the sleeper service until the sun rises over northern Italy. Which is an agreeable way to start the day!
Booking the overnight train from Paris to Venice via Munich requires two tickets from SNCF and ÖBB Nightjet. SNCF offers one daily direct service and several other options that require a single change in Germany. The journey can take as little as 5h 22 mins.
You can also catch an ÖBB Nightjet sleeper service from Paris Est to München Ost. But this service only runs three weekly services (Tuesdays, Fridays, and Sundays.) However, it is an attractive option if you want a full day in Munich. 
Paris to Venice via Munich Sleeper Train Details
Prices: Book the ÖBB Nightjet service from München Hbf to Venezia Mestre from €34.90 (seat only, reservation included):

Couchettes start at €54.90.
Sleeper cabins from €84.90.
Private compartments from €109.
Tickets for ÖBB Nightjet can be booked up to 180 days in advance: nightjet.com/en/#/home. SNCF tickets from Paris Est to Munich to München Hauptbahnhof start from €39.00 (on the direct service only). Indirect Paris to Munich services (change to ÖBB in Germany) start from €76 on SNCF Connect.

Frequency: One daily ÖBB Nightjet service from Munich to Venice, departing at 23:20 and arriving at 08:23. One daily direct SNCF service from Paris to Munich departs at 15:55. Arrival time is 21:36, so you won't have time to explore Munich with this option. Should you want to sample authentic Bavarian flavors before jumping on your sleeper service, Wirtshaus Rechthaler Hof just outside the station is worth a visit.

SNCF and ÖBB combined services can be booked via SNCF Connect. They are recommended if you want to spend time in Munich and leave for Venice on the same day. The earliest train departs at 06:55, while a 13:55 departure arrives in Munich at 19:18.

Duration: The ÖBB Nightjet service from Munich Hbf to Venice Mestre takes 9 hours 3 mins. SNCF services from Paris Est to Munich Ost take from 5 hours 22 mins to 7 hours 42 mins. Most journeys are less than 6 hours. The total journey time on the overnight train Paris to Venice via Munich can take less than 15 hours, with flexible time in Munich.
The Orient Express from Paris to Venice
If you're looking for an unforgettable experience, the fabled Orient Express is the ultimate ticket.
The original Orient Express is no longer running, but a comparable service is operated by the Belmond travel group and bills itself as the Orient Express. With original rolling stock from the 1920s and 30s and care taken to recreate the legendary experience, it recaptures all the magic.
The service is infrequent, as the Orient Express moves around Europe, connecting different cities throughout the year. Several times a month, the legendary train docks in Paris Gare de Lyon and weaves its way slowly across Europe to Venice.
If this dream journey is on your bucket list, check the website regularly because tickets sell fast.
Utterly decadent, tickets cost several thousand dollars, often more. The singular experience includes lavishly furnished cabins and endless gourmet dining. An onboard bar serves cocktails and live piano music until the last passenger retires to their magnificent cabin.
We mention this service because the Belmond Simplon Orient Express Paris to Venice is a once-in-a-lifetime experience that shades all other Paris to Venice trains. Frequency and cost vary, so it is best to check the website to start making the dream a reality. 
Paris to Venice Trains FAQ
Can you travel between Paris and Venice by train?
Yes. Two daily services require just one connection in Milan. Three alternative services require two changes.
How far is Paris to Venice by train?
Trains from Paris to Venice cover 713 miles (1,148 km). The beeline distance from Paris to Venice is 525 miles (844 km.)
Is there a high-speed train from Paris to Venice?
Yes. SNCF and Trenitalia both offer a high-speed train Paris to Venice.
Is there a direct train from Paris to Venice?
No. The best routes travel to Milano Centrale, where a connecting service completes the journey to Venice.
How long is the train from Paris to Venice?
The quickest Paris to Venice train time is 9h 46mins with Trenitalia. The fastest Venice to Paris train time is 10 hours 37 mins, also with Trenitalia.
What is the Paris to Venice train ticket price?
The cheapest trains Paris to Venice start from €66.90 with Trenitalia. The same headline fares apply to the train from Venice to Paris.
The cheapest train from Paris to Venice with SNCF starts from €78.00, the same as the corresponding train from Venice to Paris.
When should I book a train ticket from Paris to Venice?
Save money by booking as early as possible: fares increase as seats are sold.
You can book Trenitalia trains 90-120 days in advance.
SNCF inOui services accept bookings 4 months in advance.
Is there an overnight train from Paris to Venice?
The direct overnight Thello train from Paris to Venice was discontinued in 2021.