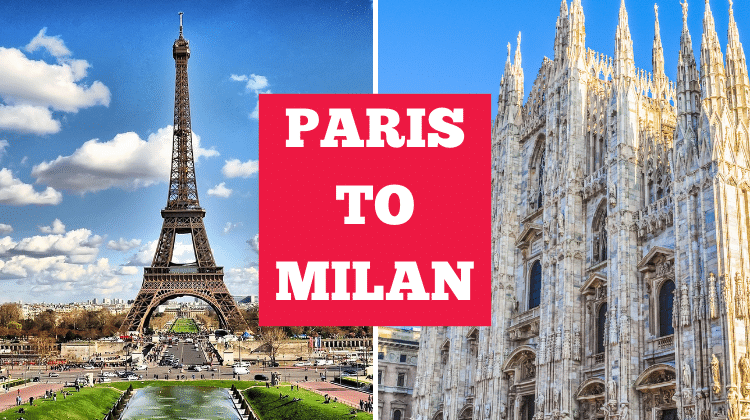 There is a neat symmetry in traveling from one fashion capital of Europe to another. It might be tempting to fly between the Paris and Milan in the hope of squeezing out a few precious hours of vacation time. But with fast, direct services connecting the two cities, there are more compelling reasons to travel from Paris to Milan by train.
We show you why with a look at the fastest Paris to Milan trains and an alternative route for adventurous travelers. All are fantastic ways to see a little of each country and unwind without the teeth-clenching, hair-pulling frustrations of air travel.
TGV Train from Paris to Milan
The first service to consider is the TGV from Paris to Milan service. It leaves the Gare de Lyon in the heart of Paris and arrives in Milan just 7 hours later.
No changeovers are required, and you can sit back and watch vineyards and provincial villages flash by. Along the route, you pass through the Préalpes (alpine foothills) before hitting Northern Italy.
The seats are snug enough to grab some shuteye, ensuring you're refreshed and ready to hit the trattorias of Milan the moment you arrive.
Whatever you do, boredom is not an option. In addition to the ever-changing views, you'll have free WiFi and a café-bar to stretch your legs and fill your stomach. Most seats have a power socket too.
The TGV makes three daily journeys from Paris to Milan. The headline rate of €29 is commonly available for the TGV Paris to Milan if you book in advance, making it cheaper than budget airlines.  
The TGV from Paris to Milan has two travel classes. The price difference can be as little as €10. The only thing you gain with a first-class ticket is more space, legroom and width. No food or snacks are included with either ticket.
A first-class ticket will open the doors to the Gare de Lyon lounge, Salon Grand Voyageur. It's a quiet and comfortable escape from the main concourse, with free hot drinks and toilets you won't have to line up for.
Single travelers might appreciate the solo seats in first-class. Conversely, families and groups will welcome the four-seater options with a table in second class. 
A few other benefits illustrate why train travel beats flying every time (in our biased opinion.)
You can bring pets and folded bikes on the train. And just like any other rail service, there are no customs, no need to check in bags, and you can arrive just minutes before your train leaves. Luggage is stored in designated racks, overhead, or under your feet.
---
Traveling in the direction of Milan to Paris by Train? >> Read: Milan to Paris by Train
---
Needless to say, one of the pleasures of traveling in France and Italy is the mouthwatering cuisine. We'll let you decide who deserves to be crowned the best in Europe (just don't ask the locals.)
If you want a pre-departure meal, nothing beats the grandeur (with prices to match) of Le Train Blue. But a decent and more budget-friendly alternative is the Kitchen & Bar @Gare de Lyon. Otherwise, grab a few goodies to eat on the train, which will be better value, and probably more satisfying, than the food available on the train.
Paris to Milan TGV Details
High-speed Frecciarossa Train from Paris to Milan
SNCF has been operating trains from Paris to Milan for many years. Competition along the route heated up in 2021 when Trenitalia started running rival trains from Paris to Milan. This is good news for travelers, as it keeps prices tight and provides more flexibility in travel times and seat availability.
The rival Frecciarossa trains from Paris to Milan are a persuasive alternative to the TGV service. The journey is quicker, and the trains are far newer. There might not be a noticeable difference in comfort once you've settled in, but the Frecciarossa 1000 trains — pride of Trenitalia's fleet — have a little more sparkle.  
More importantly, Frecciarossa trains are faster, despite being more environmentally friendly. However, due to stopping in Lyon the total train from Paris to Milan time is only about 20 minutes shorter. Although, if every minute counts, this may be a clincher.
Trenitalia's Paris to Milan trains offer more upgrade options and an executive class akin to first-class plane travel. Their standard seats, technically their premium class for everyday services in Italy, are very comfortable. The leather-lined seats fit the high-spec design features of the Frecciarossa 1000, which only entered service in 2015.
If you need more room or a solo seat, upgrade to Business Class, often for as little as €10. You get complimentary drinks and snacks and can order food directly to your seat.  
Executive class is another world. Ten reclining, swiveling seats, and superior dining options. Heck, they even have a meeting room for movers and shakers traveling from Paris to Milan by train.  
With all these positives, you might be asking yourself how the TGV train Paris to Milan competes.
The main negative is that the Trenitalia Paris to Milan trains only run twice daily: early morning and mid-afternoon. The mid-afternoon train arrives after 10 pm, so a dash to your hotel is on the cards.
---
Traveling in the direction of Milan to Paris by Train? >> Read: Milan to Paris by Train
---
Also, the cheapest tickets we could find were €35. Still amazing value, but a little more expensive than the Paris to Milan TGV.
If you are wondering which route offers the best views, there is nothing to separate them. Aside from a little deviation around Lyon, you're rewarded with the same views.
As you would expect from an uber-modern train there is WiFi, power sockets at every seat, and a café-bar.
Paris to Milan Trains via Zürich and the Alpine Gotthard Tunnel
If you have the time and a yearning for adventure, several alternative routes take in different parts of Europe. Trains from charming Strasbourg are fast. If you like sleeper trains and Bavarian beer, you might enjoy going from Paris to Milan via Munich.
We've also previously detailed a spectacular Alpine route using the Bernina Express from Switzerland. You can read about it in our guide to traveling from Paris to Rome by train.
This time we have another stellar suggestion that takes in Switzerland's delightful capital, Zürich, and the world's longest rail tunnel, the Gotthard Base Tunnel (GBT.)
At 35.4 miles (57 km), the GBT has cut the journey time between Zürich and Milan by an hour. Sure, it also cut out some spectacular views over the alpine Gotthard Pass. But there is still an abundance of pleasing scenery, including stunning views over Lake Lugano and Lake Como.
Surprisingly, traveling through the Swiss capital only adds an hour or two to the direct Paris to Milan train time. It also adds the opportunity to discover the magic of Zürich and take an unforgettable train journey through the alps and a subterranean feat of engineering.
There's no great secret to this journey. Book a standard SNCF TGV Lyria ticket from Paris to Zürich (approximately 4 hours.) Then book an SBB service from Zürich to Milan (trains between 3-4 hours, some direct, some with 1-2 changes.)
The frequency of services between all three cities means it is possible to leave Paris in the morning, spend a couple of hours in Zürich's Altstadt (old town), and still reach Milan in the evening.
A fondue cannot be rushed. As you're booking separate journeys, you might want to take a prolonged stop in Zürich, a city that feels very different from Paris and Milan.
Paris to Milan Trains FAQ
Can you travel from Paris to Milan by train?
Yes – five direct Paris to Milan trains will get you there in around 7 hours. More circuitous routes are available, including routes via Switzerland that add less than 15 minutes of total travel time. 
How to buy Paris to Milan train tickets?
A train ticket from Paris to Milan can be bought on the day in the Gare de Lyon. But you'll pay the highest possible prices. Book online as early as possible for the best savings.
How far is Paris to Milan by train?
Measuring how far from Paris to Milan by train miles covered is tricky. However, the beeline distance from Paris to Milan is 397 miles (639.5 km.)
When should I book a train ticket from Paris to Milan?
As early as you can. Most bookings can be made at least four months before travel. Here's a quick guide to the earliest you can book a Paris to Milan train ticket with different rail providers:
Which Paris to Milan train route should I choose?
A direct train from Paris to Milan Italy with SNCF or Trenitalia is very similar.
The Frecciarossa is about 20 minutes quicker. The trains are more modern and include better upgrade options. They run twice daily and arrive at the majestic Milano Centrale station.
The TGV train Paris to Milan are slower. But there are three daily services to Milano P Garibaldi, and it is easier to find the cheapest advertised rates of €29.
Frankly, there is not much to separate them, but the comfort and speed of the Frecciarossa 1000 trains have the edge.
If you're looking for ways to spice up a trip to Europe, consider going via Zürich or Basel. It may add an hour to your journey and will double the ticket price (at best rates.) Yet it's a small price to pay if you want to see Switzerland and enjoy a more scenic train route.