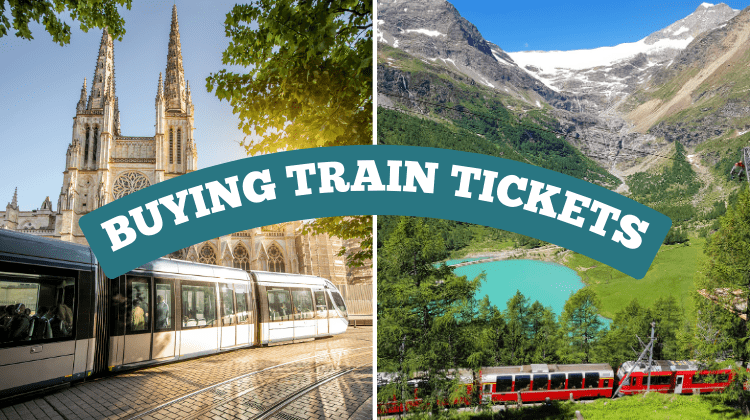 Tips on the easiest and cheapest ways to buy train tickets in France and Italy.
Riding a train through France and Italy has its own special charm, and is one of life's great indulgences. But researching and buying train tickets can be a real headache.
Before the advent of the internet, your only options were to go to the ticket counter at the station or pay a travel agent for their services. But now, you can (and should) buy your tickets online. With increasing demand and variable-priced tickets, buying in advance will save you money and hassle. Mobile e-tickets have also made it possible to buy local and regional trains on a whim.
But here's why you should book long legs and ALL high-speed rail in advance:
You snag the best price. Train tickets can fluctuate like airline fares, so the earlier you book the cheaper your seats cost. Long-distance train tickets generally go on sale 3-4 months prior to departure date. Some railways offer super-cheap budget tickets in small quantities, which typically sell out quickly.
You ensure the best seat. Upstairs, downstairs, facing forward, around a table, etc. If you want your pick, book online.
You ensure a seat. Heck, forget the best seat, you could be left with no seat if you don't book ahead. Long-distance trains at peak times (mornings, evenings, weekends) and seasons (summer, holidays) fill up completely with the majority of seats reserved in advance by savvy travelers (and even savvier locals!), which could leave you without a seat for a very, very long journey.
You guarantee passage on the exact train rather than having to ride an earlier or later one or take one with lots of connections.
For these reasons, we strongly recommend buying your tickets online in advance, sometimes months ahead for high-speed and long-distance trains. In this article, I'll summarize the two main ways to buy European train tickets online:
Direct from railways
Online travel agency
In Italy, six major operators ply the railways, including local lines, but travelers must only know two: Trenitalia for long journeys within Italy and Thello for long journeys into other countries (like France and Switzerland).
The French railways are a little less complicated than Italy's. The national railway, SNCF, oversees the infrastructure and ticket sales within France for everything from the high-speed TGV trains to regional buses. Lines co-owned by French and non-French companies include Thalys, which serves the Benelux corridor, and Eurostar, which links to London using the "Chunnel" under the English Channel or La Mancha, as it's known in France.
Overview: Buying Your France + Italy Train Tickets Online
Whether buying direct or via an online travel agency, it's important to first understand the differences and conduct a little research to see which option is best for you, what fees might be included and what logistical hurdles you may encounter.
Direct: Buying Train Tickets from French and Italian Railways
Direct: The Cheapest Way to Book Train Tickets in France and Italy
We advise setting up accounts and purchasing advanced tickets on your laptop, then use the mobile app for presenting e-tickets and buying spontaneous routes. But do it however feels best!
Pros:
Cheapest option with flexible fares and seat reservations (where applicable).
Online timetables have more detail.
Cons:
Sites can be obtuse and difficult to use.
Operators want Americans and other non-EU citizens to purchase through an agency.
May be unable to purchase entire journey
You'll need accounts with at least
Links:
Agency: Buying French and Italian Train Tickets from an Online Travel Agency
Online Agencies: The Easiest Way to Book Train Tickets in France and Italy
This is the easiest option, and how we recommend most non-EU travelers (Americans, Canadians, Australians, etc.) purchase train tickets. We use these platforms to purchase high-speed rail and long routes, especially if it involves travel between France and Italy.
Pros:
Easy to use
Purchase tickets across all participating operators
Cons:
Fees are added to ticket fares
May not be able to reserve a specific seat
We prefer Omio because it's easy to use, sells bus and ferry tickets in addition to trains, and stores all our tickets in one place: