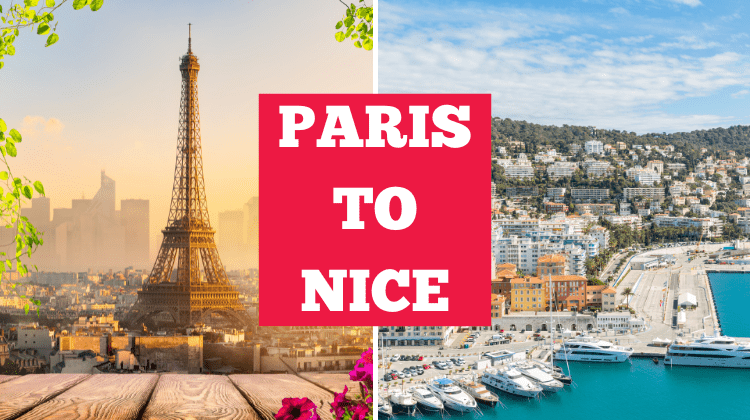 Gateway to the French Riviera, Nice has been luring visitors to the south of France since ancient Greek triremes rowed ashore. More recently, the TGV Paris to Nice has been helping urban escapees enjoy the sunshine and singular charms of Provence.
Nice is more than just a weekend getaway. France's fifth-largest city is well-situated for exploring Provence and the French and Italian Rivieras. The Paris to Nice trains makes it possible to travel from Paris to anywhere in Italy via one of the most scenic rail routes in Europe. There's even an overnight Nice to Paris train, offering a mix of choices for rail travelers who want to experience the region's magic. Here's our guide to making the most of those choices.
Paris to Nice by Train
Nice is well served by trains from Paris. It has long been a voguish destination for international visitors, signified by its famous beachside walkway Promenade des Anglais recognizing the city's century's old popularity with English tourists, Queen Victoria among them.
Immortalized in paintings by Matisse and Chagall, Nice is a rare combination of a cultural haven, beachgoers' paradise, and a modern metropolis. Consequently, traveling from Paris to Nice by train is fast and convenient, with frequent direct services on the TGV, aka the Train à Grande Vitesse (high-speed train).
The high-speed train (Paris to Nice) takes 5½-6 hours on direct services. In addition to the direct trains are indirect routes via Marseille. Those services mix TGV and TER (Transport express Régional) and add approximately one hour to the overall journey time.
Whichever route you choose, the venerable TGV is arguably the best way to get from Paris to Nice. The aging TGV still holds the rail speed world record and remains among the sleekest and fastest rail services on the continent.
Fares for the TGV Paris to Nice train can be as low as €25.00. When booking, you will see TGV trains branded InOui or OUIGO. They have similar journey times yet offer notable price differences.
OUIGO is a low-cost service and mimics budget airlines by limiting the amount of luggage you can bring on the train unless you pay for extra bags.
OUIGO trains lack first-class carriages, Wi-Fi, onboard catering, and electrical outlets. Paid Wi-Fi is slowly being rolled out on OUIGO services but has yet to reach the Paris to Nice trains. Collectively, these limitations create more seats, keeping prices low without affecting journey times.
The more frequent InOui services match the traditional TGV experience:  adjustable ergonomic seats, spacious luggage storage, free Wi-Fi, USB or electrical sockets, and a café-bar. Upgrade to first-class for more space, power sockets, and the option to book single seats for solitary travelers.
New TGV trains are due to roll out of production in 2023. They will likely be used exclusively for InOui services, at which point the upgrade may become more apparent.
InOui passengers also benefit from the imaginatively titled Le Bar. Le Bar serves a selection of hot food: pasta, quiche, croque monsieur, and the ubiquitous burger. As French dining custom demands, there is a good-value formule with starter, mains, and drinks. In a sign that SNCF is on top of belated food trends in France, vegetarians are surprisingly well catered for.
For anyone who wants to fill up on food before departure, Gare De Lyon is home to the photogenic Belle Epoque restaurant Le Train Bleu. Renowned for its ornate surroundings as much as its exquisite cuisine, it's a destination restaurant ideally located for an indulgent Parisian farewell.
For a more down-to-earth café experience, head to L'Express de Lyon opposite the station. Popular with locals and beloved by craft beer cognoscenti, it is a welcoming place for a light lunch before flopping into your train seat. 
Once on board one of the Paris to Nice trains, you can look forward to flashing through the French countryside and small towns for several unbroken hours. The first stop is Marseille, approximately 3 hours from Paris. After that, the train stops at towns and cities along the Mediterranean coastline.
Catch an early train and a stop in Marseille is possible. France's oldest city merits more than a few hours between trains. But if that's all you can spare, the city's ancient port (Vieux Port) is less than a 30-minute walk from Gare Saint-Charles.
That's enough time to sip a glass of Marseille's beloved pastis while dreaming of owning one of the many yachts docked there. Sunshine, sea air, and a lingering taste of anise are a sign you've arrived in Provence and left Paris far behind.   
The high-speed train – Paris to Nice – also stops in Toulon, Cannes, and Antibes. All are compelling Mediterranean destinations to rival Nice.
If you do jump off along the way, separate tickets are needed. Happily, splitting the journey only adds a few Euros to the Paris to Nice train cost. Another good reason to bolt on a stop in one of France's Mediterranean hotspots if you have time.  
Once in Nice, you're just 19 miles from the Italian border, with Monaco and the French Rivera separating the two countries. This means there's a good chance you'll be back on a train to reach some of the glitzy Riviera towns dotted around La Belle Nice. 
Paris to Nice Train Details
Prices: Trains from Paris to Nice, France, cost between €25.00 and €99.00. The OUIGO TGV train – Paris to Nice – is the least expensive, starting at €25.00. Luggage restrictions apply, although you can add more bags for €5.00 each. OUIGO tickets are non-refundable. OUIGO tickets can only be purchased online through SNCF Connect or the dedicated portal, OUIGO.com.  InOui fares start at €45.00 for the TGV train – Paris to Nice. InOui trains offer a more traditional rail experience (no luggage limits, spacious seating, Wi-Fi, and catering). First-class upgrades on InOui Paris to Nice train tickets deliver more seating room and cost €15.00+. Book on SNCF Connect for electronic tickets or buy them at the station.

All prices vary by route and availability.

Frequency: There are up to 10 daily Paris to Nice trains, including two low-cost OUIGO services. All trains depart from Paris Gare de Lyon for Nice Ville (direct) or Nice Saint-Augustin (indirect.). The earliest fast train, Paris to Nice, is 06:00, with the latest fast train from Paris to Nice leaving at 19:09.
Duration: The fastest journey from Paris to Nice by train take5 hours 37 minutes, with most services taking just under 6 hours. Indirect routes via towns in southern France add 30-60 minutes to the overall Paris to Nice train time.
Nice to Paris by Train
The Nice to Paris trains offer a near identical service to the opposing journey. Prices, duration, frequency, and type of train are all similar. If you plan to catch a Nice to Paris train, the only noticeable difference is the departure times.
You can still expect 6 direct TGV Nice to Paris and at least 4 indirect services via Marseille or other hubs, like Lyon. Again, two of the daily direct services are on the budget OUIGO trains, which get you to Paris just as fast but with fewer perks (less luggage, no Wi-Fi, no café-bar.)
If you book the catering-free OUIGO high-speed train (Nice to Paris) you may want to load up with food and drinks before departure. Nice Ville is in the heart of the city with superettes, boulangeries, and restaurants nearby.
The area around Nice Ville station is known for its international eateries, but if you fancy a hearty yet inexpensive meal, head to Voyageur Nissart on 19 Rue d'Alsace-Lorraine. A short hop from the station, it's a cheerful bistro serving inexpensive Niçoise plates that will award off hunger until you reach Paris.
If you travel on the indirect services from Nice, you may be able to steal a moment at your connecting station. Most changeovers on the TGV Nice to Paris are made in Marseille (but occasionally Lyon, Toulon, or Antibes) and last 30-40 minutes.
St Charles is the primary rail hub in Marseille, complete with the usual gathering of fast-food outlets, coffee shops, and mini-supermarkets. If you don't want to risk missing your onward service, don't worry. Onward trains to Paris are usually an InOui TGV service, complete with Le Bar serving drinks and a little bonhomie.
Nice to Paris Train Details
Prices: Prices range from €25.00 – €99.00. Low-cost OUIGO TGV trains from Nice to Paris cost €25.00 to €35.00 when booked in advance. OUIGO trains lack Wi-Fi and impose luggage limits, with additional bags costing €5.00. InOui services are more frequent and offer a classic TGV experience (no luggage limits, café-bar, Wi-Fi, charging points.) Journey times are the same, but tickets start from €45.00.  First-class upgrades on InOui trains (more seating room) cost €15.00+, with prices varying by route and availability. Book an InOui or OUIGO high-speed train Nice to Paris via SNCF. Book on the SNCF app and show e-tickets on board. OUIGO tickets can also be purchased via the dedicated portal, OUIGO.com.
Frequency: Up to 10 daily rail services from Nice Ville to Paris Gare de Lyon. 5-6 services are direct, while the remaining services require one connection (usually in Marseille St Charles.)
Duration: A direct fast train (Nice to Paris) takes between 5 hours 42 mins to 5 hours 58 mins. Indirect trains take between 6 hours 36 mins to 6 hours 45 mins (sometimes longer.)
Paris to Nice by Overnight Train
A long-standing route from Paris to the Cote D'Azur, the overnight Paris to Nice train was revived in 2021 after a 4-year hiatus. A remarkable feat for a train that takes twice as long as the TGV.
The journey will appeal to rail fans nostalgic for the simple pleasures of sleeper services. An apparently insatiable demand for slower travel coupled with growing awareness of aviation's environmental footprint is paying off, with European sleeper services touted to make a big comeback.
The INTERCITÉS overnight train (Paris to Nice) is also ideal for travelers who want to arrive refreshed. Catch an afternoon Paris to Nice TGV, and you'll have little time to explore your new Provencal base. For some, catching some shuteye on the sleeper service and arriving bright-eyed and raring to go is a unique selling point.
The same applies to travel in the opposite direction on the Nice to Paris overnight train, with trains pulling into Paris before the capital has awoken.  
Conversely, both services leave in the evening, giving people more daylight hours to enjoy whichever city they depart.  
Tickets for the overnight train, Paris to Nice, are advertised three months in advance and are quickly snapped up. If you want to grab a couchette, early booking is recommended.
What can you expect on an overnight journey lasting nearly 12 hours? That will depend on your ticket class and whether you booked a for a couchette.
Couchettes are optional. If you don't book one, you'll need to get comfortable in a standard train seat. The second-class seats come with retractable footrests and reading lights.
Couchettes are 4 to a compartment in first-class or 6 in second-class. Families and groups can book the entire cabin, which is lockable.
You can book all 4/6 tickets, no matter how many are traveling, providing you pay for all the tickets. If you're lucky, you may see an offer for Espace Privatif. Espace Privatif invites passengers to book the entire compartment for a reduced price, usually when the train is likely to leave with empty couchettes.   
If you're a lone female traveler, Espace Dame Seule is a women-only carriage.
Luggage travels in your compartment or in dedicated racks. If you bring a bike, a supplementary fee is applied.
The first stop is Marseille, with 6 further stops before reaching Nice. That means the Paris to Nice night train is non-stop for over 9 hours, minimizing disturbance through the night.
Passengers with a couchette receive a bottle of water, fresh bedding, and a small travel kit for freshening up. First-class ticket-holders can use private shower facilities at Paris Gare Austerlitz, where the overnight train arrives and departs from.
Whichever class you travel in, you can pre-order food from the onboard café. You can have a look at the sandwich and snack-heavy menu here. First-class passengers get first-class treatment with pre-ordered food delivered to their compartment.
Wi-Fi is available on some INTERCITÉS services, though it has eluded the Paris to Nice trains thus far. It is being rolled out on other services, so check when booking.
But if you can live without Wi-Fi, you can forget about the modern world for a night. And catch up on sleep, lots of it. 
Wake up early enough, and view-seekers traveling from Paris can watch the sunrise over Provence. Contrastingly, the return journey offers urban cityscapes as you roll through the Île-de-France region into Paris.
SNCF INTERCITÉS overnight services are helping keep slow tourism alive. With tickets often sold out, the service is throwback rail travel that appeals to travelers chasing memorable travel experiences and people who just like to sleep between destinations.
Paris to Nice Overnight Train Details
Prices: There are four tiers when booking the INTERCITÉS train from Paris to Nice (and back):

Second-class seat only fares from €30.00.
Second-class couchettes (6 to a compartment) from €38.00.
First-class couchettes (4 to a compartment) from €76.00.
Business Premiere includes a first-class couchette and modifiable tickets that are refundable. Fares start from €243.00.
Fares rise to reflect seat availability, so expect to see sizeable differences on different services. Book online via SNCF Connect up to three months ahead for the best prices.

Frequency: There is one night train connecting Paris and Nice traveling in either direction. Paris to Nice night trains leaves Paris Austerlitz at 20:51. Nice to Paris trains leave Nice Ville at 19:16.
Duration: The Paris to Nice night train takes 12 hours 23 minutes. The Nice to Paris night train takes 11 hours 39 minutes.
Paris to Nice Trains FAQ
Is there a train from Paris to Nice?
Yes. There are around 6 direct daily services, complemented by approximately 4 indirect services.
Is there an overnight train from Paris to Nice?
Yes. The SNCF INTERCITÉS overnight train takes around 12 hours with couchettes and onboard catering available.
How long is the train ride from Paris to Nice?
The quickest Paris to Nice train time is 5 hours 37 minutes. Most journeys take under 7 hours, whether direct or indirect.
Is there a high-speed train from Paris to Nice?
Yes. All trains from Paris to Nice, France, are high-speed TGV trains except the overnight service.
How much does the Paris to Nice train cost?
Book the low-cost OUIGO fast train, Paris to Nice, for as little as €25.00 up to 3 months ahead.
InOui Paris to Nice train tickets typically range between €35.00 and €55.00 and increase significantly on busy services.
When should I book a Paris to Nice train ticket?
Book OUIGO and InOui TGV trains up to 90 days ahead. INTERCITÉS overnight trains can be booked up to 3 months in advance.