Traveling from Paris to Rome by train is an unforgettable experience. Modern, fast, and frequent trains whisk you from the City of Lights to the Eternal City on the same day, allowing you to savor glorious views along the way.   
A throwback to simpler times, the daily Paris to Rome trains are a gentler way to travel. No passport queues, no lost luggage. Comfortable and unhurried, you are treated to stunning scenery. Sit back, relax and enjoy views of vineyards, Alpine glaciers, and the occasional historic landmark. To help you find the best route for you, here's our pick of the Paris to Rome trains.
High-speed Trains From Paris to Rome via Milan
The fastest and most comfortable way to get from Paris to Rome by train is with TreniItalia's high-speed service via Milan.
Traveling on the sleek new Frecciarossa 1000 trains, your journey passes through the gastronomic capital of France, Lyon, and one of Italy's unsung gems, Turin.
Along the way, you flash through the French countryside until you reach the Alps, when the train slows down, allowing you to enjoy stunning views across this picturesque landscape.  
Seven hours later you arrive in Milan, where you can then hop on one of the frequent services to Rome. Or take a moment to grab an invigorating espresso and soak up a little of the atmosphere in fashionable Milan.
As you might expect from the relatively new Paris to Rome trains, you get soft seats, power sockets, and WiFi to help the journey pass by.
Train tickets from Paris to Rome are upgradeable. From wider leather-lined seats and air conditioning in business class to a first-class experience in one of the ten executive seats on board.
Frecciarossa Trains From Paris to Rome Details
Why choose this route? You get comfort all the way on Trenitalia. Traveling between the two great capitals in less than half a day, you sweep through majestic scenery and get the option to spend some time in Milan.
Prices: Trenitalia trains Paris to Rome cost from €59 (or €29/€29.90 per leg). Bookings can be made four months in advance, and prices rise as you get closer to your chosen dates. Upgrade options start at €7-10 per journey section.
Frequency: 1 train daily, departing at 07:26. Approximately 30 daily high-speed services connect Milan and Rome.
Duration: the Trenitalia train from Paris to Rome time is 10h 14m, with a short transfer in Milan (6h 40m to Milan.)
Online Booking:
Our Favorite Hotels in Rome
---
---
---
High-speed Trains From Paris to Rome via Turin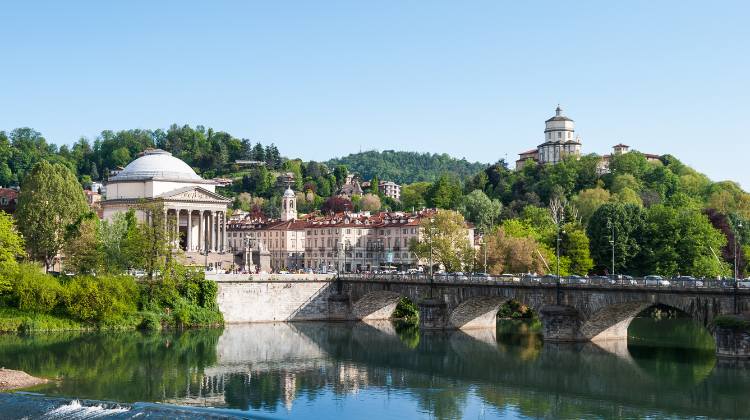 The French national train operator, SNCF, has been running fast trains from Paris to Rome far longer than Trenitalia's cross-border service. Their service via Turin is the next best option, as it adds an hour to the overall journey time.
SNCF's Paris to Rome train service follows the same route across France before branching off to Turin in Italy. There you switch to a Trenitalia connection to complete your journey to Rome. The entire journey can be booked together through SNCF.
SNCF's TGV is a high-speed service (once Europe's fastest but since eclipsed by Trenitalia's Frecciarossa 1000) and offers similar comforts, including WiFi, power sockets, and a café-bar.  
SNCF operates a morning and afternoon service, giving you more flexibility. You can also join the service in Lyon (a compelling lunchtime stopover if you want to break up the journey.)
TGV Trains From Paris to Rome Details
Why choose this route? For the flexibility of afternoon departures and the opportunity to stop in elegant Turin without adding too much time or sacrificing comfort.  
Prices: SNCF trains Paris to Rome price start from €59 (or €29/€29.90 per leg). The headline price is available for early booking and rises considerably as seats are sold. First class travel will add at least €15 to your train tickets from Paris to Rome. They'll give you wider seats and, potentially, a quieter carriage popular with business travelers. Bookings can be made up to 4 months in advance.
Frequency:  3 direct services daily, starting at 06:46. 32 services connect Turin and Rome.
Duration: 11-12 hours with a short changeover in Turin.
Online Booking:
Recommended Experiences in Rome
Paris to Rome Via Chur & the Bernina Express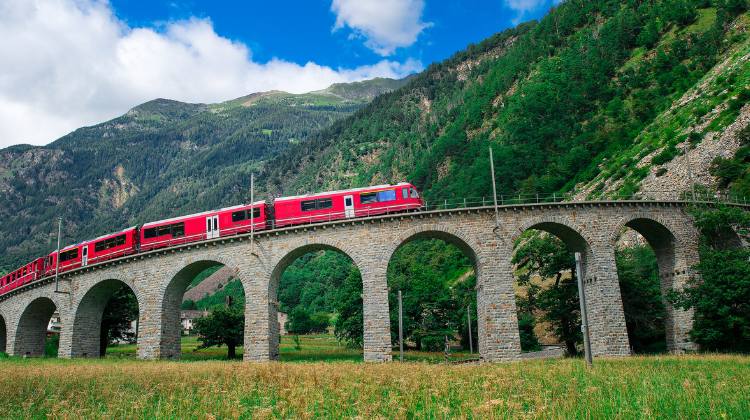 Slow travel in Europe is a luxury. But if you have the time, you can put together some memorable experiences. This route includes the enchanting Bernina Express and packs in three countries, a wonderful alpine city, and a precipitous rail route with world heritage status.
The Bernina Express departs from laidback Chur, the oldest city in Switzerland, and crosses Alpine glaciers into Italy. Observation windows offer panoramic views as you snake through the mountains topping 7,392 ft above sea level. An English language audio guide enlivens everything as you glide through the impossibly beautiful mountainous landscape.
There is a catch. This is a long journey requiring an overnight stop in Chur (Zurich and Basel are also options) and at least six train changes. It is a route for travelers with time on their side and who want to experience one of the exceptional European rail experiences.
The quickest route looks like this: Paris > Basel > Zurich > Chur > Tirano > Colico > Milan > Rome
Furthermore, you need to get busy on the internet to make this journey a reality as tickets are booked separately. From Paris to Chur with SNCF, the Bernina Express via Swiss SBB or DB German Railways, and connecting regional service from Tirano to Rome via Trenitalia.
You can also start in St Moritz in Switzerland and terminate in Lugano in Italy, but this will add time and expense to the journey. An additional daily service is available from St Moritz.
Paris to Rome Trains via Switzerland Details
Why choose this route? For an unforgettable adventure with striking views and a Swiss Alps stopover.
Prices: Starting at around €220 for all three tickets, this is not the cheapest Paris to Rome train price. As usual, early booking will save money. You must reserve seats for the Bernina Express, which can be done online or via their booking line, up to three months in advance. A supplementary fee of €20-25 is chargeable for reservations. First-class upgrades are available on every leg of the journey. They will add approximately €110 to the total train from Paris to Rome cost. If you only want 1st class for the Bernina Express, upgrades start at €36.
Frequency:

Paris to Chur – 17 services daily. Journeys range from 6-6.5 hours, with 2 to 3 changes.
Chur to Tirano – twice daily (morning and afternoon)
Tirano to Rome – hourly

Duration: 18+ hours rail journey time excluding stopover.  
Online Booking:

*Book all legs in one easy-to-use app called Omio:
Book Direct:
Must-Do Tours in Rome
Thello Overnight Trains Via Venice
Sadly, Italian railway, Thello, discontinued its once-popular Paris to Venice overnight train in 2021. We'll monitor the situation, hoping it'll return some day or get picked up by another operator, like Austria's NightJet service.
2023 Update:
More Train Options Between Paris and Rome
String together a 1- or 2-week rail journey between Paris and Rome with our comprehensive guide:
Paris to Rome Trains FAQ
Can you travel by train from Paris to Rome?
Yes – a changeover in Milan or Turin is required for the quickest routes, but you can book train tickets from Paris to Rome in one booking.
How long is the train ride from Paris to Rome?
10h 14m is the quickest train from Paris to Rome time. The most scenic route involves around 18 hours of rail travel and an overnight stop.
When should I book a train ticket?
Most bookings can be made up to 4 months in advance for train tickets Paris to Rome. The cheapest train tickets are available for the earliest bookings, so don't hesitate once you are ready to buy them.
Which route should I choose?
Trenitalia (Italian national rail operator) is the most popular route for speed and comfort. Their single service departs in the morning and changes in Milan.
For travel later in the day, choose one of 3 SNCF (French national rail operator) trains. Their service is about 1 hour longer and goes via Turin. 
How far is the train journey?
The most direct fast train from Paris to Rome covers around 687 miles (1105 km).
How do I travel from Paris to Rome by train?
Paris to Rome trains run daily, with up to 4 fast services.
Café-bars mean very little preparation is required, although bringing your food can be more economical and satisfying.
Once you've booked your tickets, you should arrive on the train at least two minutes before departure. There are no customs requirements or luggage restrictions.