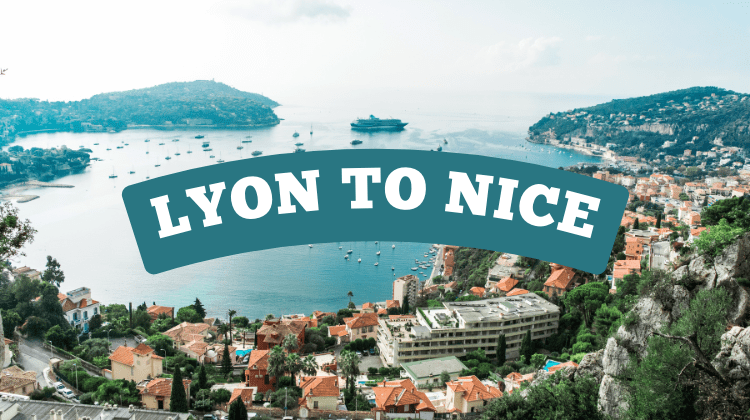 High-speed TGV trains are the ticket to slow travel bliss, and the Lyon to Nice trains connect two contrasting cities that could feature on any of "best of" itineraries. 
From the urbane gastronomic epicenter of France to the sunset capital of the French Riviera, we've captured all the relevant info about getting from Lyon to Nice by train. 
Lyon to Nice by TGV Train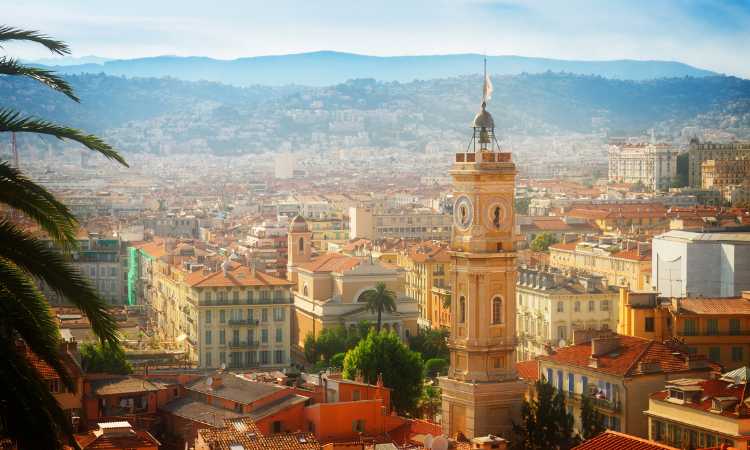 The fastest Lyon to Nice train transports passengers across the Alps from the former Gaulish capital to the sun-drenched Côte d'Azur in 4 ½ -5 ½ hours. 
Playground of the fabulously wealthy and bronzed celebrities, the French Riviera is littered with picturesque coastal havens. Nice is the rail hub connecting them all. 
As France's fifth-largest city, Nice is no mere gateway to yacht-filled resorts. The Old Port and famous Promenade des Anglais are tourist draws, as is a charming café culture where pastis and sunny Provençal cuisine lift the Mediterranean vibe. It's a startling change in scenery from Lyon to one of France's southern jewels. 
You can travel from Lyon to Nice by train on up to 8 daily TGV services (winter timetable). 4 TGV trains offer direct connections; others require a single change at big regional cities, commonly Marseille.
Alas, bargain Ouigo TGV trains with their budget-airline economizing are limited to a solitary service via Toulon from Lyon Saint-Exupéry – Airport, a 30-minute bus ride outside the city. 
You can broaden the choice of budget tickets by booking Lyon to Marseille and Marseille to Nice on separate Ouigo trains. They'll be displayed when the SNCF Connect algorithm is having a good day. If not, search for individual tickets on Omio. 
More convenient (and frequent) are the direct inOui TGV trains. They also tend to be cheaper than the multi-leg Ouigo tickets. Modern rolling stock, an onboard bar, and first-class upgrades (plus free WiFi, bulky luggage, and seat reservations) offset the higher fares.   
To recover a few Euros, book on SNCF Connect or Omio up to 4 months before travel when seats are plentiful and upgrades enticingly cheap.
If you can't book ahead, ponderously slow regional TER trains go via Marseille. Their only ace is that fares are the same whenever you buy, even minutes before boarding. It can be significantly cheaper than booking a last-minute TGV. 
If you opt for TGV, all that remains is to relax in your reserved and reclining seat, have your suntan lotion accessible, and enjoy a train journey that snakes around the Alps through sunshine cities like Marseille and Cannes before reaching Nice Ville station, just a 20-minute stroll from the beach.  
Rail adventures abound once in Nice. The highlight is a frequent regional train that hugs the scenic coastline through French Riviera havens, Monaco, and across the border to the Italian Riviera, where more rail adventures await. 
Lyon to Nice by Train Details
Prices: 

Standard inOui TGV fares start at €25 (second-class) when booked early (up to 4 months before travel). Dynamic pricing adjusts fares as seats disappear, and morning trains are often the best value.
Budget Ouigo fares from Lyon-Saint Exupery Tgv from €10. WiFi (€3), bulky luggage (€5), and choose your seat reservations (€3-7) are optional extras.

Frequency: 

Up to 4 direct high-speed services link Lyon Part-Dieu and Nice Ville. At least 5 services combining high-speed and regional trains are also available daily. 
In addition, there are slower regional TER trains. And a single daily direct service from Lyon-Saint Exupery Tgv to Nice Ville. 

Duration: 

The quickest train takes 4 hours 28 minutes on an inOui TGV service.
A daily TGV from Lyon-Saint Exupery Tgv to Nice is faster (3 hours 45 minutes), but factor in a 30-minute bus link from central Lyon. 

Online Booking:
Our Favorite Hotels in Nice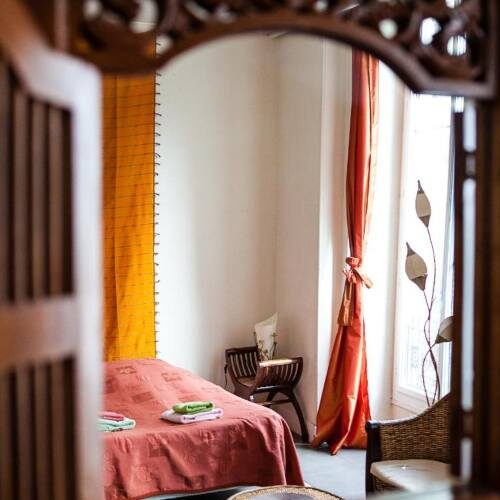 ---
Hôtel Vendôme
"Great location for the price and the lobby, breakfast/common areas were very clean and attractive. The room was nice."
---
Hôtel La Pérouse
"The hotel was beautiful! It's conveniently situated at the end of old town Nice built into a cliff with stunning views of the town, beach, and ocean."

---
Recommended Experiences in Nice
Must-Do Tours in Nice
Nice to Lyon by TGV Train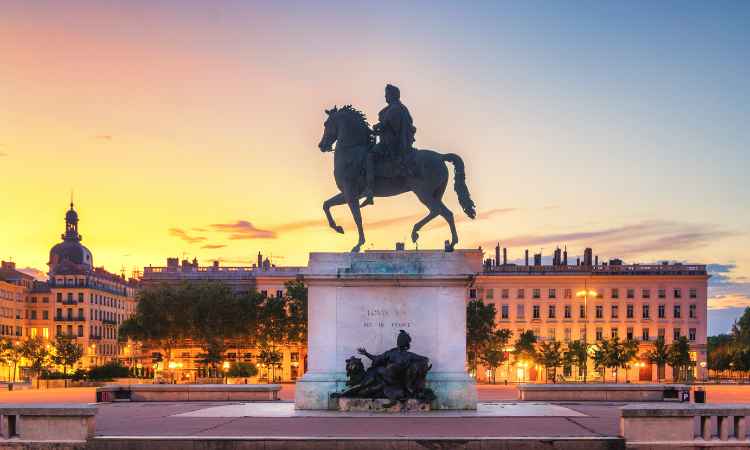 The question of whether to visit Lyon doesn't seem to trouble too many international tourists. Yet the nation's third-largest city is a gastronomic wonderland (home to 19 Michelin-star restaurants), bursting with museums, a UNESCO-designated old town, and a history that reaches back to when Lyon was the capital of the Gauls. 
Nice to Lyon trains follow the same frequency pattern as the reverse journey, with travel times to match. Book the complete journey in one order. As you're buying two singles, don't expect prices to always match. 
To spice up your journey, consider splitting tickets and spinning off a few hours exploring the colorful streets of France's second city, Marseille. This can be cost-effective if you find early Ouigo fares.  
TGV trains link Nice Ville and Marseille St Charles in around 2 ½ hours. An onward TGV inOui train direct to Lyon Part Dieu or Ouigo train to Lyon-Saint Exupery Tgv reaches Lyon in under 2 hours, for a total journey time of under 5 hours. Leaving time enough for a round of pétanque, a glass of Ricard, and a poke around the gritty streets of Marseilles' charismatic old town and port. 
Toulon is another port city that can be kneaded into a Nice to Lyon train journey. Although you might want to maximize your time in Lyon, especially if gastronomy and history are cornerstones of your perfect vacation. 
Nice to Lyon by Train Details
Prices: 

inOui second-class fares from Nice Ville to Lyon Part-Dieu start at €31. First-class seats from €37 for early booking.  
Ouigo trains from Nice to Lyon start at €10.

Frequency: 

Up to 4 daily direct inOui TGV trains from Nice to Lyon. One direct Ouigo train from Nice Ville to Lyon-Saint Exupery Tgv. 
Up to 5 indirect services combining TGV and TER regional trains offer comparable journey times. 

Duration: 

The fastest direct train from Nice Ville to Lyon Part-Dieu takes 4 hours and 24 minutes.
A budget Ouigo TGV train connects Nice and Lyon-Saint Exupery Tgv in 3 hours 45 minutes (add 30 minutes and wait time for the bus to the center of Lyon). 

Online Booking:
Recommended Experiences in Lyon
Must-Do Tours in Lyon
Our Favorite Hotels in Lyon
Hôtel Le Boulevardier
"Renaissance building…10-minute walk from the old town…"
---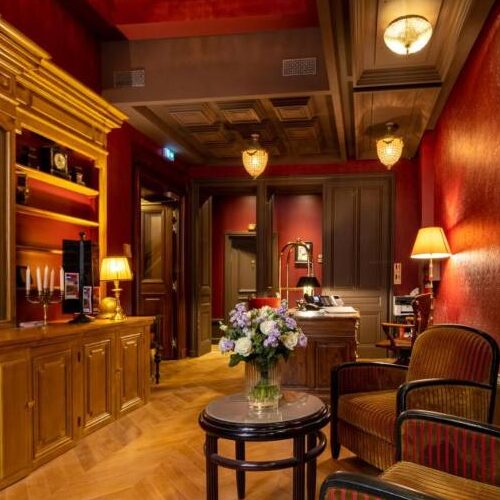 Bayard Bellecour
"..authentic historical house in the heart of the town…"
---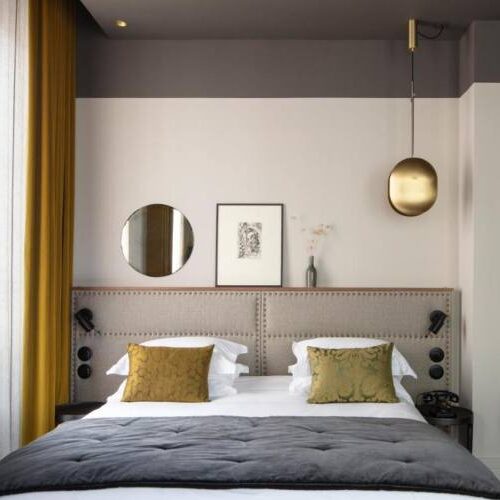 Hôtel de l'Abbaye
"…stunning hotel close to the river/shopping."
---
Lyon to Nice FAQ
Can I take a train from Lyon to Nice, France?
Yes. Several direct high-speed TGV trains connect the cities in under 5 hours. Add 30-60 minutes for additional journeys combining high-speed and regional trains. 
How far is Lyon from Nice by train?
Covering 187 miles (300 km), the typical journey lasts 4 ½ to 5 hours. 
What are the train times?
There are up to 4 daily direct services from Lyon to Nice evenly split between morning and afternoon departures. In between are additional indirect services, equating to services every couple of hours. 
How much does a train ticket cost?
A budget Ouigo Lyon to Nice train ticket can be found for just €10 when booked early. inOui TGV fares start at €25. Fares are dynamic and rise as seats are sold; book up to 4 months ahead for the best value.