Traveling by train from Nice to Genoa is a straightforward journey along one of the most picturesque coastlines in Europe.
At one end are the dazzling beaches of Nice, the capital of the Alpes-Maritime region and an eternally popular tourist destination. At the other sits Genoa, the historic port city and gateway to Cinque Terre, an enduringly romantic chain of colorful cliff-hugging towns. Nestled in between are the French and Italian Rivieras overlooking the azure waters of the Mediterranean.
With arresting sights around nearly every bend, journeying from Nice to Genoa by train is both a pragmatic route between Italy and France and a rail journey to remember. With so many appealing destinations along the railway, it also acts as a handy hop-on, hop-off service crisscrossing one of the most beloved regions in Europe.
Nice to Genoa by Train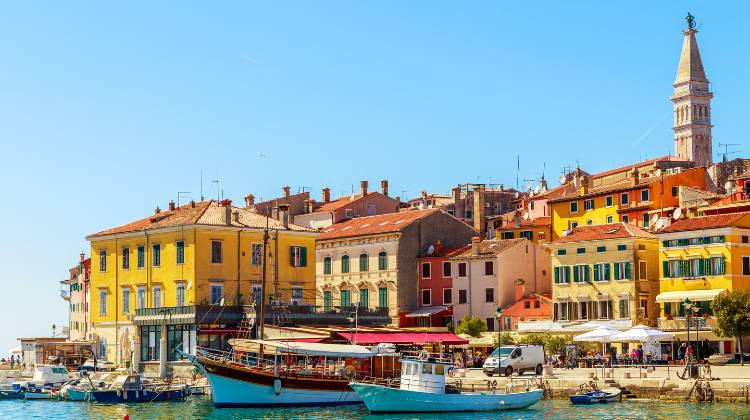 For sheer convenience, traveling by train from Nice to Genoa shades all other travel options. It takes under three hours on frequent services, and tickets are inexpensive.
The journey requires a connection in Ventimiglia, just across the Franco-Italian border. Yet it's a quick and easy switch in a small station. From there, it's around two hours along the scenic Italian Riviera to the Ligurian capital, Genoa.
Nice to Genoa trains are local, regional services. No high-speed options. The journey starts at Nice Riquier station and trundles for 50 minutes along the French Riviera and across the Italian border to Ventimiglia.
With at least two trains per hour leaving Nice, reservations are not required. The local SNCF TER (Transport Express Régional) trains cost the same, even if purchased just prior to boarding.
Describing the journey as a local commuter service undersells this delightful rail journey. Trains hug the French Riviera, passing through picturesque coastal towns like Beaulieu-sur-Mer and Cap-d'Ail. Along the way, you stop in the Principality of Monaco.
It may be a short journey, but passengers are gifted lingering shots of the shimmering Cote d'Azur as the train shuttles between stations. Glimpses of the picturesque resort towns intermittently appear from behind the rocky landscape.
Having jumped off the double-decker, commuter-style trains in Ventimiglia, you can switch to a regional Trenitalia service to Genoa. Thanks to the Schengen Area, you won't even know you've crossed a border as passports are not checked.
Ventimiglia is a charming place to explore if you're looking to burn time. There is an old town and some fine beaches. Otherwise, you won't have to wait long for one of the frequent trains direct to Genoa.
Departure patterns are irregular, but you can usually count on up to two train departures every hour (both indirect and direct services.)
With varying departure times and connection options, the Nice to Genoa trains are one of the most flexible and uncomplicated ways to journey between France and Italy. If you don't mind buying extra tickets, there are appealing stops along the way.
Fares with SNCF and Trenitalia roughly correspond with the distance traveled. This means you won't lose many euros purchasing tickets for additional stops. This opens up opportunities to stop in popular resorts on both sides of the border.
Along the Italian Riviera, for example, the trains stop right next to the beach and marina of Finale Ligure. Within walking distance are numerous osteria and trattoria clustered around the beach. A swim followed by dinner is a tempting break on the journey from Nice to Genoa by train.
Onboard services on the trains from Nice to Genoa are limited, and upgrade options only exist on the Italian trains. Even then, you're only paying for extra space.
Power sockets, ample luggage space, and folding tables are available. What you won't find on either train from Nice to Genoa is Wi-Fi. But then again, will you need it? This is a rail journey to sit back, turn off your phone and savor the views.
Nice to Genoa by Train Details
Prices: The combined Nice to Genoa train costs can be as little as €17.60. Ventimiglia to Genova Piazza Principe (or Genova Voltri on indirect services) from €9.90.
Frequency: There are numerous Nice to Genoa trains throughout the day. SNCF TER trains from Nice to Ventimiglia depart every 30 minutes. At peak times, there are additional services. The earliest train departs at 05:41, the last at 21:11. Trenitalia services from Ventimiglia to Genoa are slightly less frequent and follow an irregular timetable. However, there is at least one direct train to Genoa every hour. There is typically a slower, indirect service every hour too. The earliest Ventimiglia-Genoa train departs at 04:51. The final departure is at 19:57 (a faster service departs at 19:43.)
Duration: Using the fastest services, the total Nice to Genoa train time is 2 hours 45 minutes. Allow time for a connection in Ventimiglia. Journey times from Ventimiglia to Genoa vary. Slower services, with a connection, can add an hour or more to the journey time.
Online Booking:
Our Recommended Hotels in Genoa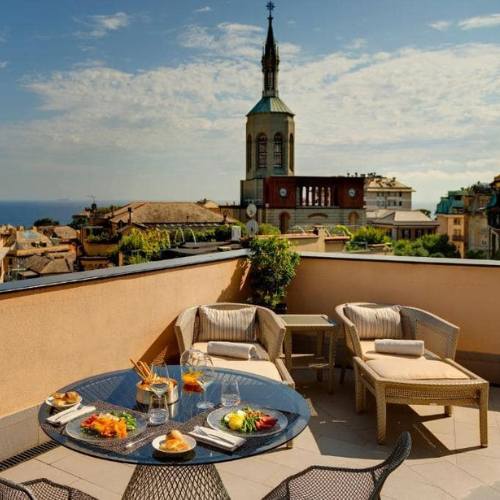 Meliá Genova
"The staff absolutely made this hotel. So helpful and friendly. The hotel itself is gorgeous. Very classy."

---
Hotel Astoria
"Everything, great hotel services, great breakfast, comfortable beds, netflix in each room, spacious bathrooms"
---
Hotel Bristol Palace
"Perfect location Enjoyable breakfast of local specialties Lovely hotel. Congrats on the 5 stars!"

---
See More Recommended Hotels >>
Recommended Experiences in Genoa
Must-Do Tours in Genoa
Genoa to Nice by Train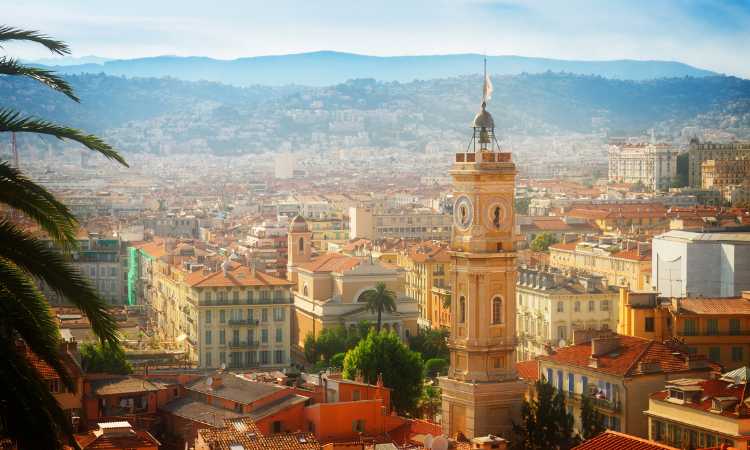 Journeying by train from Genoa to Nice mirrors the reverse journey. Although, this time, you sit back and watch the Italian Riviera merge into its French counterpart.
You can expect similar journey times, frequency, and fares. One difference with the Genoa to Nice train is an increased incentive to stop in Ventimiglia and grab one last taste of Italy before reaching France. With frequent services on the short ride from Ventimiglia to Nice, it's easy to put a few hours aside to explore the resort town.
Moreover, the Ventimiglia-Nice tickets cost the same even if purchased moments before travel. That means you can leave Ventimiglia whenever the mood takes you, as long as you make the final departure at 20:55.
Fast and direct services to Ventimiglia depart from Genova Piazza Principe. Indirect services go via Savona, a port town in Liguria, and leave from the smaller Genova Voltri station. To max your vacation time, go with the direct services.
The Genoa to Nice train is first and foremost a functional commuter service connecting a chain of seaside towns. But with knockout views, it is much more than that. And with the option to 'hop, on and hop, off' at a string of Mediterranean resort towns, traveling by train from Genoa to Nice is an explorer's delight.
Genoa to Nice by Train Details
Prices: Tickets for the train Genoa to Nice start from €17.60 for both legs.

Genoa to Ventimiglia from €9.90. Book with Trenitalia up to 5 days in advance for the cheapest (super-economy) tickets. Same-day tickets are often available for €15. First-class upgrades start at €6 (select services only).
Ventimiglia to Nice is €7.70. Book online via SNCF Connect or purchase at the station. Prices are the same whenever you purchase, including for same-day travel.

Frequency: There are frequent daily trains from Genoa to Nice, roughly averaging two services every hour. The earliest service from Genoa Piazza Principe is 05:22. The last train leaves at 21:58. Departure times are irregular, yet there is a direct service approximately every hour. An indirect service also leaves every hour. Trains from Ventimiglia to Nice leave every 30 minutes and more frequently during peak periods. The earliest train from Ventimiglia departs at 05:54, while the last train leaves at 20:55. To complete the journey in a single day, don't miss the 17:43 train from Genoa. It is scheduled to arrive in Ventimiglia at 20:03 and is the last direct train before the last train to Nice departs.
Duration: The fastest train, Genoa to Nice, is 2 hours 46 minutes for both sections, excluding the connection time in Ventimiglia. Journey times from Genoa to Ventimiglia vary throughout the day, ranging from 1 h 56 mins to 3 h 1min. Connecting trains to Nice takes a consistent 50 minutes throughout the day.
Online Booking:
Our Favorite Hotels in Nice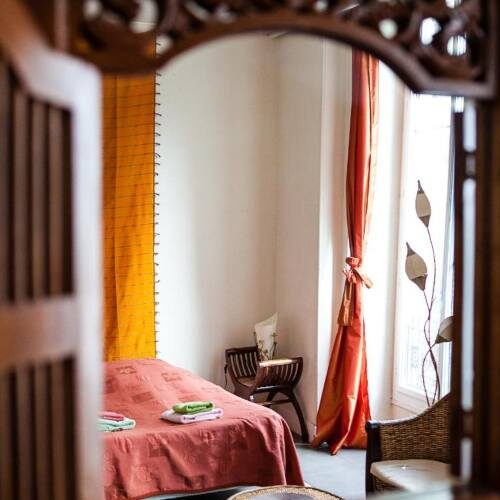 ---
Hôtel Vendôme
"Great location for the price and the lobby, breakfast/common areas were very clean and attractive. The room was nice."
---
Hôtel La Pérouse
"The hotel was beautiful! It's conveniently situated at the end of old town Nice built into a cliff with stunning views of the town, beach, and ocean."

---
Recommended Experiences in Nice
Must-Do Tours in Nice
Nice to Genoa via Monaco or Sanremo Day Trips
There are several compelling reasons to travel from Genoa to Nice by train. Frequency, convenience, and cost are all positives. As are the striking views over a scenic strip of the European coastline. But curious travelers will love jumping off at famous towns along the route.
There are charming towns and beaches along the entire stretch of Provencal and Ligurian coastlines. But if you had to pick one or two stops to enliven the journey from Nice to Genoa by train, Monaco and Sanremo are the headliners.
With some light planning and an early start, you can even steal several hours in each destination and still reach Genoa before nightfall. Or take your time in the pick of them.
Both are stops on the Nice to Genoa train route. Additional tickets are required, but the increased costs are negligible.
If you're traveling from Nice, France, to Genoa, Italy, it makes sense to stop in Monaco first, on the French side of the border.
Playground of the wealthy and home to a world-famous casino (not to mention the world's least thrilling but most famous Grand Prix), Monaco is ideal for a short stopover. The principality has a richly-layered history crammed into its tiny 0.81 sq mi (2.1 km².)
Trains stop at the Monaco-Monte-Carlo station. From there, it's a short walk to the marina teeming with mega yachts and notable sights like the legendary casino (open to visitors in the morning, and gamers afternoon to evening), and the Grand Prix circuit.
Perhaps the highlight of any stop in Monaco is the Prince's Palace, a Genoese fortress built in 1191 and the flashpoint of many historical conflicts. Albert II, Prince of Monaco, still lives there. But his doors are open to visitors today.
Just about everywhere is walkable in Monaco, although for this trip you'll need to be selective about what to visit. Especially if you want to stop and eat in the principality.
Unsurprisingly, the billionaire haven of Monaco is not a place to find a budget lunch. There are just too many upscale restaurants boasting Michelin Stars.
But value can be found. The aptly named Le Petit Bar is a local gem worth seeking out. You can find this (relatively) down-to-earth bistro in the atmospheric old town, just a 20-25 minutes walk from the train station. The restaurant is close to key attractions like the Prince's palace and the Oceanographic Museum. 
Onward services to Ventimiglia are frequent. If you're still on schedule, your next stop (after switching trains in Ventimiglia) could be Sanremo.
Sanremo is an Italian coastal resort famed for its tropical gardens, luxurious villas, and the rock-solid 12th-century San Siro Cathedral.
Once again, the station is in the center of town. The marina is minutes away, while a brisk 15-minute walk takes you to the plain yet historic cathedral.
The cathedral sits in La Pigna, Sanremo's old town. The compact 11th-century neighborhood is an evocative warren of narrow cobblestoned streets and crumbling churches. It is a world away from the beaches Sanremo is known for and a fitting prologue (or epilogue) to any Italian vacation.  
If you opt to eat in Sanremo — with a careful eye on the last departure to Genoa at 20:12 — the Tipico Osteria has earned glowing reviews for authentic Ligurian cooking. The restaurant is just a 10-15 minute walk from Sanremo station and a short distance from the marina.
After filling up on seafood risotto in Sanremo, an approximately 2-hour journey to Genoa awaits. No time to nap, as the journey into Genoa is lined with glorious views over the Ligurian coastline.
Nice to Genoa via Monaco or Sanremo Day Trips Details
Prices: You'll need to buy four Nice to Genoa train tickets for this multi-destination escapade. The cheapest journey starts from €21.20 for all four tickets. If you prefer to keep your options open, buy on the day of travel. The Nice to Genoa train cost rises just several Euros for same-day journeys.

You'll need two SNCF TER train tickets. Fares are fixed whenever you travel. Buy at the station or SNCF Connect (use the app to display tickets.) 

Nice to Monaco-Monte-Carlo – €3.60
Monaco-Monte-Carlo to Ventimiglia – €4.70

Book your onward trains with Trenitalia at the station or online (a code is provided for ticket verification.)

Ventimiglia to Sanremo – €3 to €8.50
Sanremo to Genova Piazza Principe (direct services) – €9.90 (advance booking) to €13 (same-day booking.)

Frequency: Monaco and Sanremo are stops on every train from Genoa to Nice (and vice versa), so services are frequent. SNCF TER trains from Nice to Ventimiglia stop in Monaco every 30 minutes, with more frequent services at peak times. Trenitalia services from Ventimiglia to Genoa via Sanremo depart at various times, with direct and indirect services at least every hour. The last departure from Sanremo to Genoa is at 20:12.
Duration: The overall Genoa to Nice train time is 2 hours 46 minutes, excluding connections. The reverse journey is just a minute quicker. With that in mind, you can easily carve out several hours in Monaco and Sanremo and still complete the journey from Nice to Genoa by train in a single, action-packed day.
Online Booking:
Recommended Experiences in Monaco
Must-Do Tours in Monaco
Nice to Genoa by Train FAQ
Is there a train from Nice to Genoa?
The fastest rail route from Nice, France, to Genoa, Italy, involves two trains. One from Nice to Ventimiglia in Italy, then a service from Ventimiglia direct to Genoa.
Is there an overnight train from Nice to Genoa?
No. The cities are just 96 miles (154 km) apart or around 120 miles (194 km) by rail or car, so a night train is unnecessary.
How long is the train from Nice to Genoa?
The overall journey time by train from Nice to Genoa is around 2 hours 45 minutes, excluding connections.
Is there a high-speed train from Nice to Genoa?
No. There are no high-speed services, only slower, regional services.
How much does the Nice to Genoa train cost?
Nice to Genoa train tickets start at €17.60 for both legs of the journey. The Genoa to Nice train costs the same.
When should I book a Nice to Genoa train ticket?
Tickets for Genoa to Nice by train (and back again) can be purchased on the day of travel without a significant price difference.
However, you can book between 3-4 months in advance. If you do, you may find small savings on the Trenitalia trains. SNCF TER trains are the same price whenever your purchase.