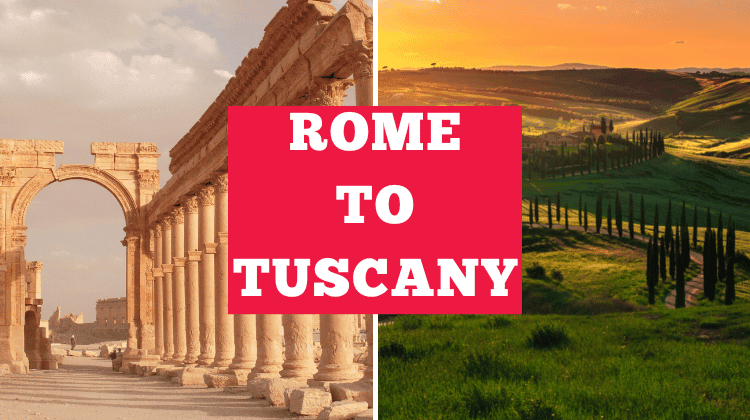 Tuscany invites superlatives. Medieval hilltop towns melt into a picture postcard landscape steeped in history and art. Scything through the magnetic region are frequent trains from Rome to Tuscany, unlocking the region's treasures for curious travelers who enjoy taking their time.   
The Rome and Florence rail hubs center the Toscana rail network, with many regional services linking the cities. We wrote about the Tuscan capital in our standalone guide to traveling from Rome to Florence by train. Now, we turn our spotlight on other Tuscan gems in this intoxicating region and explore rail travel from the city where all roads lead, Rome. 
Rome to Siena by Train
Traveling from Rome to Tuscany by train encourages explorers to ditch the car and relish a stunning landscape as they're speedily transported around the seductive region. Among a wealth of popular destinations, Siena is one of the most tempting.
Perched on a hill first settled by Etruscans, the fabled circular town is less than 4 hours from Rome on a mix of high-speed and regional trains.
There are no direct Rome to Siena trains. All departures end with a regional train ride to Siena station, either from Florence or Chiusi-Chianciano.
Choose a high-speed service to Florence before changing. Or stick with workaday Regionale trains all the way, on a slower and more direct route via Chiusi-Chianciano.
The journey time is between 3 ½ and 4 hours, whichever Rome to Siena train you catch. With similar prices and journey times, a few other factors might influence your choice of trains.   
The first revolves around when you buy. Regional train prices are fixed at €18.10, even when purchased right before travel. It's always the most economical if buying on the day of travel.
Tickets for Trenitalia and Italo high-speed trains to Florence follow the airline model of pricing, rising in price as they are sold. Early booking is essential to get the best deals.
This pricing model only applies to the section from Rome to Florence. After that, everybody boards a Regionale Siena to Rome train service at a fixed €9.80. If you're stopping in Florence, there is no need to book this section early. 
Although Regionale trains win on price, high-speed trains lure passengers with promises of comfort. 
The high-speed trains to Florence are a cut above the regional workhorses. For Trenitalia, it's their Frecce class trains, including the gleaming Frecciarossa 1000s. But Italo's Bombardier trains match them in nearly every department.   
Wi-Fi and charging points are available at most seats. Luggage space is plentiful. Both offer tempting upgrades, often for just a few Euros when booking ahead.
A café-bar is found on Trenitalia Frecce trains. And vending machines on Italo trains. You can grab cheap upgrades that include a welcome drink and snacks on both services. 
There appear to be a lot of choices when traveling from Rome to Siena by train. But the differences are mostly inconsequential. With frequent departure times, you can usually find a ticket that fits your itinerary. A quick e-ticket comparison between Trenitalia and Italo, or side by side on Trainline.com, can will find the best deals.
Alternatively, leave your options open, safe in the knowledge that the least expensive fares on Regionale trains are away available.
Whichever route you travel from Rome to Siena by train comes with priceless pastoral views peppered with sun-dappled villages and vineyards. The train from Chiusi-Chianciano passes through a particularly dreamy part of Tuscany between Asciano and Siena.
Like many preserved villages of Tuscany, Siena's rail station sits well outside the city center. Cars are banned from the center, so it's 1 ½ miles by foot or 15 minutes by bus to the UNESCO World Heritage Site.
If you're only there for the day, several evening trains will allow you to probe around the timeless city center for a few hours. Enough time to see the oldest bank in the world, soak up millennia of history and overindulge in Ricciarelli di Siena and other local sweet treats.
Rome to Siena by Train Details
Rome to Pisa by Train
Although Pisa sits at the northern end of Tuscany, the high-speed journey from Rome to Pisa by train takes under 2 ½ hours. It is ideal for day trips, although Pisa merits more time. 
The small city with a world-famous tower is a compelling destination. A vibrant university town backdropped by architectural marvels. The Leaning Tower is a must, but landmarks like the 11th-century Pisa Cathedral and Palazzo dei Cavalieri enliven the birthplace of Galileo. It is an absorbing city to lay your hat for an extended stopover.
Rome to Pisa trains are a balanced mix of high-speed direct services and one-change routes that take around 15 minutes longer. Direct services booked in advance are cheaper than indirect services.
High-speed trains from Rome to Tuscany are a mix of comfortable Frecce class trains and intercity services operated by Trenitalia. That includes direct services from Roma Termini or indirect routes to Firenze S.M. Novella or Pisa, then onto Tuscan Line regional trains. 
While indirect Rome to Pisa trains are generally a few Euros more expensive and a few minutes slower, they offer a chance to ride the Tuscan line. As the name suggests, this Regionale Veloce route cuts through the heart of Tuscan landscapes, making view-filled amends for those extra costs. 
Intercity and Frecce direct trains to Pisa depart every 1-2 hours and deliver the fastest journey time. Look for Frecciargento services which clock an unbeatable journey time of 2 hours and 17 minutes.
Meanwhile, slower Intercity and indirect trains cover the same distance in just over 3 hours.
Alternatively, travelers can opt for classy Italo high-speed trains to Firenze S.M. Novella before switching to a fixed-price Regionale Tuscan Line train to Pisa. Italo trains offer peerless comfort to Florence but can take up to one hour longer than direct Trenitalia services.
Where possible, book a train from Tuscany to Rome ahead of travel. To save money and compare options with Trenitalia and Italo for the best combination of value and schedule.
Rome to Pisa by Train Details
Rome to Lucca by Train
The joy of traveling from Rome to Tuscany by train starts by poring over an enticing map filled with magical and easily-accessible destinations. Lucca is one of the longest journeys. But the rewards are persuasive.
Distilling Tuscany into one small charismatic city, Lucca weaves layers of history and artistic influence into a timeless tapestry. The birthplace of Puccini is home to a Roman amphitheater and an immaculately preserved medieval walled town. It is somewhere to pull on walking shoes and get lost in. 
Traveling from Rome to Lucca by train matches many other journeys through Tuscany. Choose from Trenitalia or Italo high-speed trains from Roma Termini to Firenze S.M. Novella, then switch to a regional service. Alternatively, catch a direct train to Pisa before jumping onto a regional train.  
Overall, the high-speed options offer comparable levels of comfort and speed. Italo delivers the most overall value, but grab an upgrade and inexpensive upgrade on premium Frecciarossa 1000 trains (Trenitalia) for a similarly upscale experience.
In all cases, the journey to Firenze S.M. Novella station takes a little over 1 ½ hours. The onward Regionale train journey to Lucca takes about 1 hour and 20 minutes. You're not locked into a reservation with regional services, so look for trains following the Tuscan Line for the most compelling journey.
The final journey from Rome to Lucca by train often includes a 30-minute stop at Firenze S.M. Novella station.
The alternative is a direct Trenitalia high-speed train from Roma Termini to Pisa Centrale. From there, it's less than 40 minutes on the scenic Tuscan Line to Lucca.
Traveling via Florence is around 30 minutes quicker than services via Pisa, recording 3 hours and 19 minutes on the fastest connections. However, advance bookings on services via Pisa tend to be cheaper and include more time to relax in high-speed comfort. 
As with any frequent high-speed train from Rome to Tuscany, compare Trenitalia and Italo services to find a service that fits your vacation plans.
Rome to Lucca by Train Details
Rome to Cortona by Train
The short distance from Rome to Tuscany is underlined by Cortona, a sparkling Tuscan jewel just 125 miles (201 km) north of the Eternal City. It's a world away from the Italian capital.
The mesmerizing hillside town is threaded with atmospheric streets that predate ancient Rome. Traces of that Etruscan heritage reveal themselves throughout the city, not least in the celebrated Accademia Etruscamuseum housing a 2,200-year-old inscribed bronze tablet.
It takes just under 2 hours to travel from Rome to Cortona by train. With early morning departures and evening return trains, it is possible to squeeze in a day trip. Factor in the time to get from the stations at the base of the hill up to the city center. It's a 1.3 mile (2.1 km) walk or 14-minute bus journey from Cortona's two rail stations, Camucia-Cortona or Terontola-Cortona.
Up to 6 direct regional trains take just over 2 hours to reach Camucia-Cortona from Roma Termini, stopping in Roma Tiburtina. Prices are fixed at €12.80, so no need to book ahead.
In addition, Trenitalia operates up to 7 daily indirect services on high-speed Intercity and Frecciarossa 1000 trains. Passengers change trains in either Chiusi-Chianciano Terme or Arezzo.
Journey times are comparable. But unlike Regionale trains, prices rise close to the date of travel.
Intercity trains can claim slightly elevated comfort, with first-class tickets bagging more space than you'll find on Regionale trains. Power sockets and reserved seats are additional benefits, but there's not too much to separate the overall travel experience.
The Frecciarossa 1000 trains are superior, with Wi-Fi, a café-bar, and snug seating. However, with only two evening departures from Rome, they're only convenient if you plan to spend the night in Cortona.
Unlike our other Tuscan rail adventures, you can ignore Italo. Their trains only connect sizeable cities, and Cortona's proximity to Roma makes Trenitalia's services far quicker.
Happily, it's a regional train ride through engaging vistas in Lazio, Umbria, and Tuscany. Trains skirt lakes and vineyards, passing through pretty hilltop towns like Orte and Orvieto. As regional fares are fixed, you can add stops and bonus Tuscan exploits along the route for little additional cost.
Rome to Cortona by Train Details
Rome to Montepulciano by Train
Wrapping up our medley of irresistible escapades on trains from Rome to Tuscany is the dreamy hillside town of Montepulciano. Famed for Vino Nobile di Montepulciano wine, breathtaking panoramas over golden Tuscan hills, and evocative medieval streets and piazzas, it's another knockout destination.
Heading from Rome to Montepulciano by train means changing in Chiusi-Chianciano Terme. There are no direct high-speed Trenitalia or Italo trains.
Two daily Intercity departures will take you to Chiusi-Chianciano, alongside 7 Regionale departures. Journey times are just a few minutes apart, but fixed-fare Regionale trains are often cheaper.
With a couple of evening return trains and a total journey time of under 5 hours, Montepulciano is an ambitious but doable day trip. Just watch the timetable, as return services to Rome are less frequent than other Tuscan highlights we've written about.