The Italian capital contains enough sights and attractions to make any vacation burst at the seams. But if you're keen to see more of Italy, there are some spellbinding day trips from Rome by train.
Archeological marvels, chocolate-box towns, and architectural jewels compete for attention. It's a veritable menu of cultural delights with something to tempt every appetite. To give a flavor, we've selected 10 magical destinations just a short rail journey from the Eternal City.
1. Ostia Antica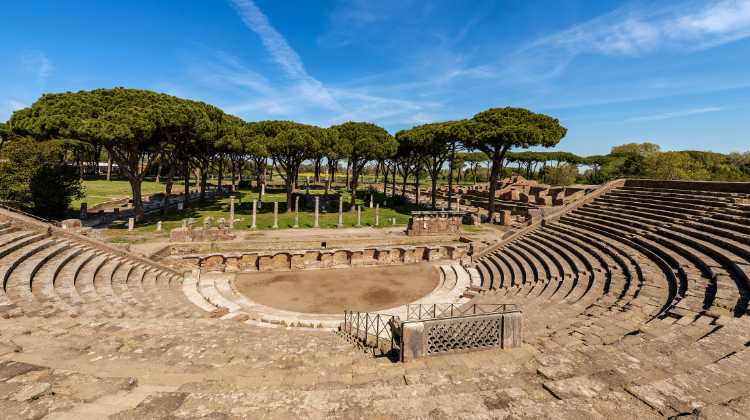 Ostia Antica, an ancient port at the mouth of the Tiber, is a remarkably well-preserved relic that rivals Pompeii for inspiring awe. Founded in 620 BC, many vestiges of imperial glory survived the fall of Rome. Among them is an impressive theater, fragmented mosaics, and revealing frescoes housed in the museum and vast archeological park.
Another reason Ostia Antica qualifies as one of the best day trips from Rome is that you can poke around antiquity without the crowds found elsewhere in the city. Surprising, considering it takes just 26 minutes on the Ferrovie Urbane trains that connect Rome (Porta San Paolo) with the coast. Rome to Ostia Antica trains (Roma-Lido line) are frequent and fares inexpensive, elevating one of Italy's most under-appreciated landmarks to unmissable for history buffs.
Rome to Ostia Antica Details
Prices:

Any journey on Rome Metro or Ferrovie Urbane trains costs €1.50 (BIT fare valid for 100 minutes from validation on any point-to-point trip). Purchase before boarding and use the Roma-Lido line. 
To depart from Roma Termini, use Line B of the Rome Metro to Piramide before switching to the Roma-Lido line. If you take this route, buy two BIT tickets.
Alternatively, consider a 24-72 hours Roma region train passes, starting from €7 for 24 hours.

Frequency:

Roma-Lido trains depart Porta San Paolo for Ostia Antica every 15 minutes.
Metro B (and B1) trains from Roma Termini to Piramide (switch to Roma-Lido trains here) depart every 7-10 minutes.

Duration:

Porta San Paolo direct to Ostia Antica takes 57 minutes on Ferrovie Urbane trains.
Traveling from Roma Termini to Piramide by Metro takes 17 minutes. The onward journey by Ferrovie Urbane (Roma-Lido) trains from Piramide to Ostia Antica takes 51 minutes.

Online Booking: Omio
Ostia Antica Tours
Small-Group Tours to Ostia Antica From Rome
---
2. Tivoli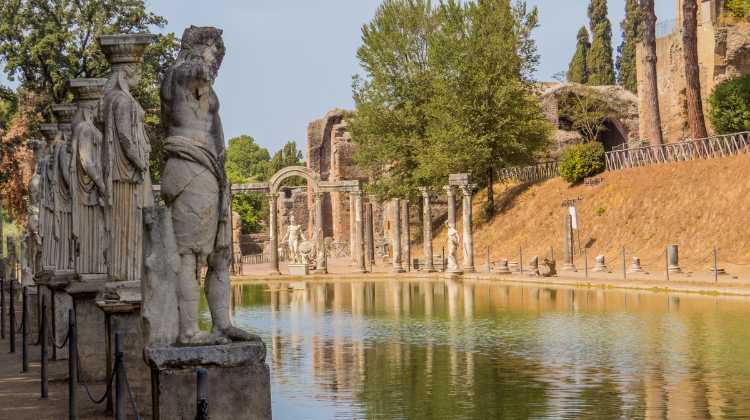 Tivoli rightly steals attention when planning Rome day trips by train. The charismatic town boasts two UNESCO World Heritage Sites from golden eras separated by a millennium, the Roman Empire and the Renaissance. It's a breathtaking couplet comprising the palace and fountain-filled gardens of Villa d'Este and a sprawling villa complex built by Emperor Hadrian (Villa Adriana) brimming with Roman artifacts. Oh, and there's also the striking hillside gardens and waterfalls of the fetching Villa Gregoriana, a photogenic cherry on top of an unforgettable day trip.
Regionale trains connect Roma Tiburtina (Metro Line B) and Tivoli, including several fast and direct trains. Slower Regionale trains depart early morning, so the journey may be longer but they will help maximize time in Tivoli. Like many of the best day trips from Rome by train, you can stroll up and buy tickets before traveling. Try to leave early, as local Cattivoli buses or taxis are necessary to reach the villas.
Rome to Tivoli Details
Prices: Regionale trains from Roma Tiburtina to Tivoli cost €2.60 – €3 (Ordinaria fares, second-class only). Buy in the station.  
Frequency: 1-2 trains depart hourly from Roma Tiburtina to Tivoli.
Duration: The quickest train journey from Rome to Tivoli is 36 minutes on direct services. Indirect services trundling through commuter stations in the Lazio region take up to 1 hour and 7 minutes.
Online Booking: Omio
Tivoli Tours
Small-Group Tours to Tivoli From Rome
---
3. Orvieto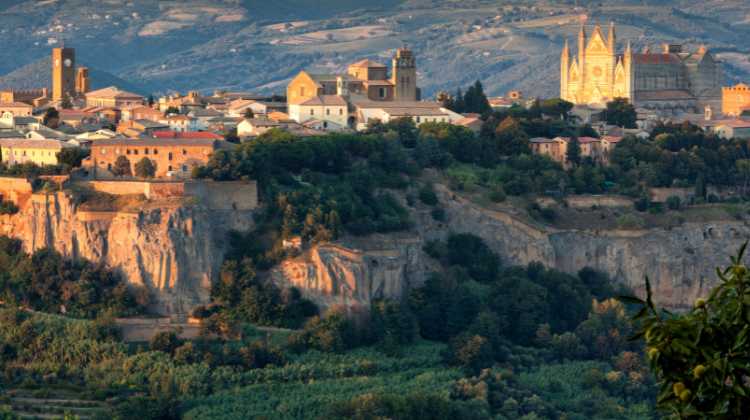 Orvieto is a medieval hilltop town imperiously punctuating the Umbrian skyline. An atmospheric jumble of winding streets and colorful piazzas bursts with character and tourist-friendly distractions. The centerpiece is a stunning Gothic cathedral, Duomo di Orvieto. Cars are virtually non-existent, the views over rolling cypress grove fields are magnificent, and the quaint streets invite leisurely exploration. Ensure your phone is fully charged, as the camera will surely be busy.
Although one of the longer day trips by train from Rome, intrepid travelers are rewarded with a rustic landscape detached from urban sprawl. It takes under 1 ½ hours to reach Orvieto station from Roma Termini. From there, the only option is to trek to the top alongside the droves inevitably disgorging from the train. It's a picturesque journey, and trains return until late evening, allowing plenty of time to soak up the timeless atmosphere and savor an Umbrian specialty or two.
Rome to Orvieto Details
Prices:

Daytrippers can choose Regionale trains or Intercity trains. Early morning Regionale services are recommended to get the most from a day trip. 
Regionale fares are fixed at €9.15 and can be purchased at the station.
Intercity fares start €9.90 (second-class) booked up to 4 months ahead with Trenitalia. First class fares — with more elbow room — start at €11.90. Second-class Intercity fares on the day of travel start at €17.50. Both fares can be booked on Omio.

Frequency:

Direct trains from Roma Termini to Orvieto depart at least every 2 hours. In addition, there are 3-4 Indirect services (one change) daily.
The earliest Intercity train departs at 10.22. Slightly slower Regionale services depart from 06:06.

Duration: The fastest services from Rome to Orvieto are Intercity trains that take up to 1 hour and 16 minutes. Slower but more frequent Regionale trains take 1 hour and 17 to 26 minutes.
Online Booking: Omio
Orvieto Tours
Small-Group Tours to Orvieto From Rome
---
4. Frascati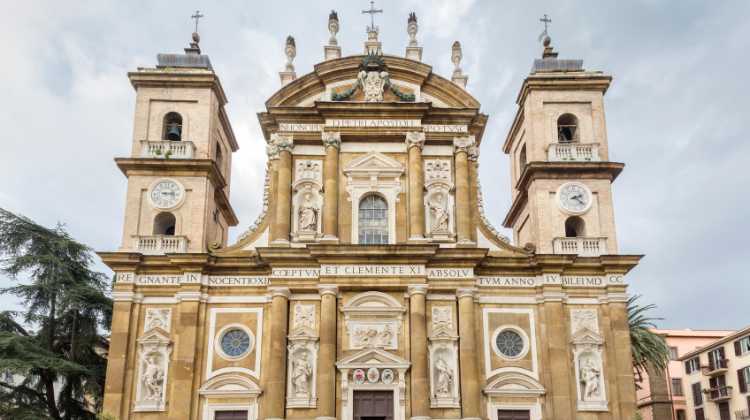 Magnificent villas abound in genteel Frascati, famed as a summer retreat for well-heeled Romans. Crisp with character like its eponymous white wine, the compact hillside town is one of the most accessible day trips by train from Rome. A 17th-century cathedral, a Roman archeological site, and 12 glorious Tuscan villas that survived World War II headline. Hit the cobblestones, drink in panoramic views of Rome, and stop for a glass of local fizz in a convivial osteria. 
Time your departure, and you'll have time to visit a winery and discover why Frascati was cherished by Romans as "the golden wine," despite its less-than-stellar reputation.
At just 30 minutes on a direct, fixed-priced Regionale service, train trips from Rome don't come much quicker and easier. Buy at the station and hop on one of the hourly services; four stops later, you'll disembark within walking distance of the Tuscolano Archaeological Park and splendid Villa Aldobrandini.
Rome to Frascati Details
Prices: Regionale fares from Roma Termini to Frascati are fixed at €2.10, second-class only. Buy in the station or online at Omio.
Frequency: Trains from Rome to Frascati depart hourly. Return services continue throughout the evening.
Duration: It takes just 30 minutes to travel from Rome to Frascati by rail.
Online Booking: Omio
Frascati Tours
Small-Group Tours to Frascati From Rome
5. Fregenae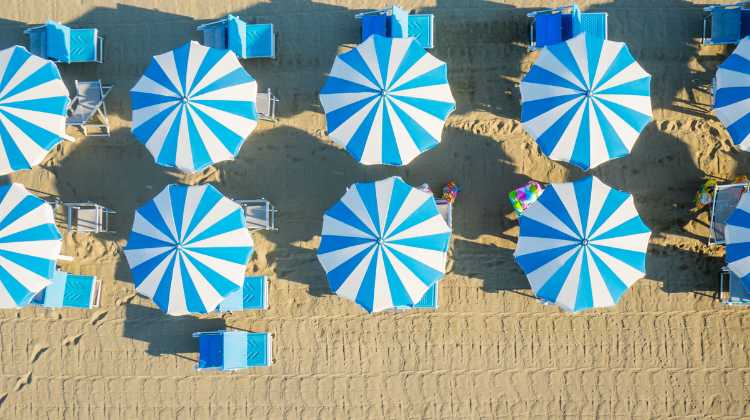 It's not all art and history when choosing Rome day trips by train. If you want to break out the sunglasses and swimsuits, head to the seaside resorts at Fregenae. City dwellers head there to cool down, catch some rays, and enjoy leisure activities like the energetic Parco Avventura or more grown-up fun at cocktail bars built for sunset romance. It is one of the best day trips from Rome by train when you need a break from the intensity of the Italian capital. Or a break from life itself.
Trains from Roma Termini and several other stations in the city depart every 30 minutes for Maccarese-Fregene. Maccarese is a town adjacent to Fregenae (aka, Fregene). Pack your suncream and roll up to the station to buy fixed-fare tickets for one of the most laidback places to visit near Rome by train. Allow time to walk or use the Cotral bus to reach the beach, approximately 4 miles from the station.
Rome to Fregenae Details
Prices: Regionale trains from Roma Termini to Maccarese-Fregene are fixed at €2.60. Purchase in the station or online at Omio. 
Frequency: Rail services from Rome to Fregenae depart every 30 minutes.
Duration: It takes just 29 minutes to travel by rail from Rome to Maccarese-Fregene.
Online Booking: Omio
6. Civita di Bagnoregio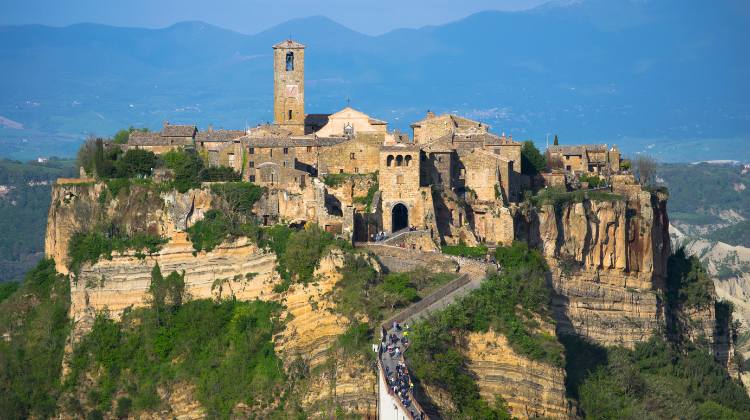 The hilltop village of Civita di Bagnoregio is a jaw-dropper. Impossibly perched atop an isolated volcanic rock, the evocative landmark was settled 2,500 years ago by Etruscans. The Porta Santa Maria gate still stands as evidence of Etruscan ingenuity. While the 7th century San Donato Church remains a stirring sight rising above the rooftops.
Once emblematic of "dying villages" in Italy, 12 people manage to live there today, reaching the outside world via a single suspended path. However, those numbers swell with day trippers, many there via train trips from Rome.
Like several evocative day trips by train from Rome, a bus trip completes the journey. Head to Orvieto (a destination already on our list) on fast regional trains before hopping on a Cotral bus to Bagnoregio (try not to miss the late return journey at 6.20 pm). Then pay the toll and savor the dizzying walk into the village.
Rome to Civita di Bagnoregio Details
Prices:
Frequency: Trains from Roma Termini to Orvieto depart every 1-2 hours. Onward buses are less frequent, departing 9-10 times daily, with no Sunday service.
Duration: Budget 1 hour 17 minutes for the train journey. Budget up to 1 hour for the bus ride, plus time for switching transport.
Online Booking: Book both train and bus legs in one app using Omio.
Civita di Bagnoregio Tours
Small-Group Tours to Civita di Bagnoregio From Rome
---
7. Assisi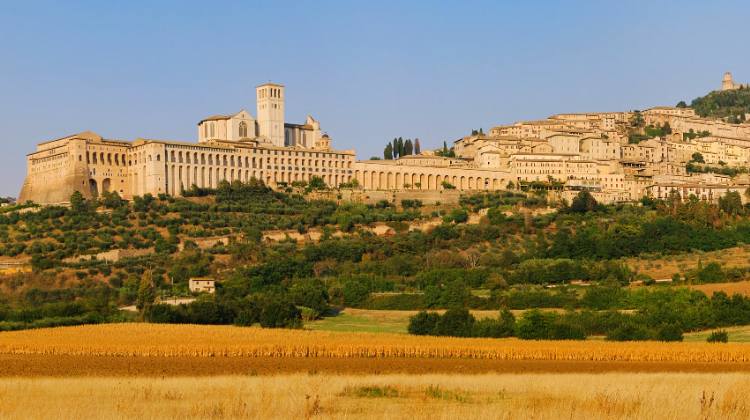 Assisi, an imposing hill town in Umbria with roots predating ancient Rome, is a magnet for visitors and unquestionably one of the best day trips from Rome by train. Birthplace of patron saint Francis, the town is layered with character and architecture through the ages. The showpiece is the fabled basilica named after its famous son, dominating the skyline. The moderately-sized town greedily boasts two castles and a Roman amphitheater (of sorts). In short, the train journey from the Italian capital is merely the prelude to a dazzling journey through time.
Getting there by rail is a cinch. But plan ahead to maximize your time. Take direct Regional Veloce trains rather than slower one-change services, and you'll arrive in Assisi in a little over 2 hours. Regional fares are fixed, so no need to reserve. The trains are clean and modern but without many facilities; bring your own snacks to enjoy the delightful cruise through the Umbrian countryside.
Rome to Assisi Details
Prices:

€12.70 is the fixed fare from Roma Termini direct to Assisi. No need to reserve, but check Trenitalia for departure times.
A couple of Intercity trains also ply the route. Booked at least 2 weeks ahead for a ticket starting at €7.90. Intercity fares cost from €24 for last-minute purchases. 

Frequency: There are 5-6 daily direct rail services from Rome to Assisi. A similar number of slower services requiring one-stop are available.
Duration: The fastest trains from Rome to Assisi get the job done in 2 hours and 10 minutes.
Online Booking: Omio
Assisi Tours
Small-Group Tours to Assisi From Rome
---
8. Pompeii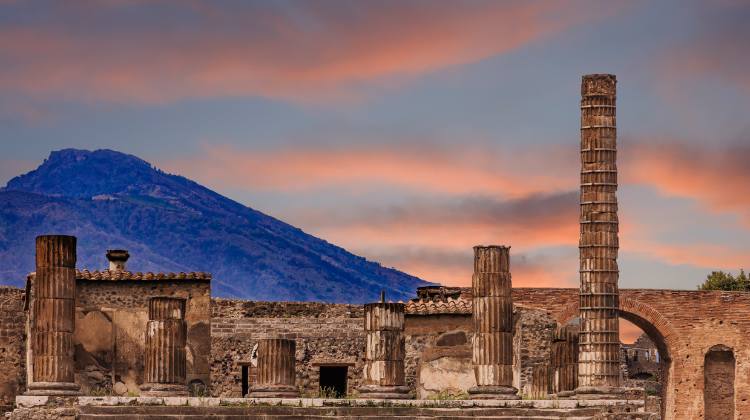 Pompeii needs no introduction. The Roman city is part historical relic, part lesson in the power of nature. It's an absorbing destination, forever paused in horror and history. Is Pompeii accessible in one day? "Naturalmente," otherwise it wouldn't be on our list of Rome day trips by train.
The Rome to Pompeii train journey is a two-hander. First to Naples, switching from Napoli Centrale to Napoli Piazza Garibaldi (9-minute walk) for a local Metropolitano service. The local service is a fixed fare (€3) and takes 37 minutes to deposit travelers almost at the gates of Pompeii.
A medley of rail tickets is available to reach Naples. Regional trains are cheaper, especially if buying late, but take twice as long as high-speed services. Superior Frecce trains, including the classy Frecciarossa 1000, take around 1 hr 15 m. Do yourself a favor and book one of these services. Fares are low when booked early, but the comfort levels are a cut above. More importantly, you get more time to explore the ruins of Pompeii.
Rome to Pompeii Details:
Prices:

Slow regional services cost a total of €14.80 from Rome to Pompeii.
Tickets for high-speed Frecce trains from Roma Termini to Pompei via Naples start at €24.90 for second-class Frecce  Standard. Frequent Special Frecce fares can be as low as €14.90. Book up to 4 months before travel with Trenitalia for the lowest fares, with prices rising as seats disappear. Various upgrades are offered on Frecce trains, often for just a few Euros.
If you plan to stop in Naples, fares from Naples to Pompeii are fixed at €3. Book your trains between Rome and Naples and buy that ticket at the station for flexibility.

Frequency: 1-2 high-speed trains travel between Rome and Pompeii. Napoli Piazza Garibaldi to Pompeii trains departs twice hourly.
Duration: Overall, you can travel from Rome to Pompeii by train in 2 hours and 10 mins, including changes in Naples.
Online Booking: Omio
Click here to read our full article on traveling from Rome to Pompeii…in just a day!
Pompeii Tours
Small-Group Tours to Pompeii From Rome
---
9. Florence
The Renaissance jewel of Tuscany is one of the most captivating places to visit near Rome by train. The entire historic center is UNESCO protected and a sensory motherload of cultural wonders, from the fairytale Ponte Vecchio to the artistic pearls at the Uffizi Gallery. Mark Twain once wrote that the "city of dreams, is a sight to stir the coldest nature". Once again, he nailed it.
As you would hope, train links between Roma Termini and Florence (Firenze S.M. Novella is the station you want) are excellent. Competing high-speed services from Trenitalia (Frecce class) and Italo keeps prices low. The direct journey (often only stopping at Roma Tiburtina) takes under 100 minutes, and comfort is high as you pass through the pastel landscapes of Tuscany. You couldn't ask for more from one of the best day trips from Rome by train.
Rome to Florence Details
Prices:

Slick Italo high-speed trains are the best value. Book up to 4 months ahead and get fares from €21.90 for a Low-Cost Smart (i.e. economy) seat. Look out for eXtra MAGIC discount fares as low as €10.90. Upgrade options abound.
Trenitalia Frecce trains start from €27.90 for standard Super Economy booked up to 4 months before travel. Discount fares (Special Frecce) are frequently available from €14.90. Plenty of upgrade options.
Book online with Omio for either Italo or Trenitalia services. There isn't much to separate the services, as both they almost match each other for speed and comfort, which are top-tier by global standards.

Frequency: 4-6 services depart hourly from Roma Termini to Firenze S.M. Novella across Italo and Trenitalia high-speed services.
Duration: Direct high-speed trains from Rome to Florence take under 1 hour and 40 minutes.
Online Booking: Omio
Florence Tours
Small-Group Tours to Florence From Rome
---
10. Castel Gandolfo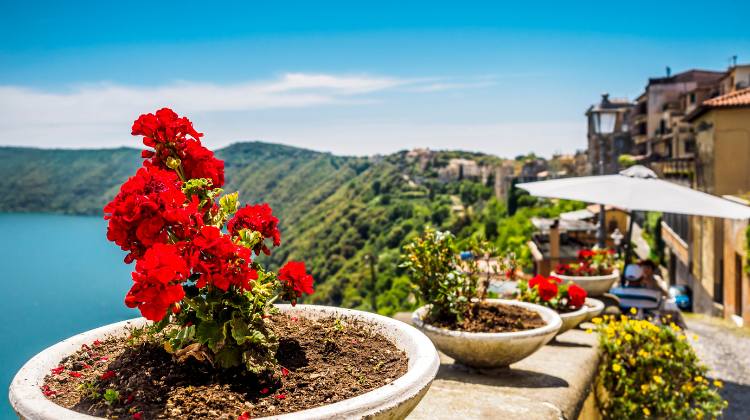 You barely have to leave Rome to reach picturesque Castel Gandolfo in the Alban hills above Lake Albano. Aside from a cooling green haven made for nature and lakeside activities, the town is known for its papal palace that shaped the character of the quaint strung along the hilltops. Now a museum, the Pope's summer hangout is a compelling reason to escape the Roman cauldron and savor a scenic slice of Lazio good enough for the supreme pontiff. 
A big reason why Castelo Gandolfo works when looking at day trips by train from Rome is the sheer convenience. A regional service departs approximately every hour, takes under 45 minutes, and costs less than a cappuccino. It is an easy day trip. And a charming escape, a world away from Rome.
Rome to Castel Gandolfo Details
Prices: €2.10 for a fixed-price Regional train from Roma Termini to Castelo Gandolfo. Buy at station before boarding. Check Trenitalia
Frequency: Approximately 1 train departs hourly from Rome to Castelo Gandolfo. Check Omio for departure times.
Duration: Rome to Castelo Gandolfo by train takes 44 minutes.
Online Booking: Omio
Castelo Gandolfo Tours
Small-Group Tours to Castelo Gandolfo From Rome
---
So, What are the Best Day Trips From Rome by Train?
It's really up to you, and how you're feeling. But, geez, if push comes to shove, here's where we stand: We feel strongly that no trip to Rome is complete without seeing Ostia Antica. Additionally, if your Italian adventure doesn't include a foray into Tuscany or Umbria, also "must-sees" in our book, then we humbly submit that Civita or Orvieto should top your "day trips from Rome" list.