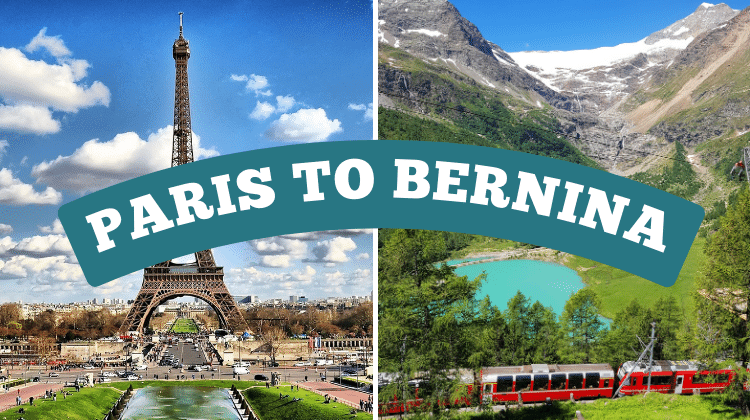 In Europe, slow travel is a luxury. You can, however, pull together a few unforgettable events if you have the time. Riding Switzerland's Bernina Express when traveling from Paris to Rome by train is one such experience. This route passes through three nations, a lovely alpine city, and a steep train line that has been designated as a world heritage site. It also contains the charming Bernina Express.
The Bernina Express leaves from mellow Chur, the country's oldest city, and travels across Alpine glaciers towards Italy. Panorama views are available through observation windows as you go through the mountains, which reach a height of 7,392 feet (2,253 meters). As you travel through the unimaginably stunning alpine terrain, an English audio tour brings everything to life.
There is a catch. This is a long journey requiring an overnight stop in Chur (Zurich and Basel are also options) and at least six train changes. It is a route for travelers with time on their side and who want to experience one of the exceptional European rail experiences.
The quickest route looks like this: Paris > Basel > Zurich > Chur > Tirano > Colico > Milan > Rome
Furthermore, you need to get busy on the internet to make this journey a reality as tickets are booked separately. From Paris to Chur with SNCF, the Bernina Express via Swiss SBB or DB German Railways, and connecting regional service from Tirano to Rome via Trenitalia. Or for a small, very-worthwhile fee, you can book the entire journey on one website and save your e-tickets on one mobile app using Omio.
You can also start in St Moritz in Switzerland and terminate in Lugano in Italy, but this will add time and expense to the journey. An additional daily service is available from St Moritz.
The Bernina Express From Paris Details
Why choose this route? For an unforgettable adventure with striking views and a pretty alpine stopover.
Prices: Starting at around €220 for all three tickets, this is not the cheapest Paris to Rome train price. As usual, early booking will save money. You must reserve seats for the Bernina Express, which can be done online or via their booking line, up to three months in advance. A supplementary fee of €20-25 is chargeable for reservations. First-class upgrades are available on every leg of the journey. They will add approximately €110 to the total train from Paris to Rome cost. If you only want 1st class for the Bernina Express, upgrades start at €36.
Frequency:

Paris to Chur – 17 services daily. Journeys range from 6-6.5 hours, with 2 to 3 changes. Book on SNCF.
Chur to Tirano – twice daily (morning and afternoon). Book on Rhaetian Railways.
Tirano to Rome – hourly. Book on Trenitalia.

Duration: 18+ hours rail journey time excluding overnight stopover in Switzerland.  
Online Booking: