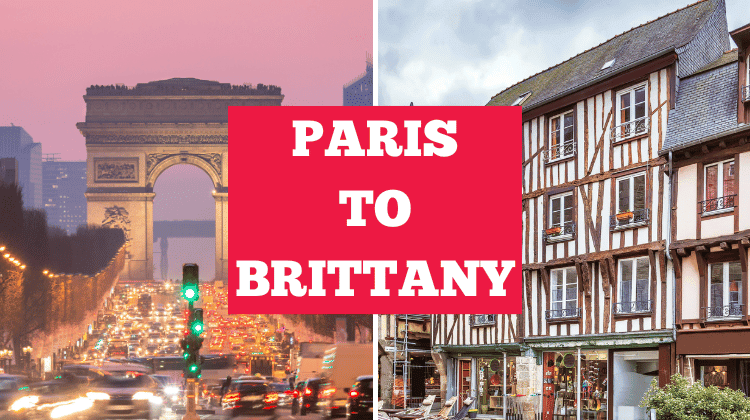 West of Normandy is another jewel in France's tourist crown, Brittany. The former Celtic nation has a remarkable history, its own language, and an unquenchable rebellious spirit.
Bretagne (Breton: Breizh) is a land of contrasts. The region is made up of five "départements" in its north and west, including Côtes-d'Armor and Finistère, and the department of Loire-Atlantique in the south-east. These regions are dotted with small villages, towns, and cities. Nantes (technically Pays de Loire), the largest metropolitan area in Brittany, is a bustling city of almost 500,000 people and is located on the Loire River. The sparkling waters are flanked by impressive bridges and some of the finest monuments in France. To the north, across the Morlais river estuary, lies the port city of Saint-Malo whose old town was rebuilt after its destruction during World War II. It has been classified as a World Heritage Site by UNESCO since 2005.
Bretagne's rugged coastline is dotted with sandy coves, jagged cliffs and lush fields criss-crossed with canals. Inland is even more dramatic scenery: multi-layered cliff systems rise up from green meadows speckled with brightly coloured houses and villages that cling to rocky outcrops. A cleft in these cliffs reveals the Gouffre de Padirac – a deep cavern open to visitors where a subterranean river flows into a spectacular waterfall.
The island of Noirmoutier off the Vendée coast has a modern lighthouse dating back to 1857 which can be climbed for views over the islands granite cliffs and beaches carved out by centuries of pounding surf.
Another draw for visitors to Brittany is Brest. The port city in Finistère is Brittany's third-largest city (if you include Nantes.) Brest is home to an imposing medieval castle that houses the Musée national de la Marine and Europe's largest open-air aquarium, Oceanopolis. If marine life interests you, Brest will amaze and delight.
There are many choices when traveling from Paris to Brittany by train, but you only need to look at high-speed TGV trains when heading to Brest.
Traveling from Paris to Dinan by train is a little trickier, as you'll have to catch a regional TER service in Brittany.
When heading to Brest, choose between inOui or OuiGo TGV trains. The same options apply to the first leg of the 2-part journey from Paris to Dinan.
All TGVs to Brittany hit the same speeds and follow the same route. The differences between the different TGV services are onboard.
OuiGo offers a stripped-down interior opened up to create more seating at the expense of onboard facilities. You forgo a café-bar, WiFi on some services, and individual chargers. Much like budget airlines, you have to pay for additional luggage. There are no upgrades on OuiGo trains, other than paying for added ticket flexibility.
OuiGo trains are far less frequent than the classic inOui trains, so you may not always be able to find tickets for the economy service. If you can, the reduction in fare compensates for the marginal loss of comfort, especially as journey times are unaffected.
All the direct trains to Brest stop in Rennes, so the same ticket options apply.
The trains leave Paris Montparnasse (1 and 2) and thread through two national parks and the historic city of Chartres until reaching Rennes. Rennes to Brest or Dinan is a journey through the picturesque landscapes of Brittany, with plenty of distractions for first-time travelers.
When heading to Dinan, you must jump onto a TER service in Rennes, Dol De Bretagne, or Lamballe. To avoid complications, aim to book the entire journey with SNCF Connect. That way, you'll be sure to find the fastest services and reduce complications on missed connections.
Journeying to either Dinan or Brest take 3.5-4 hours, eliminating the possibility of day trips. Perhaps it's for the best, as Brittany is a place to lose yourself.
Paris to Dinan & Brest by Train Details
Prices:
Frequency:

Up to 4 single connection trains from Paris Montparnasse (1 & 2) to Dinan. Double connection trains depart twice daily.
Up to 10 direct TGV trains from Paris Montparnasse (1 & 2) to Brest.

Duration:

Journey from Paris to Dinan by train in 2 hours and 58 minutes on the fastest services.
High-speed trains from Paris to Brest take 3 hours and 30 minutes to 4 hours and 7 minutes.