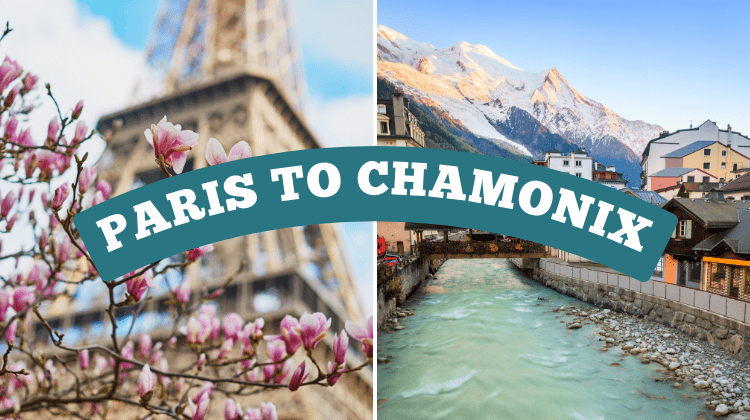 Traveling from Paris to Chamonix by train is a journey of extraordinary contrasts. From a crowded metropolis bursting with cultural marvels to a tranquil landscape of natural wonders. Two worlds separated by a 6-hour rail journey and one immense mountain range.
Whether packing skis for snowbound adventures or looking for some of the finest summer hiking trails in France, traveling from Paris to Chamonix by train is fast and convenient. We look at how to get the most out of this invigorating rail journey.
Paris to Chamonix by TGV Train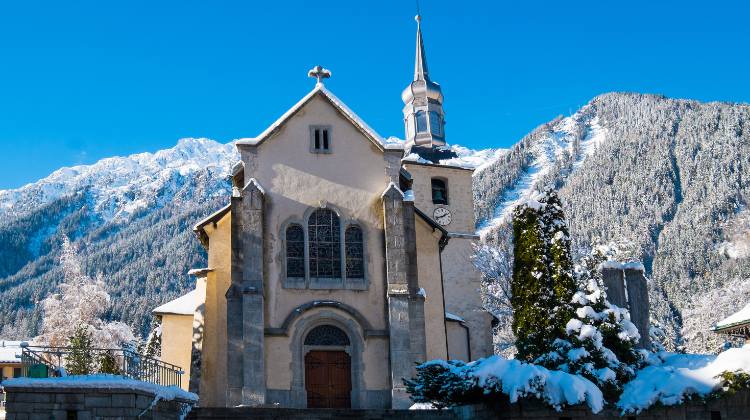 Although there is no direct Paris to Chamonix train, indirect train journeys take around 6 hours. It is possible to start the day with breakfast on the Champs-Élysées and end it with a plate of Savoyarde specialties overlooked by the Alps.
The quickest Paris to Chamonix train time is on a TGV Lyria from Paris Gare du Lyon to Bellegarde-sur-Valserine. Approximately half the journey is on a high-speed TGV.
Afterward, it's onto regional TER services for the remaining sections. Happily, the scenery continually improves until reaching Saint Gervais – Le Fayet. From there, the views (literally) reach new heights as you roll through picturesque villages in the alpine foothills onboard the Mont Blanc Express.
The journey ends 35 minutes later at Chamonix Mont Blanc, 12.5 mi (20 km) from Saint Gervais.
If you research how to get to Chamonix from Paris on SNCF Connect (French rail booking service), choices can be limited. Seats sell out quickly during peak seasons (winter for skiing; summer for hikers.) Try searching for trains to Saint-Gervais Le Fayet if you cannot find available trains, as this will get you to the Mont Blanc Express. 
The Mont Blanc Express timetable is published by season, and you can board without reservations. Engineering works are frequent, and replacement bus services may run instead. 
Don't be disheartened if you have to board a bus. With fewer stops, the journey time is a little quicker. And the views are similar, albeit slightly less spectacular.
You can make amends for lost views during your Chamonix trip on the spectacular Mont-Blanc tramway or Montenvers Train, not forgetting various cable car rides. All essential activities in Chamonix.
While nothing can match the Alpine views on the local transport, the journey from Paris is smooth and enjoyable. It starts with a comfortable TGV Lyria from Paris (Gare du Lyon) to Bellegarde-Sur-Valserine.
TGV Lyria — a French-Swiss collaboration — are exclusively modern high-speed trains. First and second-class seating is available, differentiated by a little extra elbow room. Free Wi-Fi, plenty of luggage space, and a decent café-bar with cross-border influences complete the offering.
From Bellegarde-Sur-Valserine, fixed-price TER trains await. Facilities are limited to toilets and luggage racks, with no Wi-Fi or catering. Bring snacks and savor the views as you cruise through the picturesque Auvergne-Rhône-Alpes region.
The final stage of the journey is the highlight, as you switch to the Mont Blanc Express and trundle ('express' is a misnomer) through the Chamonix Valley.
If spending time in Chamonix, the Carte d'Hote (Guest Card) is an absolute steal at €10 for the week. The pass gives you unlimited access to all public transport in the Chamonix Valley. Handy for reaching other stops along the Mont Blanc Express line, including cable car stations.
Important tip: Before we wrap up this section on how to get to Chamonix from Paris, we must mention that trains are often fully booked on this enduringly popular route. Compounding the problem is a changeable timetable that adapts to seasonal demand. This is one journey where it pays to book asap.
Paris to Chamonix by TGV Train Details
Our Recommended Hotels in Chamonix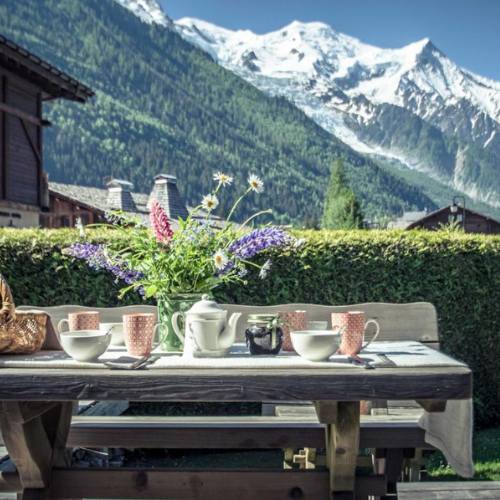 Paccard Locations Chamonix
"The view is breathtaking (on a sunny day), location is great and the property itself, clean, with attention to details, fully equipped kitchen."

---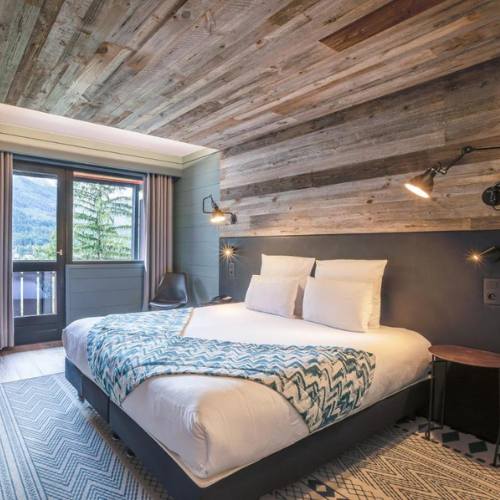 Chalet Hôtel Le Prieuré & Spa
"Really lovely hotel in a great location! It's off the main busy street of Chamonix which made it very peaceful but also super easy to walk everywhere."

---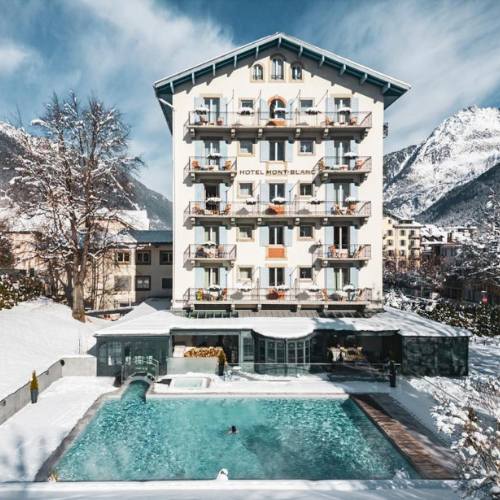 Hôtel Mont-Blanc Chamonix
"The building is immaculate, updated and well maintained. Lovely outdoor spaces to share a bottle of wine with your family. The staff is fantastic."

---
See More Recommended Hotels >>
Paris to Chamonix by Train and Autocar (Coach)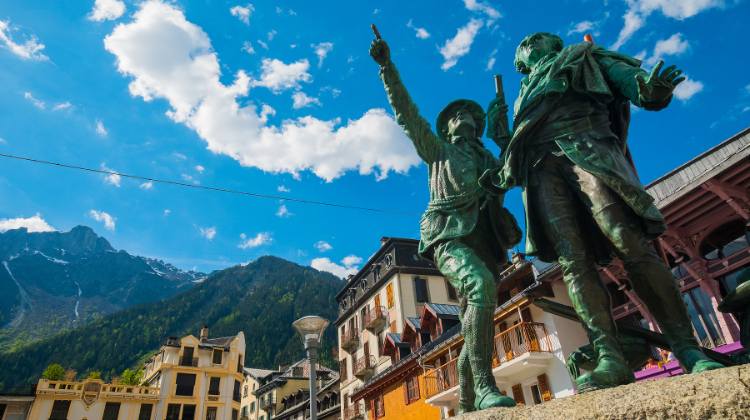 When looking at the best way to get from Paris to Chamonix, you'll usually see an option for taking an autocar (coach) from Bellegarde-Sur-Valserine. It is the quickest journey of them all and is a tempting alternative. 
The ticket is booked via SNCF Connect and includes a TGV Lyria train from Paris Gare du Lyon to Bellegarde-Sur-Valserine. From there, it's a 2 ½ -3-hour bus journey to Chamonix.
The main reason to consider this option is speed and convenience. You only need to make one connection, and you can complete the journey in 5 h 36 mins, 20-30 minutes faster than the next quickest option. 
Another persuasive reason is connecting trains depart Paris late afternoon or early evening. It may be handy if you want to extra time in the capital or plan to arrive in Paris by plane and head straight to Chamonix.
L'autocar has ample storage space, even allowing passengers to bring bikes. And while you might not enjoy the same views, especially when nightfall descends, you can kick back and relax, content in the knowledge your next stop is Chamonix.
Paris to Chamonix by Train and Autocar Details
Recommended Experiences in Chamonix
Trains from Paris to Chamonix via Annecy
If you're keen to spice up your alpine escapade, a third option for traveling from Paris to Chamonix is to go via Annecy.
In addition to offering more travel options, this route comes with benefits. Perhaps the most appealing is the chance to visit Annecy — aka, "Venice of the Alps" — a charming Haute-Savoie town regularly in the mix for the best French towns to live in.
SNCF Connect typically offers 1-2 travel options via Annecy, with significantly different travel times. One journey takes 6 ½ hours, the other nearly 9 hours.
The 9-hour journey includes an extended stop in Annecy; just enough time to see the striking Annecy Chateau or stop in the lakeside Jardin de l'Europe for a scenic picnic.
You might want to spend longer in Annecy. Making it an option is 1-2 Paris to Annecy direct trains with TGV inOui, which comes with all the usual comforts (Wi-Fi, café-bar, and upgrades.)
From there, it's two fixed-price TER trains (including the Mont Blanc Express.) It doesn't cost significantly more to book separate tickets. And there are up to 13 daily TER services from Annecy to Chamonix, giving you plenty of travel options if you drop anchor for a night or two.
Adding to the appeal of this route are several services that connect in Lyon (Part Dieu.) Although typically more expensive, they are worth considering if you set your heart on a stop in Annecy. Just be careful you don't leave it there. Annecy is a detour that captures the heart of many intrepid rail explorers.
Paris to Chamonix via Annecy Details
Must-Do Tours in Chamonix
Chamonix to Paris Trains
What goes up must come down. And while there's much to divert visitors in the Chamonix Valley, you will have to wrench yourself away and head back down from alpine altitudes. At some point, that is.
There are no big surprises when booking a Chamonix to Paris train to return home. Travel options are mostly mirrored for the return journey, with similar journey times and fares.  
However, you may see 1-2 additional trains from Chamonix to Paris, reflecting SNCF's sometimes erratic booking system.
You may also encounter lots of "Fully Booked" notices. Book early, if you can.
If trains are fully booked, try searching for services from St Gervais Les Bains Le Fayet, the pivotal station at the end of the Mont Blanc Express line.
Chamonix to Paris trains depart at various times throughout the day. An early morning departure could see you back in the City of Light before midday. Even the latest service will have you back in time to hit a brasserie or evening show. Although you might just want to fall into a hotel bed and reflect on the magic of Chamonix and the Alps.
Chamonix to Paris Trains Details
Paris to Chamonix by Train FAQ
Can I take a train from Paris to Chamonix Mont Blanc?
Absolutely. However, there are no direct trains. The fastest rail services require two connections and take around 6 hours. You may want to consider taking a train to Bellegarde-Sur-Valserine and then a coach (autocar) to Chamonix, which can reduce the journey time.
How far is Chamonix from Paris?
The beeline distance by train from Paris to Chamonix, France, is 291 miles (471 km.) Trains follow a more circuitous route covering approximately 364 miles (586 km.)
Are there high-speed trains from Paris to Chamonix?
There are no direct high-speed Paris to Chamonix TGV services. Instead, you can catch a high-speed train to Bellegarde-Sur-Valserine and hop onto regional TER trains to complete the journey.