Sicily, the Mediterranean's largest and most populous island, is one of Italy's most thrilling regions. 2,500 years of conquering civilizations from across Europe, Scandinavia, the Middle East and Africa has left a remarkable architectural and cultural legacy to explore. And thanks to an impressive rail system, you can explore all Sicily by train. (Well, almost all of it.)
Alongside world-class historical landmarks and a kaleidoscopic heritage are 922 miles of sun-drenched coastline, Europe's most active volcano, culinary riches, and towns bubbling with Sicilian character. It's a destination for travelers of all stripes, exemplified by five journeys that make the most of exploring Sicily by train.
Sicily by Train Summary:
Sicily has the largest rail network of any Mediterranean island, offering travelers the opportunity to explore the island's rich architectural and cultural heritage by train.
With 922 miles of coastline, magnificent views, and access to notable towns, Sicily's extensive rail network provides reliable, convenient, and affordable transportation options.
While some parts of the island may require bus or car travel, the train routes offer a unique and picturesque experience for those who prefer slower travels across Italy.
Trains in Sicily: An Overview
Trains started crisscrossing Sicily in the mid-19th century. And although many inland towns still live without rail connections, the autonomous Italian region boasts the most extensive rail network of any Mediterranean island.
Threading together the main rail hubs in Palermo and Messina is the scenic Tyrrhenian backbone that clings to the northern coastline, a vital link between the busy passenger port and the Sicilian capital.
Complementing this is 7 other railway lines, notably the Ionian backbone threaded alongside the sparkling waters of the Ionian Sea south of Messina. If you don't mind blending in buses occasionally, you can reach most visitable towns in Sicily by train. You can find all the destinations on the Sicily train map below.
Yet, Sicily lacks a high-speed network, and locals often prefer the stellar bus network. Primarily because trundling Regionale trains can be slower than buses heading to the same destination.
Moreover, trains in Sicily don't reach all parts of the island. Inland explorations are often only possible by bus or hire car. Throw in frequently late-running trains, weather that wreaks havoc with a network frequently under repair, plus a lack of comforts found on many mainland services, and you can see why daily commuters might prefer buses.  
Yet, there's plenty to encourage rail lovers. Especially if you're savoring slow travels around Italy. Not only are trains — still very —reliable and convenient, but they're also great value. Reservations are rarely required, and all the essential destinations are reachable by rail. No journey takes more than a few hours.
The cherry on the gelato is that trains in Sicily follow some of the most sublime routes in Italy. All the incentive you need to skip the roads and savor magnificent views on the charming ferrovia dissecting the island. 
Sicily Train Map
Every major train station and connecting route is highlighted on this Sicily train map:
1. Palermo to Catania
A gritty elegance and colorful character virtually guarantee island visitors stop in Palermo, Sicily's capital. Rail devotees can even arrive on an overnight service from Rome. As Sicily's primary rail hub, it's the gateway to the island's most alluring locations.
One of those is Catania, Sicily's second-largest city and a shoo-in for most travel itineraries. Explorers can hop on the Ferrovia Circumetnea train, the rickety narrow-gauge train that loops around Mount Etna. Or explore the Baroque port town, an industrial hub peppered with historic landmarks, including Greek and Roman buildings carefully resurfaced from lava after countless volcanic eruptions.
A direct Regionale Palermo to Catania train typically completes the journey in under 3 hours. However, until 2025, passengers must switch to a bus service in Dittaino while the track upgrades are underway. Even with a bus replacement, you can reach Catania Centrale from Palermo in around 3 ½ hours.
You can skip the bus replacement on a circuitous Palermo to Catania train route via Messina, but it takes up to 5 hours. In all cases, there's no need to book ahead as fares are a fixed price.
Palermo to Catania Train Details
Experiences in Catania
---
Tours in Catania
---
2. Catania to Taormina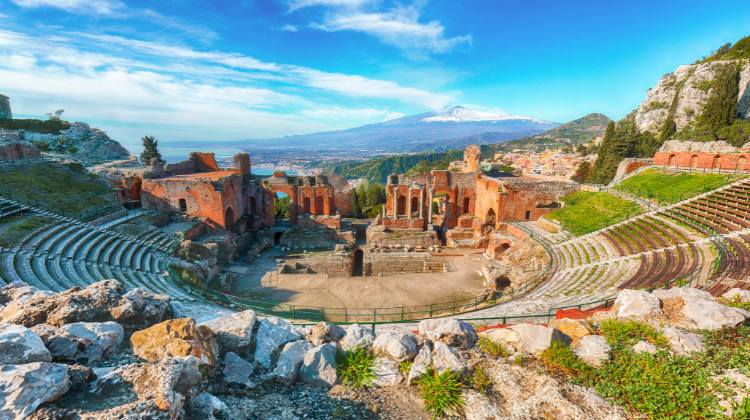 Taormina is reached via a short rail journey from Catania along the stunning Ionian coast. The stylish resort town — another Baroque gem — spills over the cliffs overlooking the Mediterranean, Mount Etna looming in the background. Sprinkled with architectural relics stretching back to Ancient Greece, including a remarkable Greek-Roman theater (pictured above), the town seduces visitors with a pretty beach reached by cable car and restaurants graced with seabound views.
Getting from Catania to Taormina by train is quick and easy. Direct regional trains roll along the eastern coastline from Catania Centrale to Taormina-Giardini in the shadow of Mount Etna, an inexpensive rail journey with priceless views. The town's train station sits 1.2 miles (2 km) outside the town center, with frequent buses carrying passengers into the charming old town. Inclusive tickets can be booked with Trenitalia, Omio or at stations.   
Catania to Taormina Train Details
Experiences in Taormina
---
Tours in Taormina
---
3. Palermo to Cefalù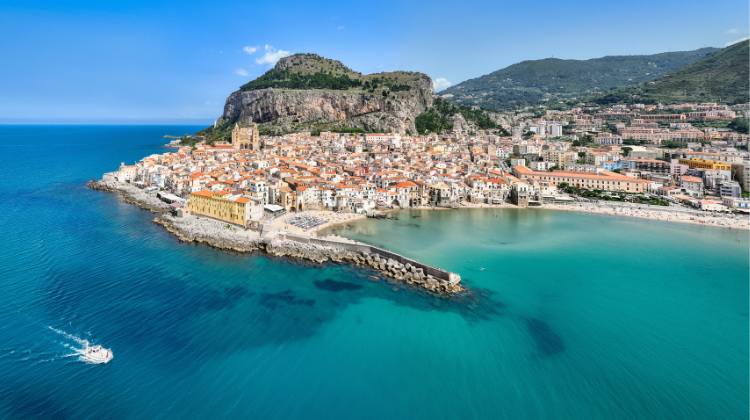 Back in northern Sicily lies the picturesque fishing town of Cefalù. Sandy beaches and a lively piazza reward daytrippers from the Sicilian capital. The star turn is the monumental Norman cathedral from 1131, one of the regional UNESCO World Heritage Sites of Arab-Norman churches. It was built to impress God and the islanders following many attempts to conquer the island, which accounts for the breathtaking scale and incredibly detailed mosaics.
The Palermo to Cefalù train takes 45 minutes to zip along the Tyrrhenian coast, making it a tempting day trip from the capital. Direct Regionale trains are frequent, and reservations unnecessary, so you can readily adapt your schedule to enjoy an aperitivo or two on the delightful piazza beneath the soaring cathedral.
Palermo to Cefalù Train Details
Experiences in Cefalù
---
Tours in Cefalù
---
4. Palermo to Agrigento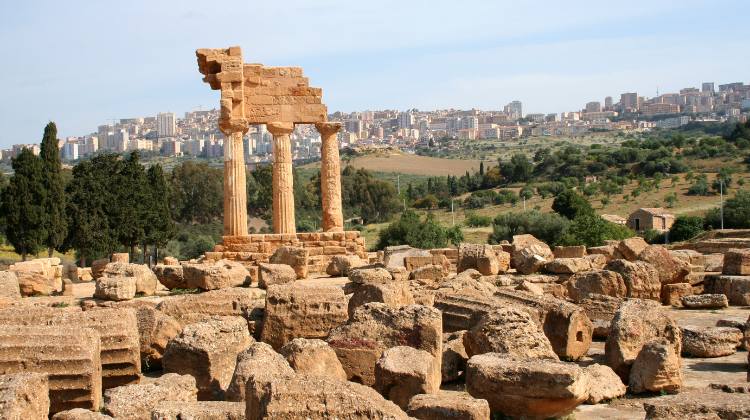 Agrigento is unmissable for history and architecture buffs, or anyone interested in Sicilian heritage. Once home to the flourishing Greek city of Akragas, founded in 580 BC, countless architectural jewels from the Hellenic and Roman eras are still being unearthed today. None more awe-inspiring than the Valley of the Temples, a series of 7 ancient Greek temples in varying states that imperiously line a ridge above the Mediterranean and Agrigento.
Agrigento is a jam-packed day trip from Palermo. An overnight stop in the welcoming town is ideal for a more leisurely trip back to classical antiquity. Direct trains cut through the island to the southern coastal city in just over 2 hours. Reservations are not required.
Look out for frequent track repairs that may extend the journey time with bus replacements. At the time of writing, a bus replacement was in operation for a section of the route and added 50 minutes to the journey. Track repairs are typically short-lived — check ahead on Trenitalia to avoid surprises.
Palermo to Agrigento Train Details
Experiences in Agrigento
---
Tours in Agrigento
---
5. Messina to Taormina
As mentioned, Taormina is a delightful hilltop town high on many tourist agendas. Travelers head there to climb Mount Etna or linger on cliffside terraces. But it is also an idyllic stopover for island visitors arriving (or departing) via the Straits of Messina. 
Time your departure, and you could reach Taormina-Giardini in a little over 40 minutes from Messina Centrale. It's an engaging jaunt along the Ionian seafront.
Central Taormina is 1.2 miles (2 km) from the train station. Walk or catch a bus (every 15 minutes). Buses take 15 minutes to reach the center, and tickets can be purchased before boarding or included in the train ticket.
Messina to Taormina Train Details
Experiences in Taormina
---
Tours in Taormina