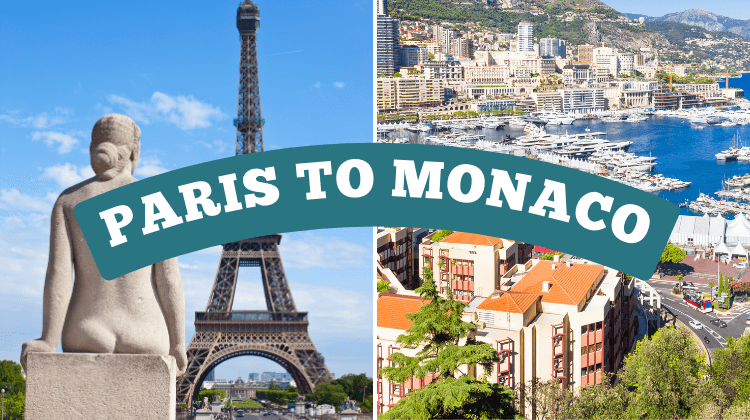 For Parisians and tourists, the shimmering charms of Provence and the French Riviera are irresistible. The stunning region is dotted with colorful towns infused with Mediterranean character. One highlight is Monaco, the tiny principality synonymous with mega-yachts, fast cars, and martinis "shaken not stirred." 
Speedy, frequent, and inexpensive trains from Paris to Monaco offer a gateway to sunshine glamor, bringing the curious delights of the world's second-smallest country within easy reach. Here's all the info about this compelling rail journey to Monaco from Paris.
From Paris to Monaco by Train
Monaco conjures images of wealth and luxury. But you don't need to be a tax-shy oligarch to enjoy Monaco.
Once home to a Greek temple honoring Hercules, the city-state boasts a long and layered heritage and several notable attractions. Not least, the Prince's Palace.
 If you fancy sampling the high life, the fabled Monte Carlo Casino and fine dining temples are ready to lighten bank balances. Happily, getting there won't leave a big dent in budgets, as low-cost fares are frequently available.
The fastest and most affordable Paris to Monaco trains require just one connection on the French Riviera. It's a straightforward journey on sophisticated TGV services from Paris direct to Nice, the region's second-largest city after nearby Marseilles. From there, the trip concludes with a short, view-filled spin along the Mediterranean coastline on regional services to the heart of Monaco.
The journey from Paris to Monaco by train starts at Gare de Lyon, gateway to the south of France. Up to 5 TGV trains head direct to Nice, making a handful of stops along the way, including Provencal jewels like Avignon, Cannes, and Antibes.
At nearly 6 hours, the first leg of the journey on Paris to Monaco trains swallows almost the entire travel day. The onward TER regional train from the arrival station, Nice Ville, to Monte-Carlo takes just 21 minutes.
As is increasingly common in France, high-speed Paris to Monaco trains are sold at two price points. Both can be reserved on SNCF Connect.
Services are distinguished by onboard comfort and facilities. Crucially, all high-speed Paris to Monaco trains use the same engines and rail routes, matching each other for speed.
Traditional and more expensive inOui trains are the best in class. Expect modern carriages, free Wi-Fi, power outlets, and the well-stocked Le Bar catering service. First-class upgrades offer roomier seating.
Stripped-down Ouigo trains are a budget-friendly choice. Wi-Fi (€3 minimum) and bulky luggage (€5 min) are paid for. Zero catering or upgrades are available. But they are clean, comfortable, and lose nothing in journey time.
Completing the two-stage journey from Paris to Monaco by train is a panoramic jaunt along the Med coastline. The glistening French Riviera unfurls as unflashy TER trains pass through regional gems like Villefranche Sur Mer and Èze.
It's worth noting that TER regional trains are fixed-price (€4.40 in 2023) and cannot be reserved. You can add a ticket when booking a Paris to Monte Carlo train. Or you can pay on the day.
The twice-hourly TER trains are also super-convenient for a multi-country rail escapade along the French Riviera and onto the Italian Riviera or to visit Monaco from another base along the coast.
If you find the fastest trains from Paris to Monaco fully booked — possible in the height of summer — look at traveling via Marseille. It adds a connection and extends the journey to Monaco from Paris by around 1 ½ hours, but a viable backup.
Finally, don't forget the last train from Nice to Monaco departs at 9.25 pm. If you plan to reach Monaco on the same day, avoid the late-departing train from Paris to Nice.
That's all there is to it. Alight in the elegant Monaco-Monte-Carlo station and head south into the historic city-state, minutes from the world-famous marina. 
From Paris to Monaco by Train Details
Prices:

Book an inOui or low-cost Ouigo high-speed train, Paris to Monaco, via Nice.
Ouigo fares start at €39.40. Bulky luggage and Wi-Fi are charged separately. 
inOui tickets start from €64.40 for second-class. No additional charges unless upgrading to first-class or opting for tickets with enhanced refund options.
Book up to 4 months ahead of travel on SNCF Connect for the lowest fares.
All quoted base fares include the fixed price of €4.40 to travel from Nice to Monaco. This can be excluded from the booking by searching for direct trains to Nice only.

Frequency:

High-speed trains, Paris to Monaco direct to Nice, depart Gare de Lyon up to 7 times daily. 2-3 slower services connect via Marseille and Nice.
Trains from Nice to Monaco depart every 30 minutes throughout the day.

Duration: Paris to Monaco takes 6 ½ – 7 hours by high-speed TGV to Nice and a connecting TER train to Monte-Carlo.
Monaco to Paris by Train
As you might expect, catching a Monaco to Paris train offers broadly similar options in ticket types, cost, and journey times.
Like the reverse journey, the only section that requires advance booking is the TGV from Nice to Paris.
TER trains depart Monaco to Nice every 30 minutes. But the regional line is notorious for late services. Build that into your schedule, as missing your TGV connection could be costly, even with pricier flexible tickets.
Furthering the case for reaching Nice with time to spare are the bountiful shopping choices near the station. Far more plentiful than in Monte-Carlo, with boulangeries, traiteurs, and mini-marts on hand. Plus, some decent restaurants to grab one last bright provençal dish before heading back to the greyer climes of Paris.
Monaco to Paris by Train Details
Prices:

Fares from Monaco to Paris booked via SNCF Connect match the outbound journey.
Ouigo fares start at €39.40 (bulky luggage and Wi-Fi are charged separately.)
inOui tickets start from €64.40 for second-class. First-class and enhanced refund options are available.  
All fares include the fixed-price TER train (€4.40 in 2023) from Monaco to Nice.

Frequency: Trains from Monaco to Nice depart every 30 minutes daily. Up to 7 direct, high-speed Nice to Paris trains depart daily (with 1-2 alternative services via Marseille.)
Duration: Budget 6 ½ – 7 hours for the fastest train journeys from Monaco to Paris.
Monaco From Paris by Overnight Train
Most travelers researching how to get to Monaco from Paris opt for high-speed trains. On most metrics, the Intercités de nuit comes a distant second.
Trains trundle from Paris to Nice in 12 hours 37 mins, over twice as long as high-speed TGVs. And fares are often higher, even if you opt for second-class seating only.
But the overnight trains fill a gap that rail connoisseurs will appreciate. For some, it'll be the old-world pleasures of leaving the twinkling lights of Paris and waking to sunrise over the Mediterranean.
For others, it will be a better use of time. A chance to explore Paris in the day, skip a hotel bill, and arrive somewhat refreshed with a full day to explore the French Riviera.
Intercités night trains offer standard seating alongside couchettes in first and second class. You might be happy to pay a premium for restful sleep. If not, reclining seats have footrests, adjustable headrests, and personal lights to help build a moderately cozy nest.
Couchettes are arranged 4 or 6 to a cabin, depending on ticket class. Entire cabins (espace privatif) can be booked for a fixed price in addition to the ticket cost, with prices reducing for additional bookings. A simple travel kit, water, and bedding come with a couchette.
Catering is limited to pre-ordered snacks delivered to your couchette. Load up with goodies before boarding, as it is a long journey winding through western France before a series of stops from Marseille to Nice. It's a pleasant way to wake up, assuming you got some sleep.
Once in Nice, stop for breakfast, head to the beach and breathe the salty air, or head straight to Monaco on the TER train. With the day just beginning, you can take your time appreciating the scenic delights lining the rail route from Nice to Monte-Carlo. 
Monaco From Paris by Overnight Train Details
Prices:

Fares on the overnight train from Paris to Monaco (night train from Gare Austerlitz to Nice only) start at €50.40 for second-class seating.
Second-class couchettes (6-berths per cabin) cost €65.40 upwards. Add additional costs for first-class couchettes (4-berths per cabin) or booking the entire cabin.
All fares include a fixed-price regional TER train fare (€4.40, 2023) and should be reserved before traveling on SNCF Connect. Dynamic pricing encourages early booking.

Frequency:

A single Intercités de nuit train departs Paris for Nice every evening, usually at 6.36pm prompt.
Onward trains from Nice to Monaco depart twice hourly.

Duration: The total journey from Paris to Monaco by overnight train is around 13 ½ hours, including changing in Nice to a TER regional train.
Paris to Monaco by Train FAQ
Can I take the train from Paris to Monaco? Is there a connection?
Yes – high-speed TGV trains take you all the way to Nice. There, it's a single connection onto a regional TER train for a 20-minute train ride into Monaco.
What is the best way to get to Monaco from Paris?
A high-speed train from Paris to Nice, then onto a TER regional train, is the quickest and easiest what get to Monaco from Paris. Overall, the journey takes under 6 ½ – 7 hours.
How far is Monaco from Paris by train?
The journey from Monaco to Paris by train covers around 428 miles (689km) in under 7 hours, mostly on high-speed trains.
Are there direct trains from Paris to Monaco?
While there are no direct trains, Paris to Monaco. Direct high-speed trains connect Paris and Nice. From Nice, it's just 20 minutes by train to Monaco.